Advertisement - Click to support our sponsors.

---

---
Tuesday, February 8, 2000
Hawaiian music's
Louise Beamer dies

By Helen Altonn
Star-Bulletin

Louise Beamer, 93, who passed her love of music on to a large and well-known family, died Sunday on the Big Island.

"There was always music on," said her son, C. Keola Beamer.

"Mother was very strong in education. She was a hula teacher. She raised five children and we all managed to go to college. She did just a great job."

Family entertainers include her daughters, Winona and Flora "Tita" Beamer, and grandsons, singers Keola and Kapono Beamer.

Former state Sen. Malama Solomon also is her grandchild.

C. Keola Beamer said his mother, who spoke Hawaiian, learned music from her mother-in-law, Helen Desha Beamer. "She's (Helen) the one who wrote all the music and my cousin, Mahi, has perpetuated her music."
Corky's Hawaii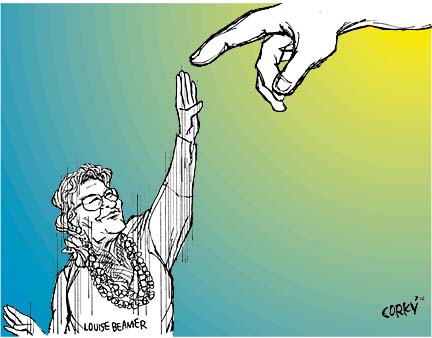 Formerly Louise Leiomalama Walker, she was born on Jan. 22, 1907, in Hookena on the Big Island and moved to Oahu at age 9, her son said. She opened a hula studio in 1932 in Waikiki and, in 1936, Bing Crosby asked her to choreograph his movie, "Waikiki Wedding," he recalled. The film produced the Oscar-winning song, "Sweet Leilani."

"She taught so many people," C. Keola Beamer said. "It's so sweet that when she went into this (nursing) facility, about four or five of her nurses had taken hula from her in the first or second grade.

"When they saw her, they said, 'Is this Grandma Beamer?' They're all in their 40s and 50s now and they were so kind to her."

Louise Walker was married to Kamuela rancher Francis K.D. Beamer, who died in 1990.

In addition to their two daughters and son, C. Keola, they had another son, Francis Jr., who lives in Kamuela. Survivors also include many grandchildren, great-grandchildren and great-great grandchildren.

"I guess her hobbies were all of us," C. Keola Beamer said. "She was really the light of our lives."

Funeral services will be from 5 to 8 p.m. Friday at Imiola Church in Kamuela. She will be buried on the church grounds at services at 10 a.m. Saturday.
E-mail to City Desk
---
---
© 2000 Honolulu Star-Bulletin
http://archives.starbulletin.com