Advertisement - Click to support our sponsors.

---

---
Tuesday, February 8, 2000
Unions blast
worker reforms


Cayetano proposals are called
an attempt to strip state employees
of rights and benefits they earned

By Rob Perez
Star-Bulletin

Gov. Ben Cayetano today urged legislators to adopt the centerpiece of his civil-service reform package, but key public-worker unions blasted the proposal as poorly written, fraught with flaws and a misguided attempt to strip employees of hard-earned rights and benefits.

The governor made an unusual appearance at a House hearing this morning to underscore the priority he places on overhauling the way government operates, making it more efficient and responsive.

But in the bill's first airing of public testimony, the widespread and harshly phrased opposition by the state's largest and most influential public-sector unions indicates the tough haul Cayetano's reforms face this session.

Cayetano cautioned legislators not to let a recovering Hawaii economy lull them into taking no action.

The government needs to be revamped to better function in an era marked by rapid and constant change, the governor said.

Although the state's government workers are as good as they are anywhere, Cayetano said, inherent flaws in the system make them less productive than their counterparts on the mainland.

Cayetano cited two examples that he said symbolized the inefficiencies of the current system.

He noted that state workers after one year of employment each get 55 days of vacation, holidays and sick leave.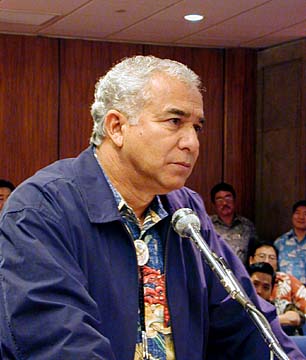 By Craig T. Kojima, Star-Bulletin
Union leader Gary Rodrigues speaks to legislators today at the Capitol.
---
Workers in California, Washington and Oregon, by comparison, receive only 34 to 36 days, Cayetano said.

That means local workers could have about 20 fewer days on the job, making them less productive, he said.

Cayetano also urged legislators to eliminate overtime from calculations for retirement benefits -- a proposal he's been pushing, unsuccessfully, for the past five sessions.

He said a 54-year-old worker who retires with nearly 30 years of service can use overtime to boost his average final compensation -- the amount used to calculate pension benefits -- to $79,658. Without overtime, the compensation would average only $34,140, according to Cayetano's data.

Using the overtime would boost estimated monthly benefits from $1,664 to $3,883 -- a difference of slightly more than $1 million during the retiree's expected lifetime, he said.

"It is inherently unfair to other workers in the system who do not have the opportunity to get overtime," the governor said.

While Cayetano said his proposal was not aimed at taking away from current employees, the unions saw it as precisely that.

"We will vigorously fight legislation disguised as civil service reform which will unfairly take away our hard-earned rights and benefits," said the Hawaii Government Employees Association, the largest public-section union, in written testimony. "This bill mocks our honest efforts to improve government operations and insults our dignity."

The United Public Workers, another key labor group, was equally blunt with its criticism, saying some parts of the proposal were meant to compensate for the state and counties' incompetence as employers.

The only reason the government wants to change the civil service system, UPW said, is to eliminate rights of public employees to negotiate certain work issues.

The University of Hawaii Professional Assembly said the bill "assumes that the governor has all the answers if he is allowed to act unilaterally."

And the Hawaii State Teachers Association called it an anti-worker bill fraught with flawed logic.




Get involved

You can track bills, hearings and other Legislature action via:

The Legislative Reference Bureau's public access room, state Capitol, room 401. Open 8 a.m. to 6 p.m. Monday to Friday, and 8 a.m. to 2 p.m. Saturday. Phone: 587-0478; fax, 587-0793; TTY, 538-9670.

Neighbor islanders, call toll-free and enter ext. 70478 after the number:

Big Island, 974-4000; Maui,

984-2400; Kauai, 274-3141;

Molokai and Lanai, 468-4644.

The state's daily Internet listing of hearings: http://www.capitol.hawaii.gov

The Legislature's automated bill report service: 586-7000.

The state's general Web page: http://www.state.hi.us

Our Web site: http://archives.starbulletin.com




---



E-mail to City Desk
---
---
© 2000 Honolulu Star-Bulletin
http://archives.starbulletin.com