Advertisement - Click to support our sponsors.

---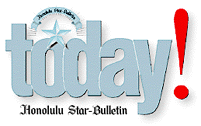 ---
Tuesday, February 8, 2000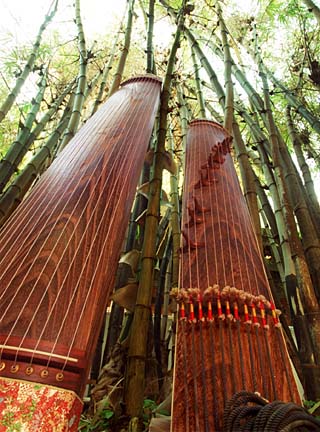 By Dennis Oda, Star-Bulletin
Barbara Smith, 80, is a pioneer in the field of ethnomusicology,
which is a study of non-European music. Her collection of
instruments includes this massive Korean Kayagum.
---
Celebrate
world music


UH pays tribute to
Barbara Smith,
ethnomusicologist
extraordinaire

By Betty Shimabukuro
Star-Bulletin

IN a far corner of the University of Hawaii at Manoa campus, in a place they call the Bamboo Courtyard, a hula student chants a request for entry into the classroom. Another student pads past in a kimono, headed for a session of Japanese dance.

In the center of the courtyard stands a slender, white-haired woman of about 80, the one who made it all happen, who brought a discipline to the university that allows a student to earn college credit in musical forms that don't involve Europeans in powdered wigs.




A TRIBUTE TO BARBARA B. SMITH

The UH Music Department invites the public to celebrate one woman's contributions to learning:
Keynote address: By Ellen Koskoff, Eastern School of Music, 4 p.m. Feb. 25, Orvis Auditorium.
Concert: Seoul Ensemble for Traditional Korean Music, 8 p.m. Feb. 25, Orvis Auditorium. Free.
Conference: "The Community as a Classroom," featuring 13 presentations in the field of ethnomusicology, 8:30 a.m.to 5 p.m. Feb. 26, Music Department Room 36. Free.
Dinner: Waialae Country club, 6 p.m. Feb. 26, $40.
Call 956-2178.




The scholarly name is "ethnomusicology," but what it means is that music lives all over the planet, and it isn't just folk music, or primitive music, or fringe music. It is complex art, and worthy of study at the highest levels of academia.

"The standard music program is really the study of art music of western Europe," says UH music professor Tadeo Kudo. "This field is an acknowledgement of the rest of the world and that there is music in the rest of the world."

At UH, the ethnomusicology program was created out of whole cloth by Barbara Smith, at a time the discipline was unheard of in American universities

It is a measure of Smith's influence that the Music Department will pay tribute to her 50 years of teaching, not just with a celebratory dinner, but with a concert, a two-day conference in the field she pioneered and a dinner.

Smith, a graduate of the Eastman School of Music in New York, came here in 1949 to teach piano and music theory.

By Dennis Oda, Star-Bulletin
Barbara Smith's collection includes this
Korean drum or changgo.
---
"I figured I would stay a year or maybe two," Smith recalls five decades later. "My initial purpose, like most of the UH faculty, was to teach western music.

But she quickly realized the usual course of study did not speak to the cultural backgrounds of her students, and began a quest for books and recordings that explored the music of Hawaii, the Pacific and Asia. She took up the koto, bon-dance drumming and several other Asian art forms. She studied hula and chant.

Slowly, an ethnomusicology program began to take shape. This meant winning grant money, finding experts in the community who could teach through performance, traveling in search of course materials. "I had no model."

And she had to convince the power structure that the idea had worth. "In general, people concerned with western music ... they thought it was for the birds."

In 1957, Smith began teaching an advanced lecture course in Asian music. In the summer of 1959 she and a close friend, professor Dorothy Gillet, taught a class for public school teachers, Pacific and Asian Music in Education. "It was the first year of statehood and lots of people from the mainland were coming here to sample Hawaii. The summer course built support ... that class had a pretty big impact."

These teachers returned to their classrooms equipped with new ideas. Years later, when their young students entered the university, Smith saw the results. "It was perfectly clear when they came into these classes, they had broader idea of music."

The graduate ethnomusicology program was established in 1960, with Smith as its first chair.

Twenty-two students are now pursuing degrees in the graduate program, and hundreds of others from all over campus attend performance classes in Okinawan music, koto, Chinese opera, Tahitian and Samoan ensemble, slack-key guitar, Hawaiian chorus, Hawaiian ensemble (ukulele/guitar), hula, Korean and Filipino music, and much more.

"It's really enviable when you look at university curriculum," says Jane Moulin, current chair of the department. "Very few universities across the country can claim that kind of variety and just the numbers of courses offered."

Smith is a very formal woman who is uncomfortable talking about herself. She insists that someone else could have founded the program, it's just that she got to it first. "I was fortunate to have thought of it early and had all the pleasures, pleasures and challenges."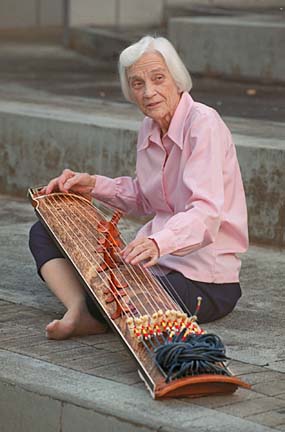 By Dennis Oda, Star-Bulletin
Smith shows off her Japanese koto.
---
So it falls to people like Moulin to explain the depth of Smith's contributions, not just to UH, but to the field of ethnomusicology. Smith's former students, Moulin says, have spread out all over the globe and are leaders in the discipline nationally and internationally. "Both she and the University of Hawaii have really had an impact in the field."

Many of her former students will deliver papers at the conference later this month. "They feel so strongly that they need to be here."

Kudo, now a professor of composition at UH, was a student of Smith's and earned one of his degrees in ethnomusicology.

"I was the original professional student," Kudo says. "One of the things that came from being a student for so long is I became very shrewd in my assessment of teachers."

Smith taught by tireless example, Kudo says, and was meticulous in the effort she put into evaluating their written work. Rather than endlessly lecturing, she served as a guide, encouraging students to expand their curiosity. "She is one that I count as one of the most influential of my teachers."

Like any academic field, ethnomusicology involves lecture classes and book learning, but the goal is field work, where a student documents a musical form and contributes back to the pool of knowledge. "And of course you do that by learning it," Kudo says. "It's immersion in the culture and the tradition."

Smith retired from full-time teaching in 1982, but has continued her field work and research. She also taught part-time until just last summer, bringing her to 50 years with the university.

"She still stays up on everything that is happening in the field, trends in education, business and economy that affect those of us involved in education," Moulin says. "She's still teaching all of us professors here, because she's constantly sending us information and keeping us up to date, too.

"She has a real passion for continued learning and for continued sharing and for continued mentoring."

A few years ago, Smith's hearing began to fail, to the point where she no longer performs the many instruments she has learned to play. This would seem a crushing thing to happen to a lifelong musician, but Smith calls it nothing but "a limitation."

She still enjoys concerts, dance performances and, of course, her constant research. "It have nothing to complain about. I've had a wonderful life."






Click for online
calendars and events.
E-mail to Features Editor
---
---
© 2000 Honolulu Star-Bulletin
http://archives.starbulletin.com