Advertisement - Click to support our sponsors.

---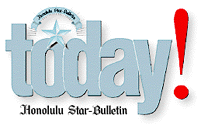 ---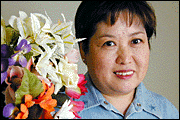 In The Garden



Friday, February 4, 2000
By Suzanne Tswei
---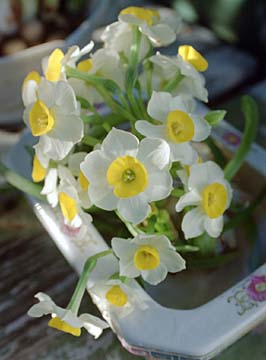 By George F. Lee, Star-Bulletin
One of George Zane's Chinese crab-claw narcissus.
---
Narcissus is the
flower of the hour

You should hear all the sighing when students of the ancient Chinese art of narcissus carving get together. As they slice into the onion-like bulbs in order to achieve a deformed but more beautiful flowering plant, they fret about taking on the delicate operation requiring the skills of a fine surgeon.

The cuts are too deep. Sigh. The cuts are not deep enough. Sigh. Cuts in the wrong place. Sigh. Cuts on the young flower pouch, which means all that work and no flowers. Double sigh.

In the midst of frazzled nerves and shaky hands, George Zane is an island of tranquility. "You just take it one step at a time," he said, as he demonstrated how to carve the thinnest sliver off a green baby shoot hidden in the heart of a narcissus bulb.




IN BLOOM

On display: Crab-claw narcissus, with bamboo arrangements by Sogetsu School of flower arranging
Place: Courtyard at Honolulu Academy of Arts.
Hours: 10 a.m. to 4:30 p.m. Feb. 12, 1 to 4:30 p.m. Feb. 13
Cost: Free, but general admission to the art galleries is $7
Call: 532-8701




"See how George makes it look so easy," said Lorain Pang, who has more than five years of experience. "When I do it, mine doesn't come out like his. Some of mine come out pretty nice, but sometimes they really look pathetic. But, you know, all of George's come out beautifully." Sigh.

"No, no. Mine are no better than anybody else's," Zane replied.

But those who have seen Zane's work say otherwise. "George is really one of the best. I think he's better than me, and I am the teacher," said Gilman Hu, an architect who is better known as "Mrs. Narcissus" for reviving the practice of narcissus carving.

Every spring, Hu teaches crab-claw narcissus cultivation at the Academy of Arts, and he asks Zane to help him teach the class by demonstrating the techniques. Zane's example of patience, skills, modesty and composure help calm nerves of first-time carvers, Hu said.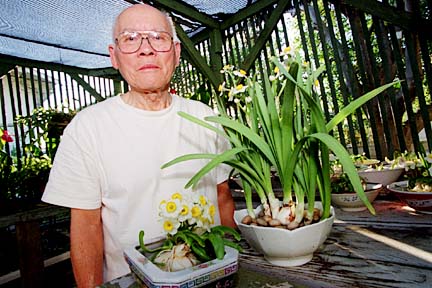 By George F. Lee, Star-Bulletin
George Zane shows narcissus plants in the Chinese
style, left, and Western style.
---
The cultivation involves precise and laborious cutting of the narcissus bulb. About half of the bulb is cut off to expose young shoots and flower stalks. Then a thin strip is cut off along the edge of each shoot to cause it to curl as it grows out of the bulb. The result is a plant with dwarfed curlicue leaves (looking like crab claws) and short flower stalks, which also may be sliced in infancy to produce the same curled formations.

Zane learned the crab-claw style cultivation without formal lessons. He began picking up bits of information from two fellow workers at the state health department about 1969. He was lucky. One of the workers was related to a master carver who shared his narcissus practices only with family members.

"If you wanted to learn, you had to learn things on your own. You just had to do it. But as you go along, you learn, a little at a time. You kind of have hits and misses," Zane said.

At first, he carved 15 to 20 bulbs, and the successes were only a handful. Nevertheless, he was "tickled to death" by the five or six bulbs that matured into plants with fragrant blossoms. Since his retirement as chief of the health department's sanitation branch in 1972, his success rates have improved significantly.

Now he carves about 100 bulbs every season. He begins about late November, when the bulbs first appear in Chinatown markets, and finishes around March. He does not sell his plants but gives them away to family and friends.

"I enjoy the carving. If you enjoy what you do, then you take your time. Having time to do it is important. You have to have the time and the patience and the interest to do it."

His patience is not only in making precision cuts and changing the water daily for the plants but also in carefully timing the plants to bloom at the right time. He divides up his carving chores throughout the narcissus season to make sure he has flowering plants to coincide with Chinese New Year celebrations, other holidays and the annual exhibit at the Academy of Arts.

"This is the only thing I spend my money on. I don't smoke. I don't drink. I don't go to Las Vegas. I don't burn firecrackers. I only burn my money on these," Zane said, referring to the bowls of narcissus plants lined up neatly in his small green house.

---

Suzanne Tswei's gardening column is a Friday feature. You can write her at the Star-Bulletin, P.O. Box 3080, Honolulu 96802.





---




Send queries along with name and phone number to:
In The Garden, Honolulu Star-Bulletin, P.O. Box 3080, Honolulu 96802.
Or send e-mail to features@starbulletin.com.
Please be sure to include a phone number.

In The Garden by Suzanne Tswei is a regular Friday feature of the
Honolulu Star-Bulletin. © All rights reserved.
E-mail to Features Editor
---
---
© 2000 Honolulu Star-Bulletin
http://archives.starbulletin.com