Advertisement - Click to support our sponsors.

---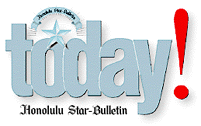 ---
Wednesday, February 2, 2000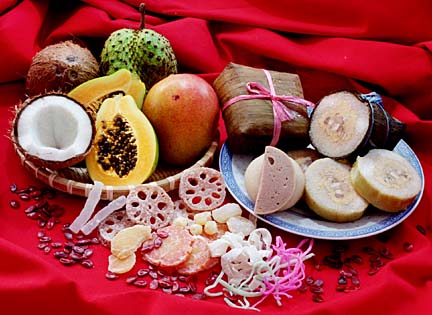 Photo by Dennis Oda, Star-Bulletin

Holiday foods -- Cakes made of glutinous rice are essential to Tet:


Round cakes (this one is topped with a meat patty) represent the universe.


Square cakes (this one still wrapped in banana leaves) represent Earth.


The cylindrical cake is stuffed with pork and yellow mung beans.


Candied fruits and vegetables -- carrots, coconut slices, ginger lotus root and lotus seeds -- are served with tea, as is traditional in China as well.
Seasonal symbolism -- Certain fruits are valued for their color, scent or because their names have double meanings.


Soursop, for example, is called mang cau. Cau by itself means 'to pray.'


Words for mango and papaya can also mean 'plentiful' and 'enough.'


This basket of fruit is meant as a prayer that the household will have enough in the new year.


Roasted watermelon seeds are valued for their red color, considered lucky.
---
The Vietnamese new year
is a time of symbolism,
celebration and plenty
Celebrate with Vietnamese stew By Betty Shimabukuro
Star-Bulletin

To do it right, you must cook early and cook a lot. Once the Lunar New Year begins on Saturday, the household must be ready.
It is time for Tet, the most important of holidays among Vietnamese. It is time for banh chung and banh day, or sticky rice cakes wrapped in banana leaves; of the hearty pork stew with boiled eggs called thit kho; of stuffed bittermelon, candied fruits and special offerings such as papaya and soursop, valued for their symbolism.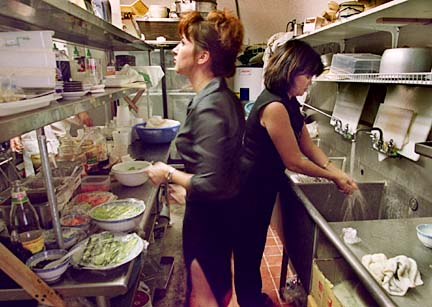 By Dennis Oda, Star-Bulletin
The kitchen at Garden of Saigon is a busy place
as Tet approaches. Working together are owner
Xuan-Mai Pavey, right, and daughter Lalania Marion.
---
In Vietnam, where luxuries are hard-won and work is constant, Tet Nguyen Dan, the Lunar New Year Festival, is the one time of leisure and excess, a time to spend on costly foods, new clothes and other trappings of spring.

"In Vietnam people work for a whole year for Tet," says Xuan-Mai Pavey, owner of the new Garden of Saigon restaurant in Chinatown. "For the first three days, everybody has parties, everybody has food in the house."

To fulfill the traditions requires an investment of time as well as money, the idea being to be ready for New Year visitors, to feed the family for several days, to meet obligations to ancestors' spirits and the household gods.

Best example would be the sticky rice cakes made one or two weeks before the new year, dozens at a time. Traditionally, they were steamed outdoors, the entire family in attendance to feed the fire and keep water in the pot. "You cook all night long," recalls Thanh Lo Sananikone, originally from Hue in central Vietnam. "Family, friends and relatives sit there and watch because you have to add water all night."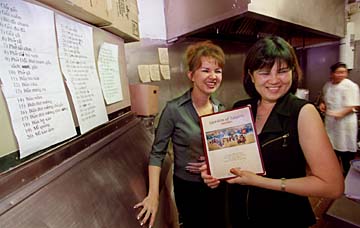 By Dennis Oda, Star-Bulletin
Xuan-Mai Pavey, right, holds the menu for her new
restaurant, Garden of Saigon. Helping her in the
kitchen is her daughter, Lalania Marion. To their
right is a list of Vietnamese foods, numbered
according to the menu.
---
In her kitchen here, Sananikone maintains the tradition on her stovetop, where she'll make 25 or 30 cakes for gifts and to serve visitors. "It takes all Saturday and the evening and the night," she says. "Usually I start too late and I have to cook overnight. I have to get up three times."

Why all the bother? Because of King Hung-vuong, father of many sons, who decided to give his throne to the one who could bring him the most meaningful dish of food. The sons hunted, fished, brought back all manner of delicacies, but it was the youngest son, Tiet-Lieu, who won the kingdom. His gift of glutinous rice steamed into cakes deemed most significant because in their simplicity they honored the basic foodstuff of the people.

Tong Ma remembers Tet during his childhood in southern Vietnam as the one time he was given new clothes. He remembers a betting game played with dice marked with animal figures; collecting red-wrapped packets of money from his parents' friends; candied fruits, or mut -- especially the ginger, coconut, carrot and the rare lotus root and lotus seed.

In the old days the celebrating lasted 10 days, but now it is more likely to be a three-day break from work and school, Ma says. The candies were kept on hand to offer visitors who came and went throughout this time. "You sit down and eat this and drink tea and talk story."

Also essential: a collection of symbolic fruits. Here is where traditions vary some. Ma values mango, papaya, coconut and soursop. Chau Tran, a native of Saigon (now Ho Chi Minh City), would add oranges, pomelo and pineapple, and subtract coconut as too common. "People save all year," Tran says, "for Tet, people want something expensive."

By Dennis Oda, Star-Bulletin
Traditional foods of Tet include, clockwise from top:
pork stew with hard-boiled eggs; bittermelon stuffed
with ground pork and fish, cooked in pork broth;
glutinous rice cake stuffed pork and mung beans;
roast pork; and an anchovy-flavored dipping sauce.
These foods were prepared at Garden of Saigon
in Chinatown.
---
The symbolism in some cases is a matter of wordplay: Du-du is the word for papaya; du in itself means "enough." Xoai, for mango, means "plentiful." Mang cau means soursop; cau is "to pray." To have these fruits in the home is to pray that your family will have enough in the new year. Oranges are valued for their lucky color, pineapples for their perfume.

"People believe that when you have all these things all together they will bring you good things for all the year," Tran says.

Watermelon, in season in Vietnam at this time of year, is the chosen dessert, she adds. "In every household you have to choose the biggest one. And the redder it is inside, the better luck you'll have."

Roasted watermelon seeds are a favorite snack, Sananikone says. "The mouth becomes red when you eat them. Young girls like to eat this because they aren't allowed to have lipstick yet."

The 23rd day of the 12th month of the lunar year is Le Tao Quan, Feast of the Household Gods -- this year it fell on Saturday. On this day families pray to the guardian spirit of the kitchen and make offerings of rice cakes and fruit. The kitchen god then goes to heaven to report on the family's behavior for the year, and a new god is assigned to look after the family in the year to come.

On the 30th day, prayers are said at the family altar to invite the ancestors to help close out the old year. Offerings are placed outside the home in honor of "wandering souls," people without homes, Sananikone says.

In the homes of many transplanted Vietnamese, these traditions remain strong, to the point that even the labor-intensive rice cakes are fixed at home, not purchased.

Sananikone has been away from her homeland since 1975 and remains mindful of the rituals of Tet. Her two grown children live in San Francisco and New York, but she mails them their homemade rice cakes each year. "I hope they keep the traditions."

---

Celebrate with
Vietnamese stew

Star-Bulletin

Thanh Lo Sananikone will make Thit Kho, a stew of pork, hard-boiled eggs and coconut juice, to last through Tet.

By tradition, family and friends may visit at any time; "If they come at 11 o'clock, you eat lunch; if they come at 5, you eat dinner." A dish like this serves everyone for a long time.

When her children were still living at home, she'd make a huge pot. "They can eat it for a week."

The flavor improves, she says, as the dish ages.

Pickled vegetables are a traditional side dish served with the sticky rice cakes and other new year foods.

These are adaptations of Sananikone's recipes:

Thit Kho

Vietnamese New Year's Stew

2 tablespoons sugar
1 pound pork butt, in 1-inch cubes
2 teaspoons fish sauce
1/4 teaspoon salt
1/4 teaspoon pepper
2 cloves garlic, peeled
1/2 cup coconut juice (water from fresh coconut)
4 hard-boiled eggs, peeled

Melt sugar over low heat, cooking until caramelized and slightly brown. Stir in pork butt in cubes; brown.

Stir in fish sauce, salt, pepper, garlic and coconut juice. Add eggs and water as needed to cover. Bring to a boil, then simmer until meat is cooked through and eggs turn brown. Taste and adjust seasonings.

Optional: Add cabbage if there is enough liquid. Serves 4.

Approximate nutritional information, per 1-cup serving: 260 calories, 11 g total fat, 4 g saturated fat, 270 mg cholesterol, 390 mg sodium.*

Dua Mon

Vegetables in Fish Sauce

Dried vegetables:
2 carrots
1 green papaya or 1 turnip
12 shallots, peeled
12 garlic cloves, peeled
12 small red chile peppers

Sauce:
3/4 cups plus 2 tablespoons nuoc mom (Vietnamese fish sauce)
1/4 cup plus 1 tablespoon sugar
1-1/2 cups water

Peel carrots. Peel and seed papaya or peel turnip. Cut into 1-1/2-inch sticks (may also be cut into shapes of flowers). Dry vegetables in dehydrator, following manufacturer's directions, or in the oven: Rub 1 tablespoon salt into vegetables; let stand 30 minutes, then rinse, squeeze and pat dry. Dry in a 200 degree oven for 2 hours, turning every 30 minutes.

To make sauce: Heat fish sauce and add sugar; stir until melted. Add water and boil 2 minutes; cool.

Layer vegetables in a 1-quart jar. Pour sauce into jar. Marinate at least 2 weeks.

Variation: Dried pineapple pieces may also be added.

Approximate nutritional information per 2-tablespoon serving: 20 calories, no fat or cholesterol, greater than 200 mg sodium.*






Click for online
calendars and events.
E-mail to Features Editor
---
---
© 2000 Honolulu Star-Bulletin
http://archives.starbulletin.com