Advertisement - Click to support our sponsors.

---
---
Tuesday, January 25, 2000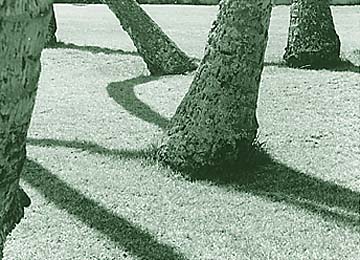 Sue Cowing's "Palm #3," a black-and-white print, is included
in the "Gnomons and Reflections" exhibit of her work on
the theme of natural abstracts.
---
Reflections on shadow
An exhibit of photographs by Sue Cowing, "Gnomons and Reflections," opens Sunday at Gallery on the Pali, First Unitarian Church of Honolulu, 2500 Pali Highway.

"Gnomon" refers to the upright piece on a sundial that casts the shadows.

Cowing's black-and-white and color photos are are taken as found and not arranged for the shots. In "Gnomons and Reflections" Cowing explores reflected images and shadows of natural and found objects.

The exhibit will continue through Feb. 18. An opening reception will be held 4 to 7 p.m. Sunday. For more information, call 526-1191.
---
Preview
Coming to the big screen

These two films are scheduled to begin their Oahu run on Friday:
EYE OF THE BEHOLDER
Rated R
Ewan McGregor, Ashley Judd, K.D. Lang and Jason Priestly. The Eye (McGregor) is a nameless loner working as a private eye. His only communication with his superiors is through technology. His only connection to society is by means of gadgets and electronic devices. Sent on assignment to shadow Joanna Patrick (Judd), a woman believed to be blackmailing the son of an American senator, the Eye is drawn deeper and deeper into Joanna's psychological life, leading him to follow her across continents, risking his own life to save a woman who may be a serial killer.
ISN'T SHE GREAT
Rated R
Bette Midler, Nathan Lane, Jason Fuchs and David Hyde Pierce. Jacqueline Susann (Midler) is a hack romance writer who reinvents herself as a best-selling novelist in this fictionalized account of Susann's life. Susann rises to fame as she appropriates the scandalous lives of her celebrity friends and their families to write a page-turner about glamour, sex and amphetamines in the playgrounds of the rich.
---
Scoops
Scholarships and more


Liberty House Prom Model Search: Liberty House is searching for models for its annual After Hours Pearlridge Prom Fashion Show on March 4. Ten winners will be selected and each will receive a makeover and hairstyling from the Pearlridge Hair Salon, and a prom dress of her choice valued at $100.
High school girls, ages 14-18, are eligible. Applications are available in the Generation department of any Liberty House Oahu store. Completed applications, along with a recent full-length photo must be dropped off at a general managers office of any Liberty House Oahu store by Jan. 31. Final judging on Feb. 11.

"VOCFEST 2000: A Career Odyssey": VOCFEST will be held at Pearlridge Center Uptown Feb. 19 and 20, beginning at 10 a.m. each day. The event features exhibits, entertainment, demonstrations, career services, and free information on high school, community college, and other technical programs. Call Helene Sokugawa at 956-6203 or e-mail helene@ hawaii.edu for more information.


Click for online
calendars and events.
---
Send WatDat? questions, stories
or any other story ideas or comments to:
Features, Honolulu Star-Bulletin, P.O. Box 3080,
Honolulu, HI 96802 or send a fax to 523-8509
or E-mail to features@starbulletin.com.
Please include your phone number.
E-mail to Features Editor
---
---
© 2000 Honolulu Star-Bulletin
http://archives.starbulletin.com