Advertisement - Click to support our sponsors.

---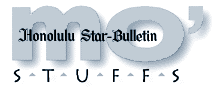 ---
Thursday, December 30, 1999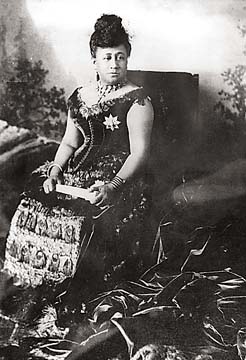 File photo
---
Party for a queen
Today, celebrate Queen Kapi'olani's birthday, which is actually Dec. 31, with a special 15-minute evening tour of the first floor of 'Iolani Palace.

The palace will be decorated for the event with rose bouquets in the State Dining Room and Throne Room and hundreds of lanterns strung across the driveways. Christmas and classical music will be played on the rosewood piano, which is rarely played, in the Blue Room, In addition, music groups will entertain waiting visitors on the Palace steps.

Tours begin at 6 p.m. and continue every 10 minutes until 8:30 p.m. Tickets will be available in the ticket office at 'Iolani Barracks from 5:30 p.m. A $2 gratuity is requested for adults to help defray the cost of providing the music. Tickets for ages 5 to 15 are free, and no children under 5 will be allowed on the tour.
---
WEEKEND TELEVISION

On air today
"PBS Millennium 2000," at 11:45 p.m. and runs through 1:05 a.m. Saturday, KHET/PBS. Gwen Ifill, of "Washington Week In Review" and "The Newshour with Jim Lehrer," hosts. PBS is usually rather restrained in pre-event publicity materials. Not so this time around. "Broadcasting to and from virtually every region of the planet, 'PBS Millennium 2000' ranks as the most massive and ambitious live television event in history," the network said.

"Frasier," 8 p.m., KHNL/NBC. The Russian origin of Martin's clock prompts Frasier and Niles to look for evidence they're descendants of the Romanov dynasty. Rerun.

"48 Hours," 8 p.m., KGMB/CBS. Before the ball drops in Times Square, the news magazine will go to the first actual countdown to 2000 from Taveuni, Fiji, one of the few places where the 180th parallel cuts through solid land. Correspondent Bill Lagattuta reports on celebrations there, including the activities of a tribal nation that will welcome the year 2000 in a special way and a Virginia couple who will marry on Fiji, becoming the first newlyweds of the 21st century.

"Millennium," 11:50 p.m., KITV/ ABC. Peter Jennings anchors this 24-hour live program from Times Square Studios. The ABC News team of anchors and correspondents will file live reports from around the globe, starting with Diane Sawyer at midnight in New Zealand.
Tomorrow
"Millennium 2000," beginning at midnight, CNN. CNN says it will use its 34 bureaus and more than 850 affiliates worldwide for "Millennium 2000," which will include live reports from about 60 members of CNN's team of correspondents.

NBC millennium programming, begins 5 a.m., KHNL/NBC. There will be live New Year coverage inserted throughout the day's programming, including "NBC Nightly News" at 1:30 p.m.; a 4 p.m special hosted by Tom Brokaw and Katie Couric that will look at Y2K developments and present discussions with newsmakers and celebrities; "Tonight Show With Jay Leno" at 6:35 p.m.; and another NBC News special covering the onset of 2000 from 6:50 p.m.

"The Late Show With David Letterman," 6 p.m., KGMB/CBS. A millennium edition that includes all-new Stupid Pet and Stupid Human Tricks. The New Year's Eve broadcast will also feature a performance by the Brooklyn Philharmonic.

"America's Millennium," 9:30 p.m., KGMB/CBS. The country's "official" millennium celebration, hosted by Will Smith, from the Lincoln Memorial in Washington, D.C. President Bill Clinton and Hillary Clinton will join American heroes, celebrities and other prominent individuals for the event.
Saturday
"FOX 2000," 12:35 a.m., KHON/ Fox. Musical performances by the Neville Brothers and Red Hot Chili Peppers, along with reports on events from around the world at the start of the new millennium. From Times Square in New York.

"Coming Up Roses," 6:30 a.m., KGMB/CBS. CBS offers a one-hour behind the scenes special about the 111th parade from Pasadena.

"Tournament of Roses Parade," 6 a.m., KITV/ABC and KHNL/ NBC; 7:30 a.m., KGMB/CBS; 11 a.m. HGTV. Victoria Rowell ("Diagnosis Murder") and Doug Davidson ("The Young and the Restless") will host the parade from Pasadena. Pat O'Brien and Nancy O'Dell ("Access Hollywood") will host for NBC. HGTV coverage will be anchored by gardening experts Paul James ("Gardening by the Yard") and Rebecca Kolls ("Rebecca's Garden") as well as TV personality Robb Weller.

"Y2K - Computers Run Amok!" 3 p.m., Turner Classic Movies. If TVs and cable systems are still operating, Turner Classic Movies will welcome the dawn of the new millennium with five classic movies for technophobes: Stanley Kubrick's "2001: A Space Odyssey" (1968), Peter Hyams' "2010" (1984) at 5:45 p.m., Michael Crichton's "Westworld" (1973) at 7:45 p.m., Herman Hoffman's "The Invisible Boy" (1957) at 9:30 p.m. and Richard Thorpe's "The Honeymoon Machine" (1961) at 11:5 p.m..
Sunday
"Moonlighting," 8 a.m., Bravo. A seven-hour marathon, opening with the pilot episode, of the Bruce Willis-Cybill Shepherd detective series that was all about romance and chemistry.

"Wiseguy," 1 p.m., Court TV. The critically acclaimed crime drama debuts on Court TV with a 14-hour marathon that includes the 11-episode "arc" called "International Drug Ring." Series creator Stephen J. Cannell and Court TV anchor Catherine Crier host.

"Biography," 3 p.m. repeating 5, 7 and 9 p.m., A&E. A two-hour biography of performer Dick Van Dyke.

"The E! True Hollywood Story," 7 p.m., E!. TV's scandal sheet takes a look at The Village People.

"Beyond the Prairie: The Story of Laura Ingalls Wilder," 8 p.m., KGMB/CBS. Richard Thomas ("The Waltons") and Lindsay Crouse ("Places in the Heart") star in what's described as a romantic love story "that covers a pivotal time in the life of the beloved author of the 'Little House' book series" as she begins a new life as a wife and mother.

"The Shape of Things To Come," 9 p.m., HGTV. Michael Dorn of "Star Trek: The Next Generation" hosts a look at design and technology of the next century.

"American Journey," 8 p.m., Travel Channel. Debut of a new series that takes a look at Americans pursuing their dreams.






Click for online
calendars and events.
---
Send WatDat? questions, stories
or any other story ideas or comments to:
Features, Honolulu Star-Bulletin, P.O. Box 3080,
Honolulu, HI 96802 or send a fax to 523-8509
or E-mail to features@starbulletin.com.
Please include your phone number.
E-mail to Features Editor
---
---
© 1999 Honolulu Star-Bulletin
http://archives.starbulletin.com