Advertisement - Click to support our sponsors.

---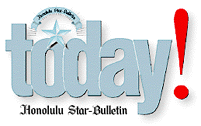 ---
Thursday, December 30, 1999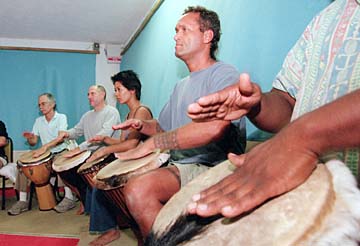 By George F. Lee, Star-Bulletin
Drummers, from left, Jack Bilmes, Frank McKeown, Shaina
Sarono and Stephen Bibbs practice on the djembe.
---
Bang the drum
loudly for year 2000

By John Berger
Special to the Star-Bulletin

TIME was when people made their own entertainment. Two unusual New Year's Eve events are perpetuating that tradition. Loose Screws welcomes audience input during three shows tomorrow at Kumu Kahua Theatre and Michael Wall is inviting anyone who loves to hear and/or play percussion to join him at Kakaako Oceanfront Park.

"In most traditional indigenous cultures, celebration is not going out to watch a band, but going out and joining in -- everybody participates. I really love seeing families share that experience," said Wall.




ENTERTAIN YOURSELF

New Year's Eve events bring the audience into the act:

Drum Circle 2000: 6 p.m. to 6 a.m., Kakaako Oceanfront Park parking lot. Free. Bring a percussion instrument or something to bang on. Call 377-3786.

Loose Screws -- The Last Laugh: 7:30, 9 and 10:30 p.m., Kumu Kahua Theatre, Kamehameha V Post Office, $5-$6. Bring "an object that somehow sums up the century." Call 536-4222.




He and his group, First Circle: Dance Drum & Song, welcome anyone with a percussion instrument to be part of the Honolulu Community Drum Circle's Drum Circle 2000. Wall says no talent or professional credentials are necessary.

"I'm a big believer that there needs to be a place for people who just want to come out and have some fun -- rattle a rattle, shake a shaker, play a bell or hit a drum. All across the United States, there's a huge movement going on that's generically known as community drum circles. That's what we'll be doing."





Wall traces the contemporary American drum circle tradition back to Atlanta in the late '50s when Babatunde Olatunji, a West African exchange student, responded to racial segregation laws by seeking places where no one would bother him, and playing the rhythms of his homeland on a hand drum. Olatunji and his drum captured the imaginations of more open-minded students and the first American drum circle was created.

ANOTHER drumming enthusiast, Arthur Hull, followed Olatunji, encouraging people to play drums for fun, rather than as students of a particular style or culture.

Wall embraces both philosophies. First Circle: Drum Dance & Song is a formal 10-piece ensemble that performs traditional West African music, dance and song professionally in authentic costumes -- and plays in the schools as well.

Wall teaches classes in West African djembe and dundun and Afro-Cuban conga drumming. He also maintains the Honolulu Rhythm Line -- a clearinghouse for drum classes, performances and drum circle events. Call 377-DRUM (3786) for information.

That's the formal side of it.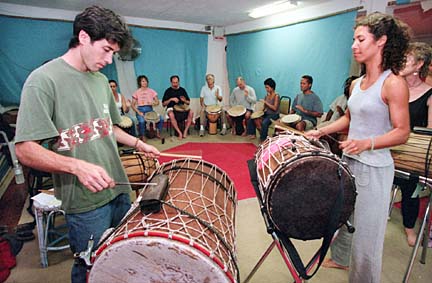 By George F. Lee, Star-Bulletin
Joey Salazar, left, and Marlo Myer play the djun djun and the sangba.
---
"The whole idea with Drum Circle 2000 is that a whole bunch of people show up with drums and they're just gonna play. They'll find a common pulsation somehow, and what me and my crew will be doing is holding down the parts so that all these people have something to lean on, and we're just going to play and have fun.

"You show up with a pair of bongos or a pair of cymbals, wood blocks or bells or a taiko drum or whatever -- any percussion instrument ..."

PARTICIPATION is also important to the Loose Screws show tomorrow night. "We want people to bring an object that somehow sums up the century for us to use in the show," spokeswoman Stephanie Curtis Conching said.

Having the audience bring objects is a standard part of the group's repertoire, with the items used as starting points for improvisations. Conching says the group plans to introduce a combination of improvisational mystery and language, called "Chain Murder Endowment."

Three cast members will solve a series of murders by naming the killer, murder weapon and location of each crime. Someone -- maybe the suspect(s) -- will complicate things by speaking a made-up language.

One thing Conching isn't worried about is the Y2K enigma.

"We're going to be the last theatrical performance of the century and we're guaranteeing that people who come to the last show will be out in time to go to the fireworks. And if some crazy early Y2K thing happens, we're OK. We can do it in the dark."






Click for online
calendars and events.
E-mail to Features Editor
---
---
© 1999 Honolulu Star-Bulletin
http://archives.starbulletin.com