Advertisement - Click to support our sponsors.

---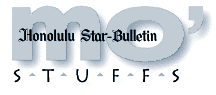 ---
Monday, December 27, 1999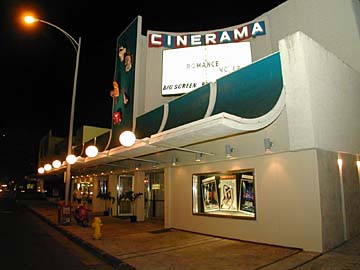 By Craig T. Kojima, Star-Bulletin
Before closing, Cinerama was among the theaters
that played Consolidated's trailer.
---
Consolidated Amusement
trailer a lasting hit
Burl Burlingame
Star-Bulletin

Gerry DeBenedetti of Honolulu continues to be fascinated by the trailer Consolidated Amusements unreels before each film.
"This picture is so great, I never get tired of it, but there are no credits given," laments DeBenedetti.

The reel premiered in May 1992 and has aired continuously since. At only a minute or so long, it celebrates Consolidated's 75th anniversary of showing movies in Hawaii, and features fierce, solemn dancers, darting canoes, thundering conch shells, and golden torch light, making everything seem mystical, before the camera pans down to a Consolidated petroglyph. "Where IS that petroglyph?" wonders DeBenedetti.
Sorry, but the 'glyph is a fake.
The film was created by McHale VideoFilm, produced by Steve Manke and directed by Dennis Mahaffey. The music was written by Jon de Mello, and according to Leah Bernstein at de Mello's Mountain Apple office, has proved popular enough that variations have been used elsewhere
The dancers are from Leina'ala Heine's and Robert Cazimero's hula troupes. The dancing sequences were shot at Makapu'u; the canoes filmed near Paradise Cove.
The short has proved so popular that some have urged that the visitors' bureau use it in national advertising campaigns, and when a local newspaper editor -- not at this paper! -- last year complained she was sick of the spot, de Mello's office "got dozens of notes saying she was off-base," said Bernstein.
We don't have a still of the trailer to show you, but is there anyone in Hawaii who didn't see it? Instead, here's a last look at the recently shuttered Cinerama Theatre, where big screens once meant something.
---
Curious about something you've seen? Ask us: WatDat?, Honolulu Star-Bulletin, P.O. Box 3080, Honolulu, HI 96802, fax at 523-7863 or e-mail at features@starbulletin.com.
---
Da Kine

Koreans in Hawaii subject of conference
The lives and experiences of Koreans in Hawaii will be the subject of a conference sponsored by the University of Hawai'i Center for Korean Studies Jan. 14 and 15.

There will be a presentation of papers by local and international scholars at the center from 9 a.m. to 5 p.m. both days.

Admission is free. Call 956-7041 for more information.

In addition, there will be a performance of traditional and adapted music and dance at 8 p.m. Jan. 14. "Korean Dance and Music: Tradition and Adaptation" will feature dancers Peggy Myo-Young Choy, Mary Jo Freshley and Trina Nahm-Mijo and musicians Gregory Gi Yong Pai and Chan E. Park.

Admission to the concert is free, however, tickets are required and may be obtained at the center beginning Jan. 5. Tickets will also be available at the Kennedy Theatre box office beginning Jan. 13. For more information about the performance, call 956-7655.
Tokyo String Quartet to perform on four islands
The Tokyo String Quartet will be island hopping in late January and early February, with concerts slated for Oahu, Kauai, Maui and the Big Island.

The quartet was formed in 1969 at the Juilliard School of Music. Winner of the Coleman Competition, the Munich Competition and having performed on legendary concert stages around the world, the quartet -- Mikhail Kopelman (violinist), Kikuei Ikeda (violinist), Kazuhide Isomura (violist) and Clive Greensmith (cellist) -- has served on the faculty of the Yale School of Music since 1976.

The quartet's first concert takes place 7:30 p.m. Jan. 28 at the BYUH-Hawai'i McKay Auditorium on Oahu. Tickets are $15 general, $9 for BYUH faculty and staff, free for BYUH students and $4 for other students. Call 293-3545 for information.

A second concert will take place at Orvis Auditorium at 8 p.m. Saturday. It will be preceded by a free, informal meet-the-artist session at 7 p.m. in the University of Hawai'i Music Building, Room 36. Tickets are $24 general, $15 for students. Call 956-8246.

On neighbor islands, the schedule is as follows:

Kauai: At the Kauai Community College Performing Arts Center, 7 p.m. Feb. 1. Tickets $20. Call 1-(808)-245-8270.

Big Island: At University of Hawai'i at Hilo Theater, 7:30 p.m. Feb. 2. Tickets $16 general, $14 seniors, $8 students. . Also at Kahilu Theatre, 7 p.m. Feb. 3. Tickets $12, $18 and $24. Call 1-(808)-885-6868.

Maui: At Maui Arts & Cultural Center McCoy Theatre, Feb. 4. More information is available by calling MACC at 1-(808)-242-7469.
---
Radio Log


KONG 570-AM / 93.5 FM: Adult contemporary rock with some Hawaiian music
KSSK 590-AM / 92.3-FM: Adult contemporary music
KHNR 650-AM: All news
KQMQ 93.1-FM: Contemporary hit radio
KQMQ 690-AM: Radio Disney
KGU 760-AM: Sports radio
KHVH 830-AM: News, talk, traffic, weather
KAIM 870-AM / 95.5-FM: Christian music and teaching
KJPN 940-AM: Japanese-language news, adult contemporary music and talk shows
KIKI 990-AM / 93.9-FM: Contemporary country AM; contemporary hits FM
KLHT 1040-AM: Christian radio
KWAI 1080-AM: Talk radio
KZOO 1210-AM: Japanese-language, broadcasts from Japan
KNDI 1270-AM: Live news from the Philippines in 10 languages
KIFO 1380-AM: News, public affairs
KCCN 1420-AM / 100.3-FM: All talk / UH sports AM; contemporary island hits, FM
KUMU 1500-AM / 94.7-FM: Adult standards, AM; light favorites, FM
KHPR 88.1-FM: Classical, news, public affairs
KIPO 89.3-FM: Jazz, classical, news
KTUH 90.3-FM: Jazz, blues, Hawaiian, rock, country and alternative
KKUA 90.7-FM: Classical, news and public affairs
KKCR 90.9 / 91.9-FM: Hawaiian music, midnight-3 p.m.; and rock, reggae, classical and new age
KRTR 96.3-FM: Adult contemporary music and news
KPOI 97.5-FM: Modern rock
KKLV 98.5-FM: Contemporary Hawaiian
KORL 99.5-FM: Adult contemporary
STAR 101.9-FM: Modern hits
KKHN 102.7-FM: Country
KXME 104.3-FM: Top 40
KINE 105.1-FM: Hawaiian
KGMZ 107.9-FM: Oldies






Click for online
calendars and events.
---
Send WatDat? questions, stories
or any other story ideas or comments to:
Features, Honolulu Star-Bulletin, P.O. Box 3080,
Honolulu, HI 96802 or send a fax to 523-8509
or E-mail to features@starbulletin.com.
Please include your phone number.
E-mail to Features Editor
---
---
© 1999 Honolulu Star-Bulletin
http://archives.starbulletin.com