---
Wednesday, December 15, 1999
A JAPANESE NEW YEAR'S TRADITION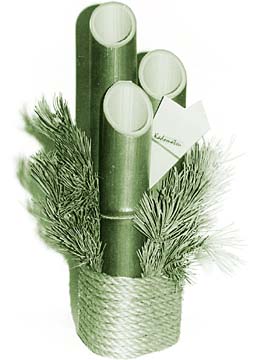 By Ken Sakamoto, Star-Bulletin
So many
doorways, so few
kadomatsu


The symbolic pine and bamboo
arrangements are in short supply
after the death of an
isle craftsman

By Mary Adamski
Star-Bulletin

Islanders who observe the centuries-old Japanese tradition of putting kadomatsu at their doorway as a new year symbol might need to plan a do-it-yourself project this year.

Local retailers expect the fresh bamboo and pine arrangements to be in short supply because of the death of the major Oahu supplier. Charles E. "Bud" Morrison, who died last month, and his team of workers produced 10,000 to 12,000 kadomatsu in their annual craftsmen's assembly line in recent years.

"There are other sources but very few produce the quantities," said Costco buyer Kim Thomas. "Everybody is scrambling for them." Costco's Oahu stores sold 4,000 last year, she said.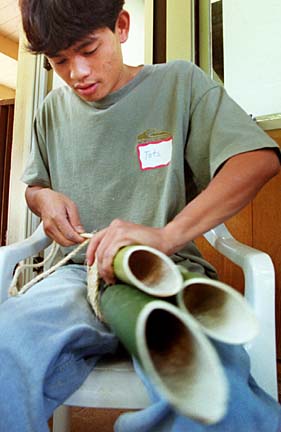 By Ken Sakamoto, Star-Bulletin
Tots Louangraj binds bamboo together at a class on making
kadomatsu, a traditional Japanese new year ornament.
---
"Yes, a shortage is possible," said David Higashiyama, Times Super Market vice president for marketing. "By now, we would be done with the planning but we are still trying to find another source. With one major supplier out of the loop, it throws a kink into everyone's planning."

Watanabe Floral general manager Brian Fujita said, "I don't expect the vacuum to be filled." The plant and flower wholesaler and retailer sold about 1,000 kadomatsu last year, he said. "Bud had quite a production line, had it well-managed, well set up, and was able to produce volume at a reasonable price and reasonable quality. He was the volume guy."

Fujita said there are several other prospective manufacturers, "people who are new at it. We can't be sure about the level of quality."

"We had several boutique or specialist producers. There's only so much license you can take with it because there are traditions involved. The three elements are pine being evergreen for long life. Bamboo is resiliency, it doesn't break, it bends, bound by rope for strength and continuity. There are many other subtleties involved."

"There are other sources but he was the largest supplier," said Dwight Nikaido, manager of Koolau Farmers in Kaneohe. The two Windward stores sell more than 200 annually, he said, and they are looking for possible Big Island suppliers.

Ann Asakura, president of Temari Center for Asian and Pacific Arts, said Morrison's particular design defines kadomatsu in the current marketplace.

"It's amazing the ripple effect of this one man," she said. "He came to us for the symbolism and the story. Us local sansei didn't know ... He forced us to go learn what we're supposed to know about our culture."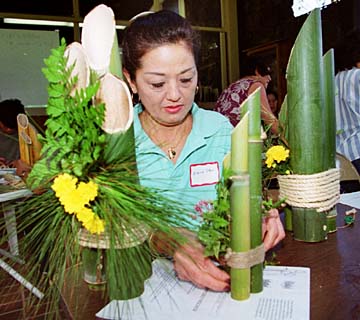 By Ken Sakamoto, Star-Bulletin
Elaine Chun puts the finishing touches to her creations at a
class on making kadomatsu, a traditional Japanese arrangement
of pine and bamboo that is symbolic of the new year.
---
Temari Center members will gather Dec. 26 to make about 550 arrangements as a fund-raiser, an idea that originated with Morrison. They lack the resources to expand production to fill the demand, Asakura said. Temari is taking orders, $40 for an 18-inch size and $100 for one 2 feet tall.

"We are dedicating each one to him this year with a tag on each with the story about this haole boy who came to us ... his generosity of spirit in sharing with people. He taught hundreds of people, senior citizens to Boy Scouts."

Kadomatsu translates literally to gate pine, implying a guard for the house for the new year. "The bamboo signifies flexibility and the pine with its pointy needles represents power to protect the family," said Asakura. "It is bound with rice straw cording, representing the union of man with heaven and earth. There's a reason we do these rituals, it's strongly linked in the animism of the old Shintoism."

It began as a practical household safety device. "In the Edo Period, the 1400s, giant pieces of bamboo were filled with water and sand and placed at doorways in case of a fire emergency," Asakura said. "It evolved to become symbolic of the new year."

Asakura said the first generation of immigrants to Hawaii made their own, using whatever they found here, "ironwood branches and skinny bamboo."

Nancy Morrison said her husband's "basic legacy is that he miniaturized something and made it a popular phenomenon. He is the one who invented this style and it will be duplicated."

"Bud lived in Tantalus and loved nature," she said.

Morrison began using bamboo in his craft work and that evolved into an interest in the kadomatsu artistry which takes many forms in Japan.

They went into production 15 years ago as Tantalus Bamboo.

We did it as a family, a cottage industry," she said. "We'd have 30 people working with us, people came back year after year."

Morrison also crafted large kadomatsu for hotels and restaurants and that's where his true artistry was displayed, said Asakura.

"He did some 5 or 6 feet tall that were just gorgeous, with kirigami, a red and white paper cascade -- in Shinto symbolism it represents life and death."

Nancy Morrison said, "His signature was that everything was fresh, it was the freshness and the grace of the arrangement. He had a lot of respect for our environment. He never used a chain saw to cut the bamboo, and he harvested the long-needled pine, too."

This year, Morrison designed a Tantalus Bamboo Year 2000 T-shirt featuring a kadomatsu design.

They will be sold at Sam's Club, Longs Drugs Manoa store, Marukai and elsewhere.

Nancy Morrison doesn't rule out a revival of Morrison kadomatsu production.

"From a spiritual perspective, we decided to let it lie fallow this year," Nancy Morrison said. "Next year, I'll see what the good Lord has in store."
E-mail to City Desk
---
---
© 1999 Honolulu Star-Bulletin
http://archives.starbulletin.com