---
Saturday, December 11, 1999
Officials will
work to reduce
marathon traffic woes

Sports: Runners plan strategies

Star-Bulletin staff

More than 25,000 people are expected to run in the 1999 Honolulu Marathon tomorrow, and to many residents their will power and months of dedicated training mean one thing: traffic hassles.

The 27th edition of the 26.2-mile race starts at 5 a.m., and traffic on Ala Moana Boulevard from Atkinson Drive to Ward Avenue will be detoured from 1:20 a.m. to 7:30 a.m.

Various restrictions will be in place along the route as the field progresses.

The marathon's office until 5 p.m. today can provide traffic information. Call 921-2323.

A special phone line for communication with a police command post at Kapiolani Park will be open from 4:30 a.m. to 3 p.m. tomorrow. The number is 921-2424.

Some bus routes also will be canceled or detoured -- call TheBUS at 848-5555 for details.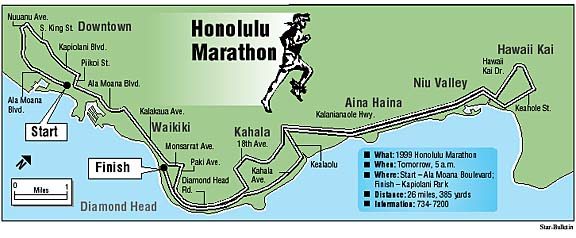 ---
E-mail to City Desk
---
---
© 1999 Honolulu Star-Bulletin
http://archives.starbulletin.com