---
Monday, December 6, 1999
No arrests made
at Keaau Beach


The homeless remove their
belongings to comply
with a city order

By Gordon Y.K. Pang
Star-Bulletin

Large lawn mowers roared into Keaau Beach Park this morning as about a dozen homeless people and their supporters watched calmly from a nearby bench.

Arrests at the park were averted when city officials decided to leave the park open to the public, while not allowing camping.

"As far as we know there are not any violations in this park," said police Maj. Gordon Young, commander of the Leeward District.

The people who stayed at the park took all their belongings off the grounds to comply with a city-mandated order to leave the park by 8 a.m. today.

Many moved their cars and belongings to nearby spots off the side of Farrington Highway.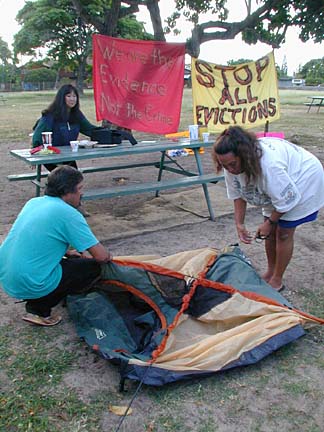 By Craig T. Kojima, Star-Bulletin
Robert and Patricia Duh, top, set up a pup tent in protest
of today's eviction. Police ignored their efforts.
---
Donna Tinoga, who has lived at the park for seven years, said she and a handful of others came back to protest their removal from the park and to get arrested.

But police ignored them.

Last week, city Parks Director William Balfour told the campers that the park would be closed off entirely today through Friday. On Friday, the policy of camping by permit only would be reinstated.

(Campers are allowed to stay only a maximum of five days at a time, to allow the city Parks Department time to do maintenance work on Wednesdays and Thursdays.)

Balfour made it clear last week that those still at Keaau Beach at 8 a.m. would be arrested for trespassing.

But Young said this morning, "They changed their minds."

When told there would be no arrests, several of the homeless and their supporters quickly pitched a pup tent, hoping to get arrested. But police looked the other way.

At least one man said he intended to set up his tent tonight and wait to be arrested to make his point.

Police said it would be up to parks officials to make the call.

Showing support for the campers this morning were a handful of supporters, representing the American Friends Service Committee, the Hawaii Ecumenical Coalition, Nuclear Free Independent Pacific and Ohana Koa.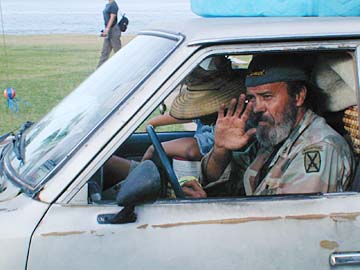 By Craig T. Kojima, Star-Bulletin
Glen Apuna waves while his son, Clifford, rides as they leave the beach.
---
"These people have a right to a safe place to live," said Kyle Kajihiro, of American Friends Service Committee. "So, I don't know why the parks people are evicting them."

After other Leeward area beaches were cleared of the homeless last April, parks officials agreed to allow them to remain at Keaau until Dec. 1, on condition that they try to find shelter elsewhere.

Waianae Community Outreach, a group of Leeward Coast social service providers, helped place 10 of 17 identified families.

Seven remained; they were joined by 50 to 75 other people over the summer.

There were 38 families at the beach last week, when Balfour visited. All 38 families had moved their belongings out by today's deadline.

Marlon Badayos, Diamond Kyle and Lloyd Noe Lee were among the last to go. They decided to stay and have a final breakfast of coffee, doughnuts and cigarettes, Badayos said.

Lee said he will stay on a nearby private property in exchange for fish that he catches.

Badayos and Kyle, who are both single, said they will take to living out of their cars and possibly move to Makua Beach Park.

The city has worked out arrangements for the homeless to stay at a shelter in Waianae and one in Honolulu, set up exclusively for them.

But Lee, like many others, said he won't go.

"I don't believe in claustrophobia," he said. "This is my culture. I cannot handle concrete. I cannot handle congestion. I cannot handle the rat race in Honolulu."

The Rev. Kaleo Patterson of Kaumakapili Church said about a half dozen people would stay at Kawaiahao Church for the time being.

He said he is working with trustees of Queen Liliuokalani Trust to set aside land at Keaau for the homeless.

The property is being eyed for a youth leadership program and Patterson believes those leaving Keaau could help there with their fishing and other skills.

Pamela Perreira, who has lived at Keaau Beach for three years, said she intended to stay as long as she could today before going to Kawaiahao.

"The last (city) bus leaves here at 1:30 a.m.," she said. "This is my home. I'm going to stay here as long as I can."
E-mail to City Desk
---
---
© 1999 Honolulu Star-Bulletin
http://archives.starbulletin.com