Please support our very first Starbulletin.com advertiser!
---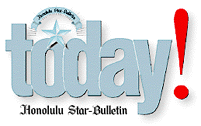 ---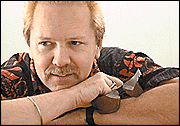 Island Mele
By John Berger
Friday, December 3, 1999
---
'Simple' sounds
neatly packaged

Pure and Simple: Herb Ohta Jr. (Koa 102)

HERB Ohta Jr. reaffirms the versatility of the ukulele as he plays Hawaiian and hapa-haole standards, Top 40, Latin and pop tunes. Ohta and co-producer Charlie Lukela do a remarkable job incorporating other instruments -- guitar, bass, violin, steel guitar, and various synthetics -- while always keeping the focus on Ohta's uke as the lead instrument.

A synthetic rhythm section actually provides an interesting contrast to the clean organic sound of the uke on "Conga."

If the reggae-beat remake of "Wild World" with synthesized horn tracks gets Ohta some play on Hawaii's "island music" radio stations he'll be introducing his music to a new audience.

Koa Records: http://olindaroad.com

---




Live Aloha: Imua (Island Groove Productions IGPD 2000)

IMUA'S debut album, "Endangered Species," got play last year with a catchy novelty song, "I'm A Rainbow Fan" (The trio padded the album with duplicate karaoke versions of three songs). Their second album is a step forward that maintains their basic local reggae-lite sound. The arrangements feature Imua's ukulele player Samson Ah Mook Sang. A team of 10 studio veterans join him in backing vocalists Albert "Baba" Akiona and Dave Dunaway.

Akiona and Dunaway are the writers. They set unpretentious tales of local living to commercially viable reggae rhythms. The HVCB should already be using the title track as a campaign theme. Several others merit radio play.

Buddy Holly's "Everyday" is the best of Imua's Top 40 remakes.

Island Groove: http://islandgroove.com

---




Limited Edition Volume II: Peter Dillingham & Friends (Peter Pam PPR-4)

STEEL guitarist Peter Dillingham recorded two cassettes of old-style hapa-haole music in the 1980s. This anthology contains all of both and two songs more.

Vocalist Joe Recca is the most prominent of the Dillingham "friends" featured here. Sol Bright and Puamana are among the others.

Dillingham provides no information on the songs, however two numbers by Bright suffice to make this album notable over and above Dillingham's work on steel.

Peter Pam Records





---




John Berger, who has covered the local
entertainment scene since 1972, writes reviews of recordings
produced by Hawaii artists. See the Star-Bulletin's Today
section on Fridays for the latest reviews.
E-mail to Features Editor
---
---
© 1999 Honolulu Star-Bulletin
http://archives.starbulletin.com