---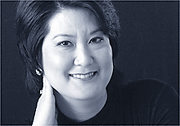 Changing Hawaii
By Diane Yukihiro Chang
Friday, December 3, 1999
---
Attorneys have
sense of humor
after all

BRACE yourself. Lawyers are funny -- on purpose, even! It's hard to imagine, I know. But as part of its centennial anniversary festivities, the Hawaii State Bar Association (HSBA) held a write-in contest, asking members to create imaginary law firms by using the surnames of present and former HSBA barristers.

Yours truly was asked to judge. Why not, I figured. How many entries could there possibly be? How many attorneys in Hawaii actually have a good sense of humor?

A whole lot, it turns out. There were more than 300 entries, most of them hilarious. Many poked fun at their own profession (um, heard any good lawyer jokes lately?). Here's a sampling:

Abbott & Castillo
Ahn Street Park Ing
Ai Kahn See Wright Teruya
Barbee & Kent
Betts Tse Ross
Brady Bunn Chee
Burger King McDonald & Zip Palk
Cash & Carey
Cook Rice Daily
Courageous Farm Helper Milks Sauer Kau
Djou Sia Mann Idie Moon
Dodd Lee Dew Wright
Foy Yu Weil Robb Seu & Steel
Goo Veen Ono Sun Day Apter Yoon
Good Weil Hunt Ng
Grimmer Priest Rezents Jolly Parsons
Hao Low Kan Hee Sink
Hee Haas Ahn Ichinose
Helpler May Knott Licke Pots, Nohr Trow Hare Indie Sink
Ho Lee Smoke
Hoo Chee Ma Ma
Im Oh Kay Yu Oh Kay We Oh Kay
Jung & Poe
Key Stone Kop
Kim Chee Char Siu & Sue She Rolls
King & Ai
Kushi Young Butt & Concepcion
Lach Key Childs
Leh Go Mah Ego
Lovitt Ohr Leavitt
Lyons Tigert & Beh(s)
Ma Goodness, Merce Me
Marcus Weil Beh
Meek Monks Revere Stern Abbott
Nip & Tucker
Noh Cain Reid & Wright
Oh Henry, Reese & Hersey
Oki Do Key
Paul Revere & Rader
Rair Berger Ahn Bunn Withy Lotsof Mayo
Rapp Musick
Roll Ng Stone
Scarlett Ohara
Siu Leider
So Siu Mee
Song Imaye Hart
Stick Hee White Reiss
Sult & Pepper
Tower Ing Ego, Lotsof Gall
Vague Butt Knott Wong
Wai Be So Surli
Watts Ale Ng Yu
Weir So Good
Won Good Courageous Aduja Cater
Woo Woo Good Luke Ng
Yamada Hada Rair Rasch
Yogi Paer
Yu Sorich Wee Billyou Moore

AND the winners of the 1999 HSBA Law Firm Name Game Contest are (losers, kindly resist the urge to sue):

Never Happen Award: Wee Billyou Moore & Yu Noh Kea
Patriotic Award: Ho Say Cain Yusi
Deja Vu Award: Oh Noh Knott Agena
Epicurean Award: Dang, Fry Cook Burns Ono Chow
Runner-Up: Sockett Toomey Bybee
Grand Prize: Marr Yu Go Ing Doo Scarborough Pear.






---




Diane Yukihiro Chang's column runs Monday and Friday.
She can be reached by phone at 525-8607, via e-mail at
dchang@starbulletin.com, or by fax at 523-7863.
---
---
© 1999 Honolulu Star-Bulletin
http://archives.starbulletin.com