---
Wednesday, December 1, 1999
More Japanese
women quietly move
into boardrooms


But barriers remain

A U.S. expert says many women
are resisting heavy pressure to quit
work and have babies

By Susan Kreifels
Star-Bulletin

Japanese women in management? There aren't any, the stereotype goes, because the "office ladies" work for a few years until they find husbands, then quit their jobs to have children.

Those stereotypes are changing, says the author of "Kimono in the Boardroom: The Invisible Evolution of Japanese Women Managers." (Oxford Press, ISBN 0195117654)

Jean Renshaw, a San Diego management consultant who has taught at the University of Hawaii and the former Hawaii Loa College, said there are 250,000 women managers in Japan's largest corporations and government agencies today. That's 10 percent of all managers -- small compared with the 46 percent in the United States, but double the number of Japanese women in management a decade ago.

Renshaw interviewed more than 150 Japanese women managers.

"Men say women want to be in the home and leave work to have babies," said Renshaw, who was in Hawaii for book-signings. "But women are telling me they no longer are willing to carry all the load -- taking care of the children, husband and elders."

Although there is still strong family pressure to marry, leave work and have children, "women have choices."

"But women are telling me
they no longer are willing to
carry all the load -- taking care
of the children, husband
and elders." Jean Renshaw
SAN DIEGO MANAGEMENT CONSULTANT

One significant factor pointing to that change is the continued fall in the birthrate to 1.39 per couple last year, compared to 1.5 in the United States. According to some projections, Renshaw writes, that could mean a population halved in 100 years, and the Japanese government is worried.

The lack of convenient day care has also caused problems.

The change in attitude among women, she said, has come from within Japan, from networking among women, government ministries headed by women, and crowds of them attending workshops on management and business.

"They're not as confrontational as American women, and they don't want to be," Renshaw said. "They're slowly working their way up."

By the numbers

Japanese women now make up 40.6 percent of the work force, compared to 34 percent in 1981. The current rate in the United States is 46 percent. About 60 percent of all working women in both countries are married.

Still, according to news reports, few women in Japan are on career paths and most have part-time jobs with little long-term security or opportunity for advancement.

In some ways, working Japanese women are ahead of their American counterparts. Japan has an equal opportunity law, although it offers only guidelines with no legal teeth. Recently the law got more bite: Now women can file discrimination complaints more easily, and companies must lift bans on women working night shifts.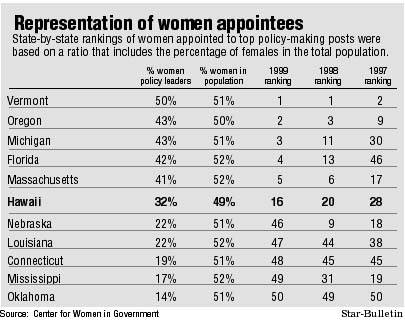 Of the women Renshaw interviewed -- older than 40, all married but one and most with children -- 90 percent shared a surprising similarity. They didn't have older brothers. Family pressure to succeed fell upon them instead of an oldest son.

"They were encouraged," Renshaw observed, and their childhoods "were less restricted."

Fumiko Halloran, an author on Japan and United States issues who lives in Hawaii Kai, said Renshaw is one of the first writers to take a scholarly look at such issues in Japan. Halloran serves on a corporate citizenship committee in Keidanren, a federation of Japan's largest corporations, and she said trends of working women in both countries are similar, but few Japanese women have made it to the top. More Japanese women than American women have remained in the work force for economic reasons.

Feminism afar

In the 1960s and '70s, Japanese women watched the feminist movement in the United States with fascination, Halloran said, but it never caught fire there. However, they've been actively involved in women's issues around the world.

Renshaw said one woman who held a doctorate degree in art was prevented from getting a job in a prefectural museum because she was unmarried and had no plans to move her parents with her. A woman alone, she was told, was unacceptable.

Renshaw noted that the government's Council on Gender Equity hung a poster that targeted another stereotype -- mothers, single-handedly for the most part, raising the children, while fathers stay late at the office or carouse with colleagues. The poster showed a well-known professional man taking time off to take care of his children, promoting a message of "you're not a real parent unless you participate." The poster led to emotional debate on the floor of Parliament, Renshaw said.

A younger generation of women has been inspired by Princess Masako, headed for a career in diplomacy before she married Crown Prince Naruhito in 1993. Her hesitation to join the imperial family and give up her career -- the prince proposed several times -- stirred national debate about whether she should or shouldn't marry.

Renshaw said Japan's economic turmoil in recent years and its need for economic reform add impetus to changing attitudes toward women.
E-mail to City Desk
---
---
© 1999 Honolulu Star-Bulletin
http://archives.starbulletin.com