Advertisement - Click to support our sponsors.

---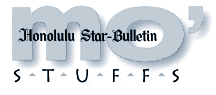 ---
Wednesday, December 1, 1999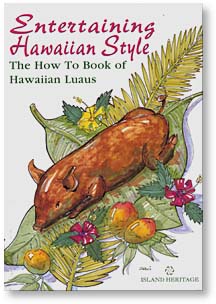 ---
Pick up imu know-how
from luau guidebook
Every year, Patricia L. Fry throws a luau at her home in California for as many as 125 of her closest friends.

Not many of us could do that here -- where you can buy poi at the neighborhood supermarket. How would you ever do it on foreign turf?

Fry shares her technique in "Entertaining Hawaiian Style: The How-to Book of Hawaiian Luaus," just published by Island Heritage.

The book does not deal with the poi issue at all, which seems a pretty big insufficiency, but probably the tiny demand for poi at a mainland luau makes it too much trouble to deal with.

In fact, all the recipes seem geared for nonlocal palates. No lomi salmon, squid luau or poke. Instead you get Salmon-Stuffed Tomatoes, Sweet-and-Sour Pork, Long Rice, Chicken Hawaiian and Laulau made with grape leaves.

The book's strong point is its in-depth explanations of pig-roasting techniques. Where to get a whole pig, for one thing -- de-haired, with skin on. And it explains several ways, with illustrations, of roasting, including building an imu.

To round out the party, there are chapters on dressing Hawaiian, speaking the language and entertaining guests island-style.

"Entertaining Hawaiian Style" sells for $7.95 at bookstores, or call (808) 487-7299.
---
New quit smoking program offered
Are you a smoker who wants to quit, but can't do it on your own?

The Cancer Research Center of Hawaii is offering its help during the next six months in a free program, "Calling it Quits."

The Hawaii center is taking a lead role in a research study with the Fred Hutchinson Cancer Research Center in Seattle aimed at helping people 18 years old or older "quit smoking on their own terms."

"As bad as smoking is to your health, it can be a very tough thing to give up," said Dr. Brian Issell, director of the Cancer Prevention and Control Program in the Cancer Research Center of Hawaii.

"Most smokers would like to quit, and want to do so on their own," he said, encouraging such smokers to participate in "Calling it Quits" and "give themselves an easy self-help way to quit for good."

The program is funded by the National Cancer Institute.

Interested smokers should call the Cancer Information Service's 1-800-4-CANCER line from 9 a.m. to 4:30 a.m., local time to speak with a cancer information specialist.

They will receive printed materials through the mail to guide them through the quitting process by providing ways of dealing with the challenges involved.
Soy food study needs volunteers
Women between the ages of 35 and 46 are invited to participate in a breast cancer study at the Cancer Research Center of Hawaii.

Dr. Gertraud Maskarinec, assistant researcher, is conducting the project to look at the effects of plant estrogens on breast cancer. The study will examine the effect of eating soy foods -- tofu, soymilk, green soybeans and a candy bar with soy.

One group of volunteers will have a goal of how much they should eat daily of a soy item, Maskarinec said. Those women will receive some dietary counseling, a cookbook and manual and dietitians will help them with recipes, she said.

"We are also going to give them the foods or some way that they don't have to pay for them."

Other types of counseling will be offered to the second group but they won't eat soy foods.

Volunteers should have had mammograms, have regular menstrual periods and shouldn't be taking hormonal medication.

The National Institutes of Health is funding the research.

Women interested in volunteering should call Casey Robbins, research coordinator, at 586-2997.
---
Morsels


Vargas takes charge at Mauna Lani: When the international crowd of foodies arrives at Cuisines of the Sun at Mauna Lani Bay Hotel and Bungalows next summer, a new chef will be their host.

Ryan Vargas has taken over as executive chef of the resort, replacing Phil Sassaman.

Vargas is former executive sous chef at the Ritz-Carlton, Kapalua, on Maui. He is a graduate of the Culinary Institute of America and served his internship at the former Kahala Hilton.

Vargas oversees the hotel's six eateries, including the flagship CanoeHouse. But his highest profile responsibility will be to coordinate the all-star gathering of chefs who participate in the annual Cuisines event, to be held this year on July 22-26.

The Mauna Lani has hosted Cuisines for all of its 11 years. Vargas' position has a distinguished heritage -- the first Cuisines' host chef was Alan Wong.

Vargas says his "culinary mentor" is his father, who just retired as personal chef of the Naval Commander of the Pacific.

Healthy Cooking Classes Featuring Holiday Faire: Castle Medical Center offers cooking classes to help with weight control, disease management and prevention and general nutritional health.
The "Nutrition, Diabetes & Weight Control" Seminar will be conducted from 6:30-8:30 p.m. on Dec. 8. The free seminar focuses on food group exchanges to improve the health of those with diabetes. General information on diabetes and weight control will also be provided.
"Holiday Mocktail and Healthy Pupu Party," a vegetarian cooking class, will be held 7-8:30 p.m. on Dec. 9. The class will demonstrate how to prepare alcohol-free beverages and heart-healthy pupus for the holidays. Pupu sampling and food and drink recipes are included. Cost: $10.
Classes are conducted at the Castle Center for Health Promotion in Kaneohe. Call 263-5400 to register.

Rabbit Ridge wines showcased: Palomino Euro Bistro is offering a multicourse meal of dishes paired with wines from Rabbit Ridge Winery and Vineyards.
The Dec. 9 event begins at 6 p.m. Cost is $65 per person.
The menu: Hawaiian Plantation Shrimp, Crab and Fire-Roasted Salmon Cake with Kauai Organic Greens (with 1998 Viognier Heartbreak Hill); Fire-Roasted Quail with Sage and Mortadella Stuffing (with 1997 Zinfandel Sonoma); Kiawe Grilled Lamb Rack with Oven-Dried Tomatoes and Tuscan Bean Salad (1997 Sangioves Congilio Selezione); Chocolate Trio (1996 Nebbiolo Barrique Reserva).
Winemaker Erich Russell from Rabbit Ridge will present each wine.
For reservations call 528-2400.


Click for online
calendars and events.
---
Send WatDat? questions, stories
or any other story ideas or comments to:
Features, Honolulu Star-Bulletin, P.O. Box 3080,
Honolulu, HI 96802 or send a fax to 523-8509
or E-mail to features@starbulletin.com.
Please include your phone number.
E-mail to Features Editor
---
---
© 1999 Honolulu Star-Bulletin
http://archives.starbulletin.com