---




Newswatch

By Star-Bulletin Staff
Thursday, November 25, 1999
---
Millennium Moments

Temple at the palace

IOLANI Palace became the "Good Ship Lollipop" on Aug. 11, 1935, when Hollywood darling Shirley Temple came to town.

Some 20,000 people were out at the crack of dawn to see the 5-year-old star, scheduled for a 2 p.m. appearance, says David Free in "Vignettes of Old Hawaii." Dozens of police officers and nearly 50 National Guardsmen covered the palace grounds; in the crush of Temple's arrival, several women fainted.

In concern for the crowd's safety, Free recounts, the little star was taken from the mauka lanai to inside the palace; she reappeared on the makai balcony, then the ewa balcony, where she sang her famous "Good Ship Lollipop."

Kahala bank robbery suspects plead guilty

Two men charged with the July 7 robbery of the Kahala branch of American Savings Bank have entered guilty pleas to robbery and weapons charges.

Sean Matsunaga made his guilty plea in federal court yesterday after Jacob Travis Hayme entered his Monday.

They each face up to 25 years in prison, in addition to a mandatory 10 years without parole for the weapons counts.

Roger Dailey pleaded guilty in September in the case. All three are scheduled to be sentenced next July.

Albert Batalona, a fourth suspect, faces a number of charges in state court. One count is for first-degree attempted murder. He is accused of firing a semiautomatic weapon at a police officer.

Jury issues murder indictments in 2 cases

An Oahu grand jury has issued indictments in separate murder cases involving two young girls, says Jim Fulton, executive assistant with the city prosecutor's office.

Melissa Dang, 3, died in 1989 from blunt trauma to the abdominal area, while Natasha Faufata, 2, died in 1994 after she was discovered not breathing.

The grand jury returned indictments Tuesday against Melissa's stepfather, Chau Minh Dang, and her mother, Hao Tuong Dang.

The grand jury also indicted Natasha's parents, David Martinez and Dorothy Marie Faufata.

Both couples had been arrested after the deaths but were later released pending further investigation.

Deputy city Prosecutor Maurice Arrisgado said both couples were charged with murder and failing to seek timely medical care for the children.

The indictments were sought following a review of the cases by medical experts.

"Our policy in this office is that it's never too late to seek justice, and that's what we're trying to do," Arrisgado said.

Fulton added that the policy initiated by Prosecutor Peter Carlisle calls for review of all past pending cases involving child deaths.

Renew family bonds, Gov. Cayetano urges

Thanksgiving is a day for loved ones to renew family bonds, according to Gov. Ben Cayetano.

In his annual Thanksgiving message, Cayetano said he and his wife believe it is "an appropriate time of year to acknowledge that every one of our citizens is a valuable member of an extended family.

"During the remaining weeks of the year we will be constantly reminded of how the actions of each individual influence the lives of those around them," he said. "Gestures of kindness toward the clearly homeless, and less-fortunate members of our society can make the season brighter and more meaningful for everyone."

Cayetano also recognized the volunteers of social service organizations who he said have "raised the quality of life in our island community throughout the year."

Postcard to help curb telemarketing fraud

Knowledge is power, and knowing about telemarketing fraud can help prevent being taken in by scam artists.

Every home in Hawaii has received or will receive a jumbo postcard that will give advice on how to tell the difference between legitimate telemarketers and scam operators. Illegal telemarketers bilk Americans of $40 billion a year, with more than half the victims over age 50, federal officials say.

The "Know Fraud" postcard is designed to be displayed near the home telephone to help citizens make informed decisions on such telemarketing pitches and avoid being bilked.

The Postal Inspection Service is joined in this nationalwide effort by the American Association of Retired Persons, Better Business Bureaus, and other federal and state agencies.

Consumers who believe they are victims of telemarketing fraud are encouraged to call toll-free 1-800-987-3728. Additional information is on the Know Fraud Web site at http://www.consumer.gov/knowfraud.

Pearl City officer wins 1999 'Top Cop Award'

Officer Lauriano Perreira has won the Honolulu Police Department's 1999 "Top Cop Award" for accumulating the highest combined score in recent competition involving fitness, firearms and control/arrest tactics.

Perreira, who joined the department in 1997, is assigned to the Pearl City patrol district.

Individual competition winners were:

Officer David Politsch, fitness;

Sgt. Samson Mahi, firearms;

Officer Craig Uehira, control/arrest tactics.

Cuddly Cuttle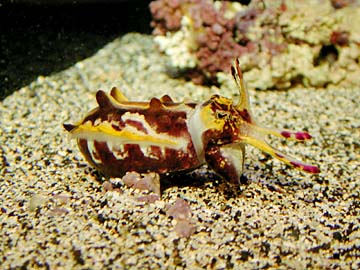 By Criag T. Kojima, Star-Bulletin
A cute cuttlefish from southern Japan warily eyes the
photographer lurking just outside its tank at the
Waikiki Aquarium.
---




---




Police, Fire, Courts



By Star-Bulletin staff



Investigators want help
finding missing woman

Missing persons investigators are asking for the public's assistance in locating a 31-year-old woman who has not been seen since Friday.

In Chin McDonald was last seen Friday at 10:30 p.m. as she left work at the Club Chance Bar in the Pearl Kai Shopping Center, police said.

She didn't return home that evening and her car was left at the shopping center.

The next day, her purse was found near the shoreline on a bike path near the Neal Blaisdell Park in Pearl City.

She is described as 5 feet 3 inches tall, 120 pounds with brown hair and brown eyes.

She was last seen wearing black pants, a black blouse and high-heeled shoes.

Anyone with information about McDonald's whereabouts is asked to call detectives at 529-3394 or CrimeStoppers at 955-8300.

Boy reportedly abducted from elementary school

Police are investigating yesterday's reported kidnapping of an 11-year-old boy from Pearl City Elementary School.

The boy reported he was abducted by an unknown man while playing in the parking lot of the school at 2:15 p.m., police said.

He told investigators the suspect threw him into a white two-door sedan, taped his mouth shut and slapped him several times while driving him around.

The suspect then released the boy about a mile from the school.

Police charge man in theft of backpack

Police charged a 40-year-old man yesterday for allegedly stealing a woman's backpack earlier this month.

Aaron Meyer was charged with second-degree robbery and kidnapping, police said. He is being held on $50,000 bail.

He allegedly grabbed the woman's bag near Rycroft and Kaheka streets on Nov. 4.

Victim in Ewa Beach shooting identified

The 21-year-old man killed in Saturday's Ewa Beach shooting has been identified by the medical examiner as Gercel Ong of Waipahu.

An autopsy determined that Ong died of a gunshot wound to the chest.

The shot that killed Ong was allegedly fired from a red compact car, possibly a Honda hatchback, at Fort Weaver Road, mauka of Renton Road. The shooting was reported at 12:45 a.m.

The suspects are still at large, says homicide Lt. Allen Napoleon.

---

The Courts

Drug, money-laundering defendant convicted

A federal jury returned guilty verdicts yesterday against Brigitte Riedl, 62, for taking part in a conspiracy involving distribution of cocaine and "crack" cocaine.

She was found guilty of distribution of various quantities of those substances and money laundering in purchase and delivery of cashier's checks in amounts of $55,000, $320,000 and $100,000 in 1997 and 1998.

The jury also returned verdicts forfeiting a Nahua Street apartment building, seven Island Colony condominium units on Seaside Avenue and a Hawaiian Monarch condominium unit on Niu Street.

These properties were involved or traceable to the money laundering, U.S. Attorney Steven Alm said.

Also, evidence produced showed that Riedl, believing sums of money to be proceeds from drug trafficking, purchased and transferred cashier's checks intending to conceal and disguise nature, location, source, ownership and control of the funds, he said.

Trial evidence also revealed Riedl rented rooms at the Nahua Street building to prostitutes working in Waikiki, Alm said.

"This case should send a strong message to property owners that knowingly allowing their property to be used for illegal activities can lead to its forfeiture," Alm said.

Riedl will be sentenced March 13. Under federal sentencing guidelines, there is no parole under any of the offenses charged. She faces prison terms ranging from a 10-year minimum up to a possible life sentence.

Former attorney faces tax evasion charges

Former Hawaii attorney Glenn H. Kobayashi has been indicted for failing to file state general excise tax returns for 1996, 1997 and 1998.

Kobayashi resigned from the Hawaii State Bar Association in July 1998.

From 1996 through 1998, Kobayashi earned in excess of $250,000 from his law practice and failed to file annual general excise tax returns on that income, the state said.

He was to be arraigned tomorrow before Circuit Judge Richard Perkins and faces the possibility of up to a year in prison and a $25,000 fine.







E-mail to City Desk
---
---
© 1999 Honolulu Star-Bulletin
http://archives.starbulletin.com