Advertisement - Click to support our sponsors.

---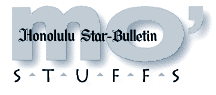 ---
Wednesday, November 24, 1999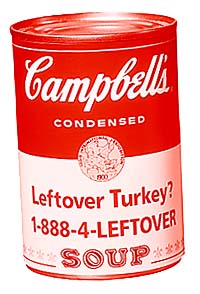 ---
Just call for help
If your turkey is frozen solid at midnight tonight, or you thawed it out two days ago and aren't sure it's still OK to cook, or you forgot how to mash potatoes -- corporate America stands by to help you survive Thanksgiving. Call one of these hot lines for advice. Some allow you to talk to an actual person; others offer 24-hour coverage, but recorded info. The Foster Farms line gives you a real person all day, all the time. If you can't get Mom, these sources should offer some solace. Times listed are Hawaii times:

Foster Farms Turkey Helpline: (800) 255-7227, 24-hour live assistance daily through Monday. Online: www.fosterfarms.com.

Butterball Turkey Talk-Line: (800) 323-4848, a home economist will take your call, 4 a.m.-4 p.m. through today; 2 a.m.-2 p.m. tomorrow; 4 a.m. to 2 p.m. Friday through Dec. 23. Online: www.butterball.com.

USDA Hotline Meat and Poultry Hotline: (800)-535-4555, for food-safety questions, 5 a.m. to noon weekdays all year; 3 a.m. to 9 a.m. tomorrow.

Center for Food Safety hot line: Recorded information, (800)-332-4010 anytime.

Land O Lakes Holiday Bakeline: (800)-782-9606, experts available 4a.m.-2 p.m. daily through Dec. 24. Online: www.landolakes.com.

Campbell Soup Leftover Hotline: Talk to a real person about using up leftovers, (888)-453-3868, 3 a.m. to 3 p.m. Friday. Recorded info 24 hours daily through Dec. 31. Online: www.campbellkitchen.com/leftovers.cfm.

Morsels

"8th Annual Ulupalakua Thing!": The Maui Agricultural Trade Show & Sampling at Ulupalakua Ranch and Tedeschi Winery will be held at noon on April 29. Agricultural products grown and raised in Hawaii are eligible for the show. Participants will be able to sell to buyers from around the world while attendees try new products and meet manufacturers and growers. The event is based on the theory that the best way to promote fresh grown products is to provide samples.

Products are screened for quality and suitability. Food items are stressed, but some gift items created from agricultural products will be included. To be placed on a mailing list, call 875-0475 or fax 879-1283. Tickets will be sold at Maui locations in April and will be $8 in advance; $10 at the gate. The event is a scholarship fund-raiser for Maui Community College agriculture & food service programs.

New direction for Diamond Head Grill: David Reardon debuts as executive chef of the Diamond Head Grill in a benefit dinner Dec. 1.
Reardon is taking over the elegant restaurant opened in the Colony Surf hotel by David Paul Johnson in March of 1998. Johnson's management contract is running out and will not be renewed by the hotel's new managers, Starwood Hotels and Resorts Worldwide, which has changed the hotel's name to W Honolulu. Johnson will return to his Maui restaurant after serving his last meal at the Diamond Head Grill Nov. 30.
Reardon, who comes from the Orchid at Maunalani, has designed the menu around regional Hawaii cuisine, blending Asian, European, American and Polynesian styles.
The gala begins at 6 p.m. and will feature appearances by the stars of "Baywatch Hawaii," dancing and jazz.
Proceeds benefit America's Promise Hawaii and its programs to mentor and support Hawaii's youth. Tickets are $100 per person. A $200 ticket includes a penthouse reception. Corporate tables for six, including the reception, are $1,500. Call 922-1700; ask for Aulii Chung


Click for online
calendars and events.
---
Send WatDat? questions, stories
or any other story ideas or comments to:
Features, Honolulu Star-Bulletin, P.O. Box 3080,
Honolulu, HI 96802 or send a fax to 523-8509
or E-mail to features@starbulletin.com.
Please include your phone number.
E-mail to Features Editor
---
---
© 1999 Honolulu Star-Bulletin
http://archives.starbulletin.com