Advertisement - Click to support our sponsors.

---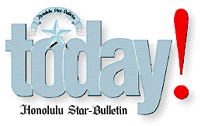 ---
Wednesday, November 24, 1999



Lobster, crab delights

Here are the recipes prepared by Chef David B. Reardon, new executive chef at Diamond Head Grill, on "Hawaii's Kitchen" this week. The show aired at 5:30 p.m. Sunday and will be rebroadcast at the same time Saturday on KHON Fox 2.

Keahole Lobster, Grilled
Maui Onion & Avocado Salad
with Ka'u Orange Vinaigrette

3 lobsters, approximately 1 pound each
1 gallon court bouillon or vegetable stock
1/2 pound ripe avocado, cut into 1/2-inch dice
1 garlic clove, diced
2 tablespoons finely chopped scallion
1 tablespoon jalapeño pepper, seeds removed
1 tablespoon lemon juice
6 ounces ripe mango, cut into 1/2-inch dice
4 grilled Maui onions, cut into 1/2-inch dice
2 teaspoons cumin
1/2 teaspoon salt
4 ounces chicory frisee
1 ounce chives, for garnish
1 ounce edible flowers, for garnish

(PI)Ka'u Orange Vinaigrette
4 tablespoons olive oil
1/4 of a Ka'u orange
1 ripe mango, peeled and diced
2 tablespoons rice wine vinegar
1 teaspoon sesame oil

Place lobsters in boiling court bouillon and cook for 12-15 minutes. Place in an ice bath to cool.

Place avocado, garlic, scallion, jalapeño, lemon juice, mango, Maui onions, cumin and salt in a bowl and blend. Reserve

Cut each lobster tail in half. Remove meat from claws.

Place 3/8 cup of onion and avocado salad in center of each of 6 plates. Top with half a lobster tail.

Whisk vinaigrette ingredients together until well-blended. Toss chicory frisee with vinaigrette. Place on top of lobster tail. Place one lobster claw on the side. Garnish with chives and flowers. Makes 6 servings.

Semolina Dusted Lemon
Crabcake with Wilted Asian Greens

1 pound fresh crabmeat
1 tablespoon lemon zest
2 tablespoons chives
1/2 cup mayonnaise
1 cup semolina
1/2 tablespoon olive oil
6 cups Asian greens
1/2 cup pickled ginger
1 tablespoon of mixed black & white sesame seeds
Ancho-Chile Honey Vinaigrette (recipe follows)

Add lemon zest, chives and mayonnaise to crab. Form into cakes and dust in semolina flour on each side. Pan sauté in olive oil until crispy on both sides.

Drizzle 1 tablespoon of the dressing around each of six plates. Place Asian greens in the center. Add pickled ginger and crabcake. Garnish with sesame seeds. Makes 6 servings.

Ancho-Chile Honey Vinaigrette

2 ancho chiles (with seeds)
1 Hawaiian chile
2 garlic cloves
2 shallots
Juice of 2 lemons
2-ounce piece of ginger
1/2 cup honey
2 cup chicken stock
2 cup olive oil
3/4 cup champagne vinegar
Salt to taste

Cook ancho chiles, Hawaiian chile, garlic, shallots, lemon juice, ginger and honey in chicken stock, making sure the ancho chiles have reconstituted in the stock. Simmer until reduced by half. Place in a blender and slowly add olive oil and vinegar. Season with salt.

Nutritional information unavailable.






Click for online
calendars and events.
E-mail to Features Editor
---
---
© 1999 Honolulu Star-Bulletin
http://archives.starbulletin.com