Advertisement - Click to support our sponsors.

---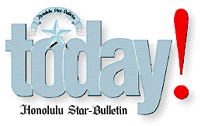 ---
Wednesday, November 24, 1999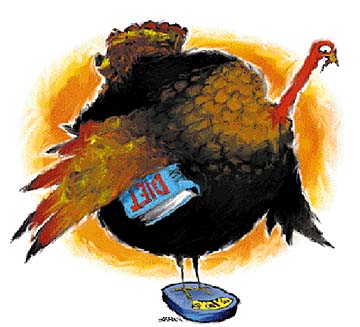 By Betty Shimabukuro
Star-Bulletin

Tomorrow is the biggest feast day of the year, and you're on a diet.
Bummer.
But it is a holiday, and just because you're trying to improve yourself doesn't mean you should spend the day in deprivation.
You, too, can have a happy Thanksgiving. The idea is not to end up a like a big old beached whale lying in front of the television. Which, actually, is a fine goal for anyone approaching any eating event.
To that end, here is a compendium of common sense tricks from people who deal with weight management every day. From what they say, getting through the day shouldn't be all that hard.
1. Starving yourself is stupid
First and foremost, don't show up at the Thanksgiving feast on an empty stomach. "Don't sit down starving ... you're just going to go head first into that buffet," says Maria Walls, senior nutritionist with Weight Watchers International.
Eat breakfast, brunch or a light lunch, depending on when the big meal is to be served. Drink a lot of water beforehand, too.
2. Like Mom said, eat slowly
If you heap food on your plate and wolf everything down in 10 minutes, you're likely to go back for more. But if you make that first serving last, your body will tell you you're full and the second plate won't be so appealing, says Susan Fierro, director of Integrative Health Care at Honolulu Medical Group.
"It takes 20 minutes for the stomach to reach the stretch point where the chemical signal goes to the brain that you're full," Fierro says.
So, chew slowly, put your fork down between bites, have a sip of your beverage and some conversation. Our sense of satisfaction comes from the taste and texture of the food in the mouth, Fierro says. Once you swallow, all that's gone, which is why you go back for more.
"If I tell myself I'm going to make this last at least 20 minutes, I'm going to get a lot more mileage out of that meal."
3. Make intelligent cboices
Case the joint first. Survey the buffet table and consider your choices. Decide that at least half your plate will be lower calorie vegetable and fruit dishes. The other half of the plate can be turkey and other fixings.
Beware, though: Lots of traditional vegetable dishes are loaded with creams, cheeses and fat. As a general guide, foods with lots of color that are closest to their fresh, natural state are the safest.
As a party host, try to provide a couple of dishes like that; as a guest, bring your own.
"Get some color on the plate," Fierro says. "If all we have is turkey, mashed potatoes and stuffing ... it's all the same pale, anemic color."
4. Stick to your mission
Peer pressure -- in this case, to eat up -- can be deadly on this holiday. "Food plans are each and every person's own personal business," Okamoto says. "The important thing is to stick with your plan even though it is a holiday."
Personally, she finds it helps to prepare herself before heading off to dinner. "How are you going to get through the day without being noticed? When you say, 'No, thank you,' how do you deal with people's reactions to you?"
OK, how? "You must make your yesses yes and your nos no, don't be swayed."
5. Portion it out
The gravy boat is calling to you, so rather than fighting the urge and obsessing about it, then finally caving in, have a teaspoon right at the beginning. Allow yourself to taste all the things you crave, but settle for a teaspoon, not a tablespoon -- or worse, a cup.
Wells will go to her mother-in-law's house for a traditional feast, but will maintain control by following "the teaspoon thing."
"I have everything," she says, "but I have a very small portion."
Using a smaller plate helps, as does limiting alcohol to one or two drinks. Booze adds empty calories and seems to convince you that you can eat more.
6. Emphasize fellowship
It may sound like sacrilege, but Thanksgiving is not supposed to be all about food. In its purest form, the holiday is about appreciation and fellowship.
"What we try to emphasize is to see if you can't celebrate the holidays in a little bit different way without always emphasizing the food issues," says Rosemarie Okamoto, a member of Overeaters Anonymous.
Why not start a new family tradition, like going on an after-dinner hike, or playing ball in the yard with the kids? Play cards, practice Christmas carols, dance. "Really, the food should be secondary and the relationships should be the primary thing," Fierro says.
7. Forgive and forget
It is a holiday, and if you overdo it, the world will understand. What you don't want to do is give up and use this one day of excess as a reason to return to bad eating habits, Fierro says. "After the fact people can beat themselves up over it and allow themselves to keep breaking the diet."
Wells says Weight Watchers members are told to concentrate on maintaining their weight. "We tell them not to add extra pressure by expecting to lose weight over the holidays."
Reduce in the new year, she says. "Don't set yourself up for failure through wills and won'ts -- 'I won't eat Aunt Annie's chocolate-chunk cookies.' You know when you're in the situation that's very hard to do."
The most important thing, Wells says: "Thanksgiving is a holi-day. It's one day of indulgence; that doesn't mean you enjoy it for a week. Enjoy it while it's happening, but then get back on track."


Click for online
calendars and events.
E-mail to Features Editor
---
---
© 1999 Honolulu Star-Bulletin
http://archives.starbulletin.com