---
Monday, November 22, 1999
State to improve
the drive along a
vital Kaneohe link

Keaahala Road, pitted and scarred,
will turn smoother, wider and greener
under a plan set for next year

By Harold Morse
Star-Bulletin

Motorists won't have the pothole-plagued, two-lane entryway to Windward Community College to complain about after early 2002.

Things got so bad along this stretch of Keaahala Road in Kaneohe that motorists were crossing the center line to avoid the potholes, residents have said.

Redoing the road also is expected to alleviate traffic jams at the intersection with Kahekili Highway.

The widening of Keaahala Road between Kahekili Highway and the college, set to begin next year, will cost about $3 million in state money, a highway planner has told the Kaneohe Neighborhood Board.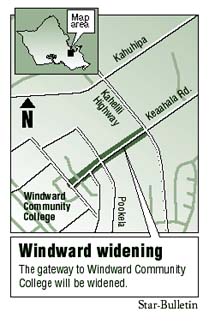 "Monies have been appropriated," said Craig Watanabe, project manager in the design branch of the state Highways Division.

Keaahala Road provides the sole access to Kaneohe District Park, Windward Community College, the Hawaii State Hospital and the Windward Health Center.

Traffic took on added dimension with the new Castle Hills subdivision and the opening of the Hope Chapel, Watanabe said.

Castle Hills at the beginning had only one access, Likelike Highway, and Pookela Street later was extended to Keaahala Road to provide another route in and out, creating a need to improve the one-fifth mile stretch of Keaahala, Watanabe said.

Plans are to add a left-turn lane and widen Keaahala from three lanes to four at the Kahekili intersection, with the road narrowing to three lanes later. Pedestrian-activated crossing signals at the park and bike paths will be installed.

The almost-treeless state of the road also may change.

"Basically, we're going to be submitting a tree planting plan to the city for approval," he said. "That's part of the project."

The state will advertise for bids in April, and construction -- expected to take 18 months -- likely will begin in August or September, Watanabe said.

It will involve relocating utility lines, but plans don't call for putting lines underground, Watanabe said.

Wetlands on the Kaneohe District Park side of Keaahala complicated planning, he said.

"We're improving the drainage on Keaahala Road," Watanabe said later. "We're putting in a subsurface drainage system which is comprised of culverts, catch basins and drainage inlets along the roadway."

---

Streetwise

Roadwork planned this week throughout Oahu:

LEEWARD OAHU

Ewa Beach

Fort Weaver Road from Farrington Highway to Hanakahi Street.

Waianae

Hakalina Road from Pahihi to Puhawai roads.

Maili

Waapuhi Street.

---




NORTH OAHU

Haleiwa

Haleiwa Bypass Road; and Kamehameha Highway from Helemano-Waialua Junction to Haleiwa Beach Park.

---




CENTRAL OAHU

Kunia

Vicinity of Kunia Interchange, Kupuna Loop to Farrington Highway; Kunia and Fort Weaver roads; H-1 freeway ramps 5 and 5-B and all other ramps in Kunia Interchange; and H-1 freeway in the vicinity of Kunia Interchange, Makakilo-bound lanes.

Wahiawa

Kilani Avenue from Holoku Place to Ilima Street; and Mala and Ilima streets.

Mililani

Mililani Interchange; and Lanikuhana Avenue.

Waipio

Farrington Highway, Leoole to Awanui streets; and Paiwa to Leoku streets.

Waipahu

Waipahu Street from Amokii Street to Waikele Road.

Aiea

Heleconia Place; Moanalua Road from Punanani Channel to Pali Momi Street; Maohu Place; and Akaaka, Ilee, Kulawai and Kaamilo streets.

Pearl City

Komo Mai Drive from Waimano Home Road to Hookupa Street.

---




HONOLULU

Foster Village

Halupa Street from Haloa Drive to Punihi Street.

Kalihi

Makuahine and Kalihi streets; Dillingham Boulevard between Waiakamilo Road and North King Street; Kamanaiki Street from Violet to Laulani streets; and Kapalama, School, Moani, Laulani, Puolani, Noe, North School and Pahulu streets.

Liliha

Liliha Street from North King Street to Vineyard Boulevard; Huli Street; Vineyard Boulevard at Nuuanu Avenue; Vineyard Boulevard.

Nuuanu

Kimo Drive Bridge; Kaohinani Drive from Kimo to Pelekane drives; Kahawalu Drive between Kaohinani and Niolopua drives; Kahawalu Drive; Ragsdale and Homelani places; Pali Highway at Waokanaka Street; Dowsett Avenue; Waokanaka Street; Nuuanu Avenue; and Old Pali Road.

Chinatown

King Street sidewalks, between River and Bethel streets.

Kakaako

Keawe Street on Ala Moana, South and Queen streets, and Nimitz Highway and River Street to end at Hotel Street; and Coral Street from Ala Moana to Auahi Street.

Kapiolani

Harding Avenue between Kapahulu Avenue and Kapiolani Boulevard; Kapiolani Interchange; Kapahulu Avenue between Kaimuki and Waialae avenues; and H-1 Eastbound Offramp to King Street.

Makiki

Keeaumoku and Heulu streets; and Piikoi Street at Lewalani Drive.

Moiliili

Kahoaloha Lane from Kuilei Lane to South King Street; and Kuulei Street from Kahoaloha Lane to University Avenue.

Punahou

Spreckels Street.

Palolo

Keanu Street between 8th Avenue and Sierra Drive; and 9th and 10th avenues between Keanu Street and Waialae Avenue.

Waialae

Aha Nui Place; Ainakoa Avenue; Malia and Makaikoa streets; H-1 freeway 15th Avenue On-ramp; H-1 from 13th to 9th avenues; H-1 freeway, Koko Head to 21st avenues; and H-1 on-ramps at 5th and 11th avenues and offramps at 6th, Kokohead and Waialae avenues.

Diamond Head

Alohea, Harding and Makapuu avenues.

Waikiki

Ala Wai Boulevard between Ala Moana and Kalakaua Avenue; and Kalakaua and Kuhio avenues.

Wilhelmina Rise

Maunahilu, Pakolu and Pili places; and Paula Drive between Maunahilu Place and Iwi Way.

---




WINDWARD OAHU

Kaaawa

Kamehameha Highway from Mahe Point to Lau Place.

Kahaluu

Ahuimanu Road; and Kialua, Hoopai and Poomau streets.

Hauula

Keala, Kawaipapa and Puuowaa roads; Waikulama Street; and Kamehameha Highway from Pipilani to Kaupau places.

Kailua

Kalanianaole Highway, Kamehameha Highway to Kapaa Quarry Road; Ililani Street from Mokapu Boulevard to Iliwahi Loop; Iliwahi Loop to Ilimano Street; Iliaina Street from Ililani Street to Iliwahi Loop and from Ilihau Street to end; Kailua Road from Kalanianaole Highway to Kawainui Bridge; Ilikaa Place; Alahaki and Akupa streets; and Akupa and Nanaloko places.

Waimanalo

Ahiki Street; Kaaiai Street from Huli to Nakini streets; and Kumuhau Street from Waikupanaha to Mahailua streets.

Kaneohe

Keaahala Road from Anoi Road to Keaahala Place.

---




EAST OAHU

Kalani Valley

Kalaniiki Street and Kalanikai Place.

Hawaii Kai

Kalanianaole Highway from Nawiliwili Street to Sandy Beach Park entrance; from Hanauma Bay to Sandy Beach; and Lunalilo Home Road between Kalanianaole Highway and Wailua Street.
E-mail to City Desk
---
---
© 1999 Honolulu Star-Bulletin
http://archives.starbulletin.com