Advertisement - Click to support our sponsors.

---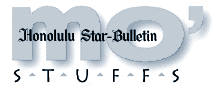 ---
Monday, November 22, 1999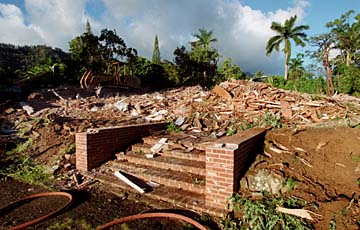 By Dennis Oda, Star-Bulletin
Rubble remains at the old Boy Scout's site.
---
Lot cleared for
Scouts new home
Whoops, there goes another well-known local building. The offices of Aloha Council, Boy Scouts of America, nestled beside Puiwa Road in Nuuanu, bit the dust this last week. Tens of thousands of Boy Scouts were familiar with the charming structure, originally the Russell House, built in 1918.

The Scouts took it over in the early '60s. But 80 years of Nuuanu dampness, dry rot and termites finally did it in, explained Al Sakai, Boy Scout Director of Support Services.

"We even had to evacuate half of the second floor a couple of years ago when it began to give way," said Sakai.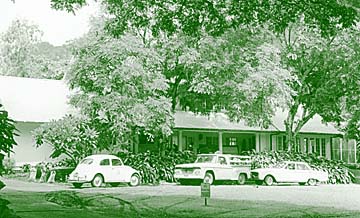 Star-Bulletin file photo
The new building will be similar to the old, shown here.
---
The Scouts contracted with local architects BJSS Group to design a new building that would have the same flavor as the old. "It's very important to blend into the neighborhood," said Sakai. So the new two-story headquarters will be made of wood, and will have essentially the same footprint as the previous building. One change will be the addition of a conference and meeting room on the grounds.

Sakai figures the new building will be ready by next summer. In the meantime, the Boy Scouts are operating out of the Watanabe Building at Young and McCully.

---

Burl Burlingame

---




Curious about something you've seen? Ask us: WatDat?, Honolulu Star-Bulletin, P.O. Box 3080, Honolulu, Hi, fax at 523-7863 or e-mail at features@starbulletin.com.

Radio Log

KONG 570-AM / 93.5 FM: Adult contemporary rock with some Hawaiian music
KSSK 590-AM / 92.3-FM: Adult contemporary music
KHNR 650-AM: All news
KQMQ 93.1-FM: Contemporary hit radio
KQMQ 690-AM: Radio Disney
KGU 760-AM: Sports radio
KHVH 830-AM: News, talk, traffic, weather
KAIM 870-AM / 95.5-FM: Christian music and teaching
KJPN 940-AM: Japanese-language news, adult contemporary music and talk shows
KIKI 990-AM / 93.9-FM: Contemporary country AM; contemporary hits FM
KLHT 1040-AM: Christian radio
KWAI 1080-AM: Talk radio
KZOO 1210-AM: Japanese-language, broadcasts from Japan
KNDI 1270-AM: Live news and religious programs from the Philippines; in 10 languages
KIFO 1380-AM: News, public affairs
KCCN 1420-AM / 100.3-FM: All talk/UH sports AM; contemporary island hits, FM
KUMU 1500-AM / 94.7-FM: Adult standards, AM; light favorites, FM
KHPR 88.1-FM: Classical, news, public affairs
KIPO 89.3-FM: Jazz, classical, news
KTUH 90.3-FM: Jazz, blues, Hawaiian, rock, country and alternative
KKUA 90.7-FM: Classical, news and public affairs
KKCR 90.9 / 91.9-FM: Hawaiian music, midnight-3 p.m.; and rock, reggae, classical and new age
KRTR 96.3-FM: Adult contemporary music and news
KPOI 97.5-FM: Modern rock
KKLV 98.5-FM: Contemporary Hawaiian
KORL 99.5-FM: Adult contemporary
STAR 101.9-FM: Modern hits
KKHN 102.7-FM: Country
KXME 104.3-FM: Top 40
KINE 105.1-FM: Hawaiian
KGMZ 107.9-FM: Oldies






Click for online
calendars and events.





---





Send WatDat? questions, stories
or any other story ideas or comments to:
Features, Honolulu Star-Bulletin, P.O. Box 3080,
Honolulu, HI 96802 or send a fax to 523-8509
or E-mail to features@starbulletin.com.
Please include your phone number.
E-mail to Features Editor
---
---
© 1999 Honolulu Star-Bulletin
http://archives.starbulletin.com