Advertisement - Click to support our sponsors.

---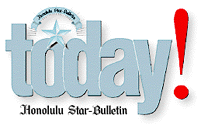 ---
Monday, November 22, 1999
Winning roster at
Hawaii Music Awards

By John Berger
Special to the Star-Bulletin

Johnny Kai's 3rd Annual Hawaii Music Awards at Blaisdell Arena last night added up to five hours of often unpredictable musical entertainment and commentary.

Paul Ogata and Greg Hammer distinguished themselves as co-announcers for a good chunk of the rambling and often improvised proceedings prior to intermission. Loyal Garner and Melveen Leed dominated the podium to good effect later in the evening.

The Ka'ala Boys, Reality & THC, Vaihi, Koa Uku, Tim Couch, Darrell Labrado, Sonny Mcguire, Masami Sato, Heiari i Amaru and Crystal Mateo & The Kamehameha Schools Children's Choir, provided musical interludes.

Kalapana -- Malani Bilyeu, Gaylord Holomalia, and D.J. Pratt -- closed the event with a short tribute to Mackey Feary.

Here are the winners:

World Music Album: "Banana Boat Rider" by Greg McDonald
New Age Album: "Whale Cry of the Ocean" by Pierre Grill & Lisa Leung
Country Album: "Dreaming Beyond Aboriginal Art" By Gordon Freitas
Island Music Album: "Grattitude" by Fiji
Latin Music Album: "Hawaii Latino" by Rolando Sanchez & Salsa Hawaii
Pop Album: "Kim Char Meredith" by Kim Char Meredith
Reggae Album: "Movin' On" by Reality
Rap Album: "In the Mix" by SKI & The Swing Flava Family
Jazz Album: "Get Stung" by Alex B
Oahu Band Directors Award: Dennis Kaneshiro (Kalani)
Teachers in Residence Award: Rosy Wong
Hawaiian Traditional Music Album (2): "Folk Songs of Hawaii" by Nohelani Kanoho and "So Sweet" by Ku'uipo Kumukahi:
Mahalo Awards -- Maui: Old Lahaina Luau and Maui Music Festival
Inspirational Music Album: "Treasures From Home" by Crystal Mateo
Rhythm & Blues Album: "Hands of Time" by Chant
Rock Album: Michael Piranha: "Silhouette Artist"
Compilation Album (producer's award) (2): "Peter Moon Presents Juicy Fruits" by Peter Moon and "Hawaiian Born" by Bob St. John
Comedy Album: "Mental Oriental" by Paul Ogata
Hawaii Music Teachers Award: Alex Briguglio
Mahalo Awards -- Oahu: Steck's, Chai's Island Bistro, Honolulu Zoological Society, Mai Tai Bar, Don Ho's Island Grill
Hawaiian Instrumental Album: "Duo" by Herb Ohta
Variety Show Album: "Every Facet of My Heart" by Matt Yee
Seasonal Album: "Hawaiian Christmas Day" by various artists
Children's Music Album: "Muffin's The Colors of A Rainbow" by Aaron Kimura, Ben Vegas, Darla Short
Hawaiian Contemporary Album: E&S Hawaiian Band: "Friends in Music"
Mayor's Performing Arts Award: Irngard Farden Aluli
International Hawaiian Music Album: "Masami" by Masami Sato
Best Music Video: Waka/One-Fu Steve Banfill ("Beach Ball")
Showcase of the Year Award: Magic of Polynesia
Entertainer of the Year: John Hirokawa
Event of the Year (3): Miss Universe, "Destination Stardom," "Baywatch Hawaii"
Polynesian Music Category (2): Dennis Ah Yek, Maeora
Special Mahalo Award: 'Olelo Community Television
Hawaii Songwriters Association Songwriter Entertainer Award: Stan Rubens
Hawaii Musicians Association Local 677 Lifetime Achievement Award: Martin Denny
Studio Musicians of the Year Awards: Guitar: Zanuck Kapala Lindsey (guitar); David Inamine (bass); David Choy (instrumentalist); Pierre Grill (keyboards); Ginai (studio vocalist); Noel Okimoto and Jess Gopen (drums)
Arranger: Marvic Esquibil
Most Popular New Artist 1999: Pure Heart
Most Popular Album 1999: "Grattitude" by Fiji
Governor's Fine Arts Award: Al Masini






Click for online
calendars and events.
E-mail to Features Editor
---
---
© 1999 Honolulu Star-Bulletin
http://archives.starbulletin.com