---
Thursday, November 18, 1999
BancWest
announces
2-for-1
stock split


First Hawaiian's parent also
increases its dividend 9.7%

By Russ Lynch
Star-Bulletin

First Hawaiian Bank's parent company BancWest Corp. today announced a 2-for-1 stock split and a 9.7 percent increase in its quarterly dividend.

On Dec. 15, shareholders will receive one additional share for each existing common share.

Also on Dec. 15, those who owned shares as of Dec. 1 will get a fourth-quarter dividend of 34 cents a share in the fourth quarter, up from 31 cents in the last quarter and equal to 17 cents a share after the split.

BancWest stock, traded on the New York Stock Exchange, rose $1.31, or 3 percent, on today's news to close at $44.81.

The stock hit a 52-week high of $48.50 on Jan. 4; its 52-week low was $37.12 on June 30. Over the past 12 months, the stocks' value, including dividends, has increased about 12 percent, according to Bloomberg News.

"The split will make our stock more affordable for the average investor," said Walter A. Dods Jr., BancWest chairman, after the board of directors approved the changes.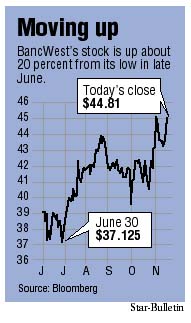 "Improving the marketability of our shares this way will make it possible for more people to share in BancWest's growth. We are increasing the dividend because of continuing earnings growth since the merger a year ago that created BancWest Corp.," Dods said.

BancWest was formed in the November 1998 merger of First Hawaiian Inc. and the old BancWest, parent of Bank of the West in California. The company grew in July with the acquisition of California-based Sierra Bank West. Cash earnings per share at BancWest for the first nine months of this year were up 21.8 percent at $2.57 from $2.11 in the equivalent part of last year. The bank said cash earnings is a better performance measure than net income because it produces a better comparison between post-merger and pre-merger results.

New York analyst Beth Messmore, who follows BancWest, said that the stock split makes no difference to the company's financial performance. "It doubles the number of shares outstanding and cuts the price in half, but financially it's a nonevent," she said.

But the split is a psychological plus for investors who can buy into the company at a lower price, said Messmore, an analyst with Merrill Lynch Global Securities.

Cutting BancWest's share price in half would bring it closer in price to competitor Pacific Century Financial Corp., parent of Bank of Hawaii, which was trading today at about $21.
E-mail to Business Editor
---
---
© 1999 Honolulu Star-Bulletin
http://archives.starbulletin.com