Advertisement - Click to support our sponsors.

---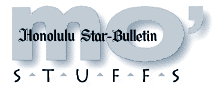 ---
Wednesday, November 17, 1999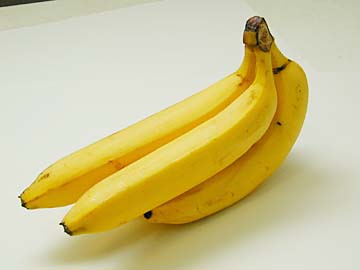 ---
New take on
banana bread
Banana bread is pretty much just banana bread -- until you taste six of them side-by-side. Then you realize this basic loaf bread can have a personality.

Tutu's General Store in Pearlridge Center and KINE Radio (FM 105) recently hosted a banana-bread-baking contest, drawing several dozen entries. Six finalists were tasted by judges in the store.

The loaves ran from moist, soft and very banana-y, to one that was like a fruitcake.

The winner was Daphne Siu, a secretary in semi-retirement from St. Francis School, for an imaginative version using pineapple and sour cream.
First Place Banana Bread
1-1/2 cups flour
1 cup mashed bananas
1-1/2 cups sugar
1/2 cup butter
2 eggs
4 teaspoons sour cream
1 teaspoon baking soda
1/4 teaspoon vanilla
1 teaspoon drained crushed pineapple
1/2 cup nuts
Combine all ingredients and pour into loaf pan. Bake at 350 degrees, 50-60 minutes, until cooked through.
Nutritional information unavailable.
---
Morsels


Tops in coffee:Dragon Roast Coffee won the first-place prize in the Kona Coffee Festival's Cupping Competition last week.

Dragon Roast is owned by Sacha Manju, who has been growing coffee for 15 years.

The annual competition, showcase event of the festival, selects the best of the year's coffee beans through a blind tasting.

Second-place winner was Trembling Mountain; third place when to Old Hawaiian Coffee.

Much ado about Mavro: Chef Mavro restaurant has been named by Esquire magazine as one of "America's Best New Restaurants," the first in Hawaii to be so recognized.
Mavro's was named along with New York's Danube and Cafe Boulud and San Francisco's Restaurant Gary Danko.
John Mariani, the magazine's food and travel correspondent who makes the selections, describes the food of Chef George Mavrothalassitis as "enchanting French-Hawaiian cuisine."
Among the dishes he singled out where Mavro's Rotisserie Island Chicken in Huli-Huli Sauce and the Fillet of Moi on the Scales with Madras Curry Sauce.
Mavro offers wines paired to every menu selection, with ala carte selections available along with prix-fixe menus that start at $39. Call 944-3903.

Best of the Hawaii brews: Home beer brewers put their best bottles forward for a recent competition.
Entries were invited in the categories of ales and German styles. Top winners were Frank Talamantes for a Sierra Nevada American Pale Ale and Steve Wilson for his "Wilsonator" Doppelbock in the German category.
Blue ribbon winners: Wayne Borth (California Common); Borth, Cindy Goldstein and Mike Malzer (British Dark mild); Steve Wilson, (English-style Barley wine); and Wes Wilson, (German Dunkel).
Red ribbon winners: Jim Bayley (Marzen); Kelly Collins (Maibock), Borth, Goldstein and Mario Serracin (Dornunder-style Lager); Kurt Jacobson (light Lager); Gregory Wren (German- and American-style Pilsners).
The competition was sponsored by the HOPS Homebrew Club, Oahu Homebrew Supply and Ali'i Microbrewery.

More beer notes: Sam Choy's Breakfast, Lunch and Crab will host a homebrew competition to select a beer that will become Choy's New Millennium Beer and will be produced at the microbrewery. Beers must be submitted by Dec. 31, with judging to take place Jan. 6. Call 545-7979 for rules.

Kamuela Farmer's Market Features Island-Fresh Produce and Flowers: Victoria Ward Centers will host a one-day Farmer's Market featuring Kamuela-grown fresh produce and flowers at Ward Warehouse from 8 a.m.-2 p.m. on Saturday. Specialty produce normally sold only to restaurants or found on the Big Island will be available for sale. Items include vine-ripened tomatoes, Chinese cabbage, Kahua Ranch meat and Kamuela roses. Farmers from Kawamata Farms, Best Farms, Waimea Hydro Farms and others will be on hand to discuss their autumn harvests.
Ward Centre Restaurants, including Brew Moon, Scoozee's, Compadres Mexican Bar & Grill and Yum Yum Tree, will offer a free Kamuela Greens Salad with the purchase of a lunch entree on Saturday. A Pacific Cafe will present a Kamuela Produce Dinner featuring creations by Chef Jean-Marie Josselin, Chef George Mavrothalassitis, and Chef George Gomes Jr.

"Passport to International Cultures": King's Shops at Waikoloa Beach Resort will offer an array of food samplings from Hawaii's unique ethnic mix on Dec. 11 from 4-6:30 p.m. Booths will feature Waikoloa Beach Resort's chefs and restaurants serving a variety of cuisine including Japanese, Chinese and Pacific Rim.
Participants will be issued a passport that will be stamped as each booth is visited. Cost for the passports is $10 for adults and $3 for children. A portion of the proceeds will be donated to charity. Call 886-8811.
---
Quit smoking with help
Cigarette smokers at least 18 years old who want to quit during the next six months are invited to participate in the "Calling it Quits" study by the Cancer Research Center of Hawai'i in cooperation with the Fred Hutchinson Cancer Research Center in Seattle.

Volunteers from the University of Hawai'i Health Education Center will be offering information about the study tomorrow as part of the American Cancer Society's "Great American Smokeout." The smokeout is a national program motivating smokers to quit for one day.

In spite of research showing the adverse health risks associated with smoking, 22 percent of people in Hawaii continue to smoke cigarettes.

To find out more about the "Calling it Quits" study, call 1-(800)-4-CANCER to speak to an information specialist.
Live akamai
HMSA will host a free celebration 8 a.m. to 1 p.m. Dec. 4 to introduce its new Akamai Living program which promotes health and wellness for seniors.

Featured will be demonstrations of stretching exercises, relaxation techniques, line dancing, tai chi and ballroom dancing. Lenora Lorenzo will also present the seminar, "Laugh Your Way to Better Health."

The event takes place at the Hawai'i Convention Center, with check-in beginning 7 a.m. Those who plan to attend must register by calling HMSA at 948-6398 by Nov. 26.

The Akamai Living program is offered to HMSA and Health Plan Hawaii members 55 and older.






Click for online
calendars and events.
---
Send WatDat? questions, stories
or any other story ideas or comments to:
Features, Honolulu Star-Bulletin, P.O. Box 3080,
Honolulu, HI 96802 or send a fax to 523-8509
or E-mail to features@starbulletin.com.
Please include your phone number.
E-mail to Features Editor
---
---
© 1999 Honolulu Star-Bulletin
http://archives.starbulletin.com