Advertisement - Click to support our sponsors.

---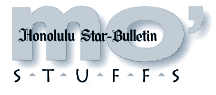 ---
Monday, November 15, 1999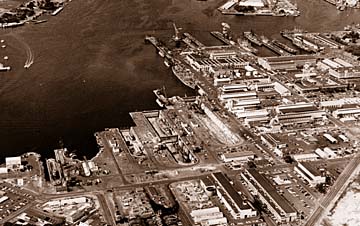 Star-Bulletin file photo
Pearl Harbor drydock was built without a proper
blessing ceremony which was remedied after it
suffered extreme structural damage in 1913.
---
Dry dock disaster
started blessings


The U.S. Navy began its official presence here about a hundred years ago. On Nov. 17, 1899, the title of the little coaling depot built to service Navy ships downtown was changed to "U.S. Naval Station, Honolulu, T.H." under the command of Cmdr. John F. Merry.

Merry, an energetic planner, recognized that Pearl Harbor would be a better place to safeguard the Navy's ships and blanketed Washington with proposals. Which brings us to the subject of this WatDat, the gigantic drydock that forms the heart of the shipyard.

Excavation started 90 years ago this month, under the supervision of David Kanakeawe Richards. Construction was expected to take three years but the ground proved to have uneven soil and underground streams. Older Hawaiian folks living in the area also kept warning Richards about properly blessing the site.

When the drydock was pumped out in February 1913, external water pressure caused the drydock to implode dramatically. Years of work and millions of dollars were wiped out in seconds. Luckily, no one was hurt. After a couple of years of litigation, work began anew with a beefier design.

Eighty years ago, in the fall of 1919, the drydock was pumped out again and everyone held their breath. But the ground moved only 3/16 of an inch.

What had changed? In 1917, Richards had approached his boss, Francis Smith, and suggested that an offering be made to Hawaiian spirits. Smith told Richards he was crazy and dropped the matter. Gov. Walter Frear thought it a good idea, however, and Richards arranged for a kahuna to bless the site. And that night Smith was badly injured in a traffic accident.

Since then, it's been considered bad luck to open any large construction project without a Hawaiian blessing.
---
By Burl Burlingame
Curious about something you've seen? Ask us: WatDat?, Honolulu Star-Bulletin, P.O. Box 3080, Honolulu, Hi, fax at 523-7863 or e-mail at features@starbulletin.com.
---
Radio Log
KONG 570-AM / 93.5 FM: Adult contemporary rock with some Hawaiian music
KSSK 590-AM / 92.3-FM: Adult contemporary music
KHNR 650-AM: All news
KQMQ 690-AM / 93.1-FM: Contemporary hits
KGU 760-AM: Sports radio
KHVH 830-AM: News, talk, traffic, weather
KAIM 870-AM / 95.5-FM: Christian music and teaching
KJPN 940-AM: Japanese-language news, adult contemporary music and talk shows
KIKI 990-AM / 93.9-FM: Contemporary country AM; contemporary hits FM
KLHT 1040-AM: Christian radio
KWAI 1080-AM: Talk radio
KZOO 1210-AM: Japanese-language, broadcasts from Japan
KNDI 1270-AM: Live news and programs from the Philippines in 10 languages
KIFO 1380-AM: News, public affairs
KCCN 1420-AM / 100.3-FM: All talk / UH sports AM; contemporary island hits, FM
KUMU 1500-AM / 94.7-FM: Adult standards, AM; light favorites, FM
KHPR 88.1-FM: Classical, news, public affairs
KIPO 89.3-FM: Jazz, classical, news
KTUH 90.3-FM: Jazz, blues, Hawaiian, rock, country and alternative
KKUA 90.7-FM: Classical, news and public affairs
KKCR 90.9 / 91.9-FM: Hawaiian music, midnight-3 p.m.; and rock, reggae, classical and new age
KRTR 96.3-FM: Adult contemporary music and news
KPOI 97.5-FM: Modern rock
KKLV 98.5-FM: Contemporary Hawaiian
KORL 99.5-FM: Adult contemporary
STAR 101.9-FM: Modern hits
KKHN 102.7-FM: Country
KXME 104.3-FM: Top 40
KINE 105.1-FM: Hawaiian
KGMZ 107.9-FM: Oldies






Click for online
calendars and events.
---
Send WatDat? questions, stories
or any other story ideas or comments to:
Features, Honolulu Star-Bulletin, P.O. Box 3080,
Honolulu, HI 96802 or send a fax to 523-8509
or E-mail to features@starbulletin.com.
Please include your phone number.
E-mail to Features Editor
---
---
© 1999 Honolulu Star-Bulletin
http://archives.starbulletin.com