---
Tuesday, November 9, 1999
XEROX SHOOTINGS

The Xerox employee had left
a room to make a call before
the shooting erupted
By Debra Barayuga
Star-Bulletin
A phone call may have saved Steven Matsuda's life.

Matsuda had been in a second-floor conference room in the Xerox Building on Nimitz Highway just minutes before accused gunman Byran Uyesugi opened fire last week, killing seven co-workers in the worst multiple slaying in Hawaii history.

But Matsuda had left to make a phone call, sources said.

A short time later, Matsuda was fleeing downstairs after hearing a spate of gunshots and what sounded like an explosion.

Just one or two feet from where he had been standing before he fled, police found a bullet hole.

While Matsuda escaped injury, the close call resulted in an additional count of second-degree attempted murder lodged against Uyesugi, indicted yesterday in the Nov. 2 shootings.

Besides second-degree attempted murder, an Oahu grand jury indicted Uyesugi on eight other charges, including first-degree murder, which is punishable by life in prison with no parole.

Uyesugi is to be arraigned in Circuit Court on Monday.

Information on the bullet that apparently just missed Matsuda came to light during the investigation, said city Prosecutor Peter Carlisle.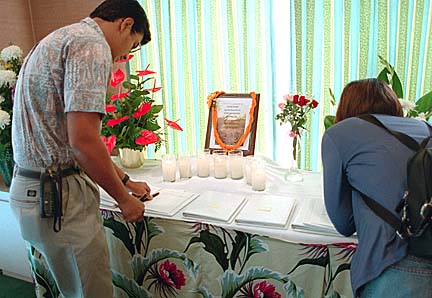 By Ken Ige, Star-Bulletin
Dean and Erlinda Inamasu sign sympathy books at Borthwick
Mortuary for the families of those killed in the Xerox shootings.
Dean worked at Xerox and Erlinda works at Kinko's, where the
victims serviced the copy machines. For more on services
for the victims, click here.
---
Sources confirmed that Matsuda, 54, a customer service engineer with Xerox for 30 years, had left the second-floor conference room at 1200 N. Nimitz Highway before Uyesugi came in and allegedly gunned down John Sakamoto, 36; Ron Kataoka, 50; Melvin Lee, 58; Peter Mark, 46, and Ford Kanehira, 41.

Ronald Kawamae, 54, and Jason Balatico, 33, were shot to death in another room down the hall.

Reid Kawamae, Ronald's son, saw Matsuda about 11 a.m. on the day of the shooting while he waited for news about the victims with other relatives of Xerox employees in an adjacent building.

"I saw Steven at New Eagle Cafe and asked him where's my dad," Kawamae said.

"He said he didn't know. He might have known but just didn't want to tell me."

Matsuda didn't say anything to him about leaving the conference room, Kawamae said.

But one source said Matsuda was using the telephone while Uyesugi was allegedly shooting co-workers in the conference room.

At least one shot was fired at Matsuda as he ran for cover, the source added.

No additional charges are expected to be filed against Uyesugi at this time. But, Carlisle said, "If I know of other victims, you better believe I'll charge him."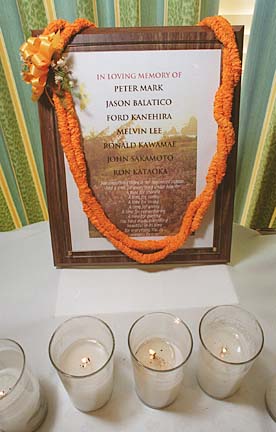 By Ken Ige, Star-Bulletin
A plaque and candles for the Xerox shooting victims are set
up at Borthwick Mortuary where the public can sign
sympathy books for the victims' families.
---
While a motive for the shooting remains unclear, Carlisle shed some light on what may have triggered Uyesugi's uncharacteristic behavior that day in a brief statement made in court.

Uyesugi was to appear at a meeting in which topics of discussion included the performance of his work team, Uyesugi's work performance, and the fact that he carried a lighter work load than co-workers, Carlisle said. "It wasn't just a meeting to pick on him."

While Xerox cannot release specific details about the incident, to avoid jeopardizing the case, Xerox spokesman Jeff Simek said Carlisle's statements are not inconsistent with statements Xerox made earlier. "There was no incident we're aware of that this employee had cause to fear for the security of his job."

Some of those killed were members of Uyesugi's work team, Carlisle said.

An empty magazine clip found under one of the victim's bodies indicated Uyesugi had reloaded in the middle of what he was doing, Carlisle said.

The victims suffered multiple gunshot wounds, including to the back, Carlisle said.

That they were shot in the back "shows essentially the method of how these people were killed and how this individual represents a significant danger to others in the community," he said.

The danger Uyesugi poses is expected to be raised at a bail hearing also scheduled for Monday.

Prosecutors are expected to ask that Uyesugi's $7 million bail be revoked and he be held without bail. Arguments include the fact that seven people were killed, an eighth person nearly killed, a firearm was used and reloaded, and the victims suffered multiple injuries, including to the back, Carlisle said.

Matsuda is the second man to survive. In court documents filed last week, Randall Shin told police that he was seated at his desk Tuesday when he heard gunshots and saw co-worker Ronald Kawamae slump over his chair. To his left, Shin saw another co-worker Jason Balatico fall to the ground, bleeding. In the doorway, Shin spotted Uyesugi standing where the the gunshots appeared to come from.

It's important that this case go to trial as soon as possible, Carlisle said d, but it depends on Uyesugi's defense. The longer the case is dragged out, the harder it will be on family members and witnesses who have to testify.

"This is the worst multiple homicide in the state of Hawaii. It's obviously something that has to be dealt with swiftly, deliberately and somberly," he said.

---

Star-Bulletin writers Rod Ohira and
Christine Donnelly contributed to this report.




Display of weapons put on hold

Star-Bulletin staff

A display of weapons scheduled to be part of a presentation to a state Board of Education committee yesterday wasn't brought out due in part to last week's Xerox shootings.

Several news organizations with cameras were present for the board's Student Services Committee meeting, which had on its agenda a presentation on weapon identification.

Department of Education safety specialist Rodney Goo planned to brief board members on the security training given to school principals and vice principals.

To help school administrators identify potential weapons, the training includes the display of a variety of knives and blades that are disguised as not-so-dangerous items such as a comb, lipstick, credit card or a deck of cards to help them better.

But department officials decided not to bring the weapons out for public viewing at the meeting for fear that students who saw weapons, which can be bought legally, may obtain these weapons. Board of Education Vice Chairwoman Karen Knudsen said the recent Xerox shootings heightened the department's concerns about weapon display.




---

Carlisle hopes to head
off mental defense

By Christine Donnelly
Star-Bulletin

City Prosecutor Peter Carlisle said his team will dig up all the evidence it can to refute an expected defense claim that the alleged Xerox gunman suffered a head injury in 1977 that may reduce his culpability in the rampage.

"They've already indicated that they're looking into a mental defense. That doesn't surprise us and it won't surprise us in the courtroom," Carlisle said.

"I'll see what evidence is out there and we'll definitely anticipate whatever the defense has and do our best to overcome it."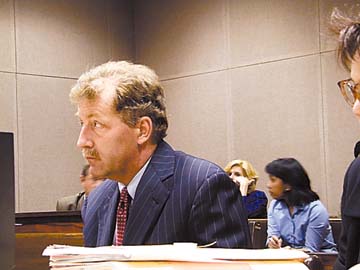 "They've already indicated
that they're looking into a mental
defense. That doesn't
surprise us."

Peter Carlisle
CITY PROSECUTOR

On Monday, defense lawyer Jerel Fonseca said Byran Uyesugi exhibited abnormal behavior after suffering a head injury in a car accident in 1977.

Uyesugi's head slammed against the windshield when he crashed the family car into a telephone pole while driving home from a high school graduation party, according to his brother, Dennis Uyesugi.

He said Byran was treated at an emergency room, but refused to say whether he received follow-up care.

Serious head injuries, especially those not treated early, can cause secondary brain damage that can result in lifelong behavior problems including aggression, according to the U.S. Brain Injury Association.

Fonseca said he is exploring whether Uyesugi may have suffered permanent problems due to the accident, but needs a lot more information.

Carlisle refused to say how much he knew about the accident or whether he thought it could help the defense, reiterating only that the state considered the shooting spree a clear case of first-degree murder.

"I can't talk about the evidence in the case, I can't talk about the testimony or witnesses,"he said, citing rules regarding prosecutorial conduct. "The case needs to be tried in court."
E-mail to City Desk
---
---
© 1999 Honolulu Star-Bulletin
http://archives.starbulletin.com