Advertisement - Click to support our sponsors.

---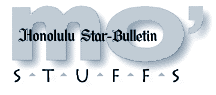 ---
Wednesday, November 10, 1999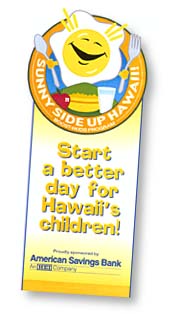 ---
Give student a
boost with breakfast
You're not going to find anyone who'll quarrel that a good breakfast puts kids in a better frame of mind for good learning. The question is, how many families take that message to heart?

Sunny Side Up Hawaii is an awareness campaign designed to get more kids to school with a nutritious breakfast inside them. Goals of the program include spreading the word about the importance of breakfast and increasing participation in the breakfast programs offered at nine out of 10 Hawaii public schools.

A school breakfast costs just 35 cents and is a good alternative for families too pressed for time to see to breakfast every day.

Children who eat breakfast earn better grades and have fewer behavior problems, national studies have found.

"Nutrition is essential for effective learning, every day, all year long," reads the colorful Sunnyside Up flyer. "Children need good food to learn, play, grow and develop."

The Sunnyside Up program is sponsored by several business and community groups, primarily American Savings Bank.

For information call 531-5502.


Seafood deals at KCC: Culinary students at Kapiolani Community College's Culinary Institute of the Pacific are offering seafood dinners at the on-campus Tamarind restaurant.

The students serve and cook and even issue stock in their restaurant. The goal is to give them the experience of owning and operating a business.

Among items on the menu: Live Maine lobster, Cioppino, Lemongrass Braised Clams and moi done three ways. Prices are from $19.95 to $32.95 for the lobster.

Hours are 5:30-8:30 p.m. Tuesday through Friday, except holidays, through November. Call 734-9484 for reservations.

"Miss Saigon" opening scene dinner buffet": A dinner buffet prepared by Elegant Catering by VSA is being offered during the run of "Miss Saigon" at the Blaisdell Concert Hall, extended through Nov. 28.
Dinner is served 5 to 7:30 p.m. on the ewa lanai of the Concert Hall each performance night.
On the menu are Loin of Pork with Rosemary Jus; "Roulad of Chicken Oriental"; Shrimp and Scallops Stir-fry Hong Kong Style; an array of salads; vegetables and fresh fruits; domestic cheese and fresh baked rolls; wild rice pilaf; and assorted desserts. Cost is $28. Call 594-4015 for reservations. Tickets to "Miss Saigon" may be charged by calling 526-4400.

"Veggie Life": Vesanto Mellina, co-author of "Cooking Vegetarian Cookbook," and other Down to Earth cooks will prepare a cholesterol-free Thanksgiving dinner from 7-8:30 p.m. tomorrow at Castle Medical Center. Cost: $10; the complete meal and heart-healthy recipes are included. Call 263-5400 to register.

Ritz Carlton Winemaker Dinner: Chef De Cuisine Craig Connole and Maitre d' Fred Johnson of the Ritz-Carlton, Kapalua, on Maui, invite you to meet winemaker Mike Grgich of Grgich Hills Cellars in Napa Valley at a special six-course dinner 6 p.m. Tuesday. Cost: $125. Call (808) 669-6200.

Dinner with Chef Freedman of the Snake River Grill: Chef Roger Freedman of Snake Grill in Jackson Hole, Wyo., joins Chef David Paul at his Diamond Head Grill to create a four-course fusion dinner, 6 p.m. Nov. 19. The dinner, which will feature Northwestern regional cuisine, costs $60 per person and includes a wine and beer reception. Call 922-3734.

Holiday cooking class and demonstration: The chefs of David Paul's Diamond Head Grill will address holiday cooking needs, including the preparation of turkey, ham, stuffing, holiday pupus and festive side dishes, at a class being held in the restaurant from 11:30 a.m.-3 p.m. on Nov. 20. $50 per person. Call 922-3734 to register.

Ice Cream and Sorbet Bar: Tropilicious celebrates the opening of an ice cream and sorbet bar at Ward Warehouse from 7-9 p.m. on Nov. 20. Call 847-1750.

Momokawa Sake Dinner: Southern Wines and Spirits hosts a premium sake dinner at David Paul's Diamond Head Grill at 6 p.m. Nov. 30. The menu: Poached Oysters served with Momokawa Diamond; "Drunken" Hamachi Salad served with Momokawa Silver; Lobster Chawan Mushi served with Momokawa Pearl; Soba in Chicken Broth with Miso-Roasted Chicken served with Momokawa Ruby; and Asian Poached Pears served with Momokawa Raspberry. $45 per person. Advance prepaid reservations are required. Call 922-3734.
---
Options for elderly care
Straub Clinic & Hospital invites the community to a free "Long-Term Care Options Forum" taking place 10 a.m. to noon Saturday.

Straub speakers Kathy Shahan, Jackie Suganuma and Donna Marks will discuss options for caring for the elderly, such as in-home care, nursing homes, hospice, care homes and community-based programs.

General information will also be given on financial resources for long-term care.

The forum takes place in the hospital's Doctor's Dining Room, next to the cafeteria on the main floor at 888 S. King St. Parking will be validated.

Seating is limited. Call 522-4575 for reservations.

Funding public health
Grants are available for projects involving public health education and research from the Public Health Fund committee of the Chamber of Commerce of Hawaii.

Applications are being accepted from nonprofit organizations operating on Oahu, with preference given to collaborative projects.

In the past, grants have been awarded for work in such areas as education, screening, diagnosis, and programs for the homeless and hungry.

The deadline for applications is Dec. 15. To receive an application packet, call the Chamber of Commerce at 545-4300.
---
Da Kine
Love and Beethoven
Wu Han, the Taiwanese-born internationally acclaimed classical pianist, and her husband, the Grammy-winning American cellist David Finckel, will perform at 8 p.m. Nov. 19 at Orvis Auditorium.

Tickets are on sale at $24 general admission and $15 for students, available at Harry's Music, 3457 Waialae Ave. (735-2866) and the University of Hawaii Campus Center ticket office.

The two musicians have recorded several CDs, including the complete works of Beethoven for piano and cello, as well as works by Chopin, Shuman, Strauss, Franck and Grieg.

In the concert, part of the Honolulu Chamber Music Series, the duo will perform sonatas by Beethoven, Franck and Shnittke.

Wu Han began her musical studies at the age of 9 and within a few years took first prizes in all the major competitions in Taiwan before moving to the United States.

Finckel is cellist with the world-famous Emerson String Quartet, which has won four Grammy Awards during the last 20 years.

Remaining tickets will be sold at the Orvis Auditorium box office beginning at 7 p.m. the night of the performance. The auditorium is at 2411 Dole St. For more information, call the UH Outreach College at 956-8246.

Politics and 'Nutcracker'
A politician and a prosecutor -- though not on pointe -- will join the cast of Ballet Hawaii's "Nutcracker," to be staged Dec. 17 to 19 at Blaisdell Concert Hall.

City Council member Rene Mansho and City Prosecutor Peter Carlisle will play the grandmother and grandfather in the annual Christmas presentation.

Dancing will be members of the American Ballet Theatre, as well as island professionals Peter Rockford Espiritu, Kanako Imayoshi and WillieDean Ige.

Show times are 7:30 p.m. Dec. 17 and 18, 2 p.m. Dec. 19.

Tickets, at $15 to $45, go on sale Saturday at Blaisdell box office and TicketPlus locations or by phone at 526-4400.

A Sugar Plum Gala Reception ticket at $100 includes the Dec. 17 program, special seating, reserved parking and a party on stage after the show. Call 988-7578.

On Friday, a Ballet Hawaii benefit viewing of a 3D "Nutcracker" begins at 6 p.m. at Waikiki Imax Theatre. Tickets are $50 and include a pre-show party and post-show dinner. Call 971-5033.

Homage to heroes
The revamped and enlarged "Gallery of Heroes" at the U.S. Army Museum of Hawaii will be dedicated at 11 a.m. tomorrow, Veterans' Day. The original gallery at the Fort DeRussy museum was built in 1988 and featured six Hawaii Medal of Honor recipients and 18 who received the Distinguished Service Cross. The latter group has grown to 41 and the gallery enlarged accordingly.

Hawaii honorees include 23 from World War II, 15 from the Korean War and three from the Vietnam conflict.

Ceremonies begin with an address by Robert Fishman of the Hawaii Tourism Authority, followed by Maj. Gen. Herbert Wolff (Ret.) of the museum, Maj. Gen. William Ward of the 25th Infantry and Lt. Gen. Edwin Smith, U.S. Army Pacific. Authors of military history books will be on hand to sign their works.

Information: 955-9552.





Click for online
calendars and events.
---
Send WatDat? questions, stories
or any other story ideas or comments to:
Features, Honolulu Star-Bulletin, P.O. Box 3080,
Honolulu, HI 96802 or send a fax to 523-8509
or E-mail to features@starbulletin.com.
Please include your phone number.
E-mail to Features Editor
---
---
© 1999 Honolulu Star-Bulletin
http://archives.starbulletin.com