Advertisement - Click to support our sponsors.

---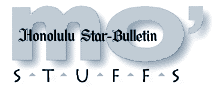 ---
Wednesday, November 3, 1999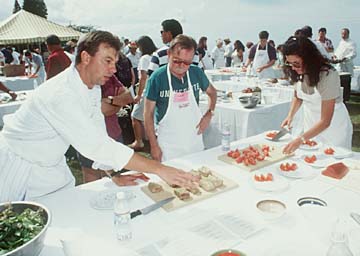 Star-Bulletin file photo
Corey Waite, left, chef at the Hapuna Prince Hotel,
at the 1998 Winter Wine Escape.
---
Escape with class
If you're a foodie, consider an early Christmas present for yourself -- the Winter Wine Escape at the Mauna Kea Resort on the Big Island.

The Nov. 11-13 event features gala dinners, food demonstrations and wine seminars.

Hawaii superstars Roy Yamaguchi and Alan Wong lead the local contingent, which includes Peter Merriman, David Paul Johnson, Wayne Hirabayashi and the chefs of the Mauna Kea's sister hotels in the Prince chain. Guest chefs from the mainland include Hubert Keller of Fleur de lys, San Francisco; Jimmy Bradley, Red Cat Restaurant, New York; and Steven Chiappetti, Mango Restaurant, Chicago.

Along with enjoying their food, educate yourself in wines with seminars on the roots of pinot noir and the amarones of the Italian Zenato family. Wong and Keller will conduct a food lab, "East Meets West at the Turn of the Century," where they'll create dishes to pair with sparkling wines.

Tickets to the individual events range from $20 to $150. A $325-per-night package at the Mauna Kea Beach or Hapuna Prince hotel includes two of the major eating events. For $525 per night you get all events. Call (800) 882-6060.
---
Morsels

Morsels

HOT ball: A gourmet meal combining Japanese and Continental flavors will be featured at Hawaii Opera Theatre's Butterfly Ball at the Sheraton Waikiki Hawaii Ballroom Nov. 13.

Executive Sous Chef Dwight Yoshioka's four-course menu begins with Goma-Crusted Ahi on Carrot-Beet Kimpira, Grilled Breast of Quail on Portabello Mushroom and Selected Greens, Asian Grilled Tenderloin of Beef and Steamed Opakapaka with Miso Aioli, and dessert of Cantaloupe Midori Sorbet.

The ball, the opera theater's annual gala, takes its theme from "Madama Butterfly," the Puccini opera to be performed in the 2000 season.

Yan Yan Wang, who performed the role of Cio-Cio San when the opera theater last presented "Butterfly" in 1993, will perform during the ball, along with 40 members of the Hawaii Opera Theatre Chorus.

A silent auction will offer for bid a one-year lease on a 2000 Jaguar and trips to operas in Paris, Vienna, New York and more.

Tickets to the ball are $175, or $1,750-$10,000 per table of 10. Call 596-7372, Ext. 14.

Matanzas Creek Wine Dinner: Winemaker Bill Parker will present Matanzas Creek wines paired with a special dinner menu at David Paul's Diamond Head Grill at 6 p.m. Saturday.
Goat Cheese Polenta Cake will be served with a 1997 Sauvignon Blanc; Fried California Sand Dabs on wilted greens will be paired with a 1997 Chardonnay; Pepper-Roasted Quail with a cassoulet of late will be served with a 1996 Merlot; and Assorted Petits Fours will be accompanied by a 1994 Merlot.
The cost is $65 per person. Advance prepaid reservations are required. Call the restaurant at 922-3734 for more information.

"Hawaii Meets Ming Tsai!": Ming Tsai from the popular Food Network show, "East Meets West with Ming Tsai" will be the guest on "Sam Choy's Kitchen," airing at 6:30 p.m. Saturday on KHNL.

Healing Foods Forum: Stroll through the Kailua Safeway store for a healing foods tour beginning 7 p.m. Monday. Castle Medical Center Director of Health Promotion & Nutritional Services John Westerdahl and Chief Clinical Dietitian Deanna Nakamura will guide participants through the store to point out how to make nutritious shopping choices.
Call 263-5400 for information. The tour is free. Safeway is at 200 Hamakua Drive.
---
To Your Health

Health
Break free of smoking
Get a head start on Nov. 18's Great American Smokeout by breaking free from the bonds of cigarettes now.

Castle Medical Center offers help through its "BreakFree Hawaii" stop-smoking course running 7 to 9 p.m. from Sunday through Nov. 11.

The BreakFree program attempts to address the psychological, emotional and physical addictions associated with smoking. Program leaders are successful ex-smokers who understand the dependency on cigarettes.

The $100 program fee includes course materials and free, continuing weekly support sessions to help participants remain nonsmokers.

Call 263-5400 for information.
Stay clear of gas stove
Asthma sufferers should avoid cooking with natural gas stoves, based on a survey released Monday that found asthmatics cooking with gas were more likely to report asthma-related emergency room visits, urgent doctor visits and hospital stays than asthmatics without the stoves.

The survey consisted of interviews with 539 people with asthma; 15 percent reported using their gas stoves on a daily basis.

Natural gas in the air, like dust and other indoor pollutants, may also cause respiratory problems for asthmatics, according to Mark Eisner of the University of California at San Francisco. Eisner presented his research to a conference of chest physicians in Chicago.

About 17 million Americans suffer from asthma.

In another study presented at the conference, Swedish researchers concluded that exposure to second-hand tobacco smoke as a child increased the chances of contracting asthma as an adult.

In a survey of roughly 6,800 inhabitants of Orebro, Sweden, doctors led by Matz Larsson at the Orebro Medical Center found that 7.6 percent of nonsmoking adults who developed asthma reported being exposed to environmental cigarette smoke as children. That compared to 5.9 percent of those not exposed to smoke who developed the ailment.

The gap was greater among subjects who did not have a hereditary predisposition to asthma, and those exposed to cigarettes as children were more likely to smoke later.






Click for online
calendars and events.
---
Send WatDat? questions, stories
or any other story ideas or comments to:
Features, Honolulu Star-Bulletin, P.O. Box 3080,
Honolulu, HI 96802 or send a fax to 523-8509
or E-mail to features@starbulletin.com.
Please include your phone number.
E-mail to Features Editor
---
---
© 1999 Honolulu Star-Bulletin
http://archives.starbulletin.com