---
Tuesday, November 2, 1999
Booga Booga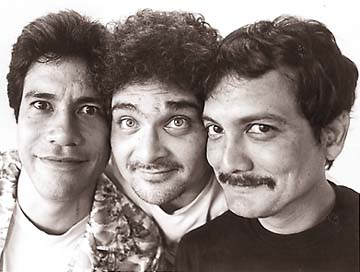 Star-Bulletin file photo
Three crazy guys, Booga Booga, from left, Ed Kaahea,
Rap Reiplinger and James Grant Benton.
---
Comedy team's
humor homegrown

By Cynthia Oi
Star-Bulletin

THERE was comedy in Hawaii before Booga Booga.

Lucky Luck, K.K. Kaumanua and Sterling Mossman made 'em laugh. But Booga Booga made 'em laugh like crazy.

These three guys -- James Grant Benton, Ed Kaahea and Rap Reiplinger -- created a kind of comedy that stripped the veneer from post-plantation island images.

"Before, we looked to the mainland to see what was funny," said Benton. "But we were locals. We came out and mirrored things that was funny to us."

It was 1974 when Booga Booga began, a time when the Hawaiian renaissance embraced such island entertainers as Sunday Manoa, Olomana and Gabby Pahinui. Booga Booga folded into the new island identity. The use of ethnic humor and pidgin recognized a different way of life.

"It was the first time comedy telescoped into the local upbringing," Benton said. "We sort of became this magnet to local people. We could all say, 'Yeah, I local and proud of it.' "

With their huge popularity came what nowadays seems almost routine among the famous: drugging, drinking and beefing.

Kaahea and Benton survived, Reiplinger didn't. Cocaine claimed him in 1984.

"We got the feeling that we were invincible. It took me down; it took Rap down," Benton said.

Reiplinger had left the group, then returned. Before and after his tenure, the group's core of Kaahea and Benton combined with others like Andy Bumatai, Frank B. Shaner, Dave Lancaster and Bill Ogilvie.

But the heart of Booga Booga was Benton, a McKinley graduate, Kaahea from Kamehameha and Reiplinger from Punahou. All were trained in classical acting, "but nobody wanted to pay me for 'Hamlet' in Hawaii," Benton laughed.

So they did comedy.

"We didn't say, let's go do this because we can be one cornerstone in Hawaiian comedy," Benton said. "We just did 'em."

---

Stanley C. Kennedy Sr.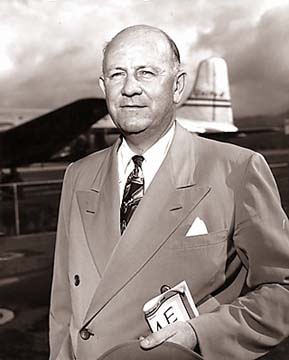 Star-Bulletin file photo
Stanley Kennedy, a World War I pilot, launched
the airline that became Hawaiian Airlines.
---
Interisland airline
took off in 1929

By Rob Perez
Star-Bulletin

WHEN Stanley C. Kennedy Sr. proposed starting Hawaii's first interisland airline, few took him seriously.

"People kept telling me I should have my head examined," he once told a reporter.

Using a six-passenger amphibian aircraft, Kennedy started the service anyway. It was called Inter-Island Airways.

The year: 1929.

"It was tough going. No one wanted to put money into something like that," he said.

Some 70 years later, the airline that Kennedy started still is around, only with a different name: Hawaiian Airlines.

Kennedy is credited with bringing air service to the islands. He also helped establish regular trans-Pacific service by Pan American Airways.

His passion for flying didn't take off overnight. Kennedy read aviation books regularly while attending Punahou School in the early 1900s.

After graduating from Stanford University in 1912, he entered a Navy aviation program and, as a pilot, was one of the few Hawaii residents to see active duty overseas during World War I.

Following his 18-month stint of patrol duty off England, Kennedy returned to Hawaii convinced that a commercial air carrier would succeed in the islands.

But it was another 10 years before he could drum up financial support.

About 80 percent of the financing came from Inter-Island Steam Navigation Co., which was headed by his father, James A. Kennedy.

Kennedy eventually took on the chairman post of what later became Hawaiian Airlines. He also was president of Hawaii Transportation Co., the Coca-Cola Bottling Co. in Hawaii and the Honolulu Chamber of Commerce.

In 1919 Kennedy married Martha Davenport and their son, Stanley C. Kennedy Jr., later carried on the family tradition of interisland transportation.

Kennedy Sr., who was born in Honolulu in 1890, died in 1968.
E-mail to City Desk
---
---
© 1999 Honolulu Star-Bulletin
http://archives.starbulletin.com