---
Friday, October 29, 1999



N. B. A. _ H A W A I I
A.C. Carter lands
No. 2 point guard
spot with Heat


The former 'Bow star is
backup to Miami's
Tim Hardaway

By Pat Bigold
Star-Bulletin

Former Hawaii star Anthony Carter has landed the Miami Heat backup point guard job behind Tim Hardaway, according to a close confidant.

Llewellyn P. Haden, Jr., who was Carter's mentor in the "I Have a Dream" program in Atlanta, Ga., said he received a call from Carter at noon EDT.

"He said he just came from Pat Riley's office and was told that he was the No. 2 point guard," said Haden, who works with Albemarle Capital Company.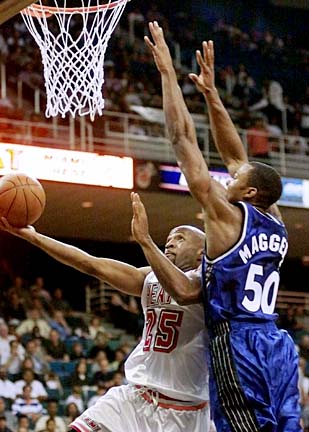 Associated Press, Tony Gutierrez
Miami Heat's Anthony Carter, number 25, drives to the
hoop as Orlando Magic's Corey Maggette defends in
the second period last Tuesday in Miami.
---
Carter, a rookie free agent, had been in competition with veteran Rex Walters for the backup job. He started out the exhibition season with outstanding performances in the first two games but ran into a rash of turnovers in the last four exhibition games. His overall stats were still better than those of Walters who had a much-publicized fight with Penny Hardaway in one game.

Hawaii head coach Riley Wallace said he received a call from Carter's agent, Bill Duffy, informing him early this morning that Carter had won the backup point guard job.

Carter will make $385,000 under terms of his contract. That's more than $83,000 above the rookie minimum of $301,875 .

He played last summer for the Dallas Mavericks team in summer leagues in California and Utah before being wooed away by the Heat.

Carter helped lead the Rainbows to back-to-back 21-win seasons in 1996-97 and 1997-98.
E-mail to Sports Editor
---
---
© 1999 Honolulu Star-Bulletin
http://archives.starbulletin.com