---
Thursday, October 28, 1999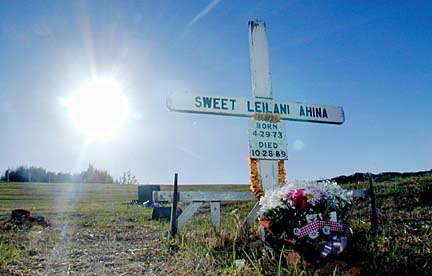 By Craig T. Kojima, Star-Bulletin
Late afternoon sunlight in Hoolehua, Molokai,
at the grave site of Leilani Ahina, a victim of
the Aloha IslandAir Flight 1712 crash in 1989.
---
Ten years later,
Molokai remembers


An air crash robbed the island
of 13 lives, and they will be recalled
tonight at a candlelight service

The 20 who perished By Craig Gima
Star-Bulletin

HOOLEHUA, MOLOKAI -- Ten years ago today, the Friendly Isle was shrouded in sorrow. It was just after dark on Oct. 28, 1989, when Aloha IslandAir Flight 1712 took off from Maui, ran into heavy clouds along the cliffs near Molokai's Halawa Valley and crashed.

All 20 people on board were killed instantly. It was the worst interisland air disaster in state history.

Thirteen of the victims were from Molokai, including eight members of the Molokai High School boys and girls volleyball teams and two faculty members. The girls team had just qualified on Maui for the state tournament.

On this island, where it seems everyone is related through blood, marriage or close friendships, the loss devastated the community and at the same time brought people together.

"It was not just our tragedy," said Barbara Helm, whose daughter Natalie was a sophomore at Molokai High School when she died in the crash. "Classmates, teachers and other community members were impacted. Everybody was involved in some way because this is a close-knit community."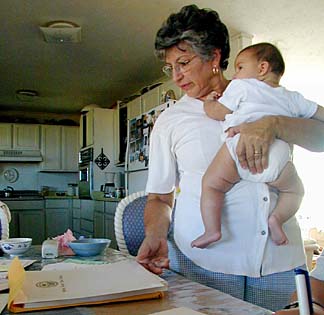 By Craig T. Kojima, Star-Bulletin
Barbara Helm, mother of crash victim Natalie Helm,
with her granddaughter, Natalia, in Hoolehua, Molokai.
---
Tonight, the community will come together again at a candlelight memorial service at One Alii Park. It is the first public ceremony in eight years. Organizers hope time has healed most of the deep wounds and that the service will be more about remembering the joy of life, not the pain of loss.

"Of course, there will be tears," Helm said. "Hopefully, there will be more happy memories."

Over the years and through counseling, Helm said, the sadness has been overshadowed by other memories of her daughter.

"There will be more smiles and fewer tears because there were much more happy times."

Not everyone on Molokai believes the service is necessary. There are concerns that it will dredge up painful memories.

Some people still hurt and don't want to talk about what happened.

"There are families that 10 years later still go to pieces," said Leila Elia, who lost her 14-year-old son, Jared, in the crash.

Lloyd Yonemura, who was a vice principal at Molokai High School at the time of the crash, believes most people have come to terms with the loss and gone on with their lives.

But it hasn't been easy.

Yonemura believes athletic director John Ino took the fatal flight Saturday night so he wouldn't miss a weekly basketball league game with Yonemura on Sunday.

"I had a hard time dealing with it," Yonemura said. He said he quit playing basketball after the crash. "I couldn't pick up a basketball for four years," he said.

Yonemura said he finally faced his fears two years ago and rejoined the league.

Yonemura noted that it was hard for him and other faculty members to deal with the tragedy because they had to be strong for the students. At school on the Monday after the crash, while students openly expressed their grief, Yonemura said he had to keep his emotions inside.

"What would have happened to Patton's army if he fell apart?" he asked.

What helped him and others, Yonemura said, was the way the whole island came together in the wake of the tragedy.

"I've never seen the community so close," he said. "The support we gave each other is the thing that kept people going."

Her Mormon faith kept Elia going after the loss of her son.

"We just know his spirit is with our Heavenly Father, and at some point we'll all be there," she said.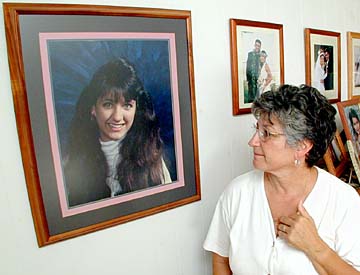 By Craig T. Kojima, Star-Bulletin
Barbara Helm's grandaughter Natalia is named for
her daughter, Natalie, whose koa-framed portrait
hangs in her living room.
---
Elia remembers her son as an Eagle Scout and "a terrific kid."

"He is still very much alive," she said.

For months after the crash, she would cry so much she couldn't play the piano at church on Sundays. "But it was not because of the tragedy of his death. It was because I missed him," she said.

At one memorial service at school, she said she became angry at a speaker who said the tragedy will never be forgotten.

"I don't care if they ever know how he died," she said. What's important is how he lived.

"If you remember the tragedy, you'd never get on a plane again."

One legacy of the crash is that air travel between islands should now be safer than before.

Island Air, the company that was Aloha IslandAir, is operating under stricter safety regulations after the National Transportation Safety Board put most of the blame for the crash on pilot Bruce Pollard.

The airline now has more stringent training, oversight and operating rules. It also requires the use of instruments rather than the visual flight rules that Pollard was apparently flying under when the plane crashed. And the Federal Aviation Administration now requires ground proximity warning devices in most commuter airplanes.

Then there's the legacy of helping others.

Six of the eight families of the student crash victims set up a scholarship fund with some of the money they received in a settlement with the airline. The fund is called Halia Aloha, which means "with fond remembrance." It and another fund set up with donations to the school give money to any Molokai High School student who applies and can show that he or she is going on to some form of higher education. Both funds have helped hundreds of students in the last 10 years.

At the kitchen table of her Hoolehua home, Helm shows the thank-you letters she has received from some of the scholarship recipients.

One recipient sent her college grades along with her letter. Two students who received scholarships -- classmates of the crash victims -- graduated and now teach at Molokai High School.

As Helm shows the letters, her granddaughter watches a video in the living room. Next to the television is a large, koa-framed portrait of Natalie.

Helm's granddaughter, Natalia, is named after her aunt.

To keep her daughter's memory alive, Helm tells Natalia stories about her "Aunty Natalie" -- about what an outgoing and loving girl she was, and her love of the elderly and young babies just like Natalia.

Natalia, said Helm, reminds her that there is happiness after loss.

Yonemura, too, believes something positive can emerge from tragedy. Sometimes at the playground, he said, he sees the children of the brother of one crash victim who married the sister of another victim. They are together today, in part, because they helped each other through the grieving , Yonemura said.

Helm looks at the news of recent plane crashes and hopes the service might have meaning for others. Perhaps, she said, families of the victims of the recent Big Island Air crash or the crash of Payne Stewart's Learjet can take some comfort in knowing that others have recovered from tragedy.

At the service tonight, candles will be lit, ministers from various churches on Molokai will speak, and people will be able to share thoughts and prayers or write them on paper and toss them into a bonfire. Afterward, there will be stew and rice.

Natalie's father, Larry, is also the brother of George Helm, the Hawaiian activist who disappeared off Kahoolawe in 1977. Larry Helm said the service is a celebration and a healing.

"The blaming is all pau," he said. Helm even invited Aloha Airlines, parent company of Aloha IslandAir, but he's not sure a representative will attend.

Yonemura has mixed feelings about the service. But he hopes it will do some good.

"Maybe we can reflect on how we pulled together in tough times then, so we can pull together in tough times now."




The 20 who perished

The 20 people who died in the Oct. 28, 1989, crash of Aloha IslandAir Flight 1712 were:

John Ino, 39, Molokai High School athletic director.
Odetta Reyes Rapanot, 32, Molokai High School girls volleyball coach.
Lea Dunham, 17, Molokai High School senior.
Leilani Ahina, 16, Molokai High School junior.
Nanceen "Kaipo" Mahiai, 15, Molokai High School sophomore.
Natalie Helm, 15, Molokai High School sophomore.
Aloma Spencer, 15, Molokai High School sophomore.
Testa "Travis" Ku, 15, Molokai High School sophomore.
Jared Elia, 14, Molokai High School freshman.
Jovencio Ruiz, 14, Molokai High School freshman.
Colette Loke Kekalia, 26, who had been on Maui for medical treatment.
Rodrigo "Rudy" Senica, 33, who had been working on Maui but had relatives on Molokai.
Nancy Pierce, 37, a supervisor at Haleakala National Park who was married to the superintendent of the national park at Kalaupapa.
Hank Gabriel of Kihei, who was flying to Molokai to inspect a condominium he owned.
Peter and Elizabeth Wiley of Pennsylvania.
John and Christina Craig of Texas.
Capt. Bruce Pollard, 30, from Oahu.
1st Officer Phil Helfrich, 27, from Oahu.



E-mail to City Desk
---
---
© 1999 Honolulu Star-Bulletin
http://archives.starbulletin.com