---
Wednesday, October 27, 1999
Clara Haili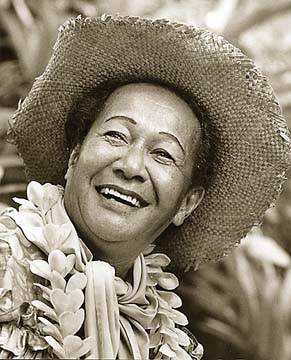 Star-Bulletin file photo
Hawaiian music entertainer Clara Haili, better known
as Hilo Hattie, made everyone smile.
---
Kolohe Hilo Hattie
warmed hearts

By John Berger
Special to the Star-Bulletin

The stereotypical seductive allure of South Sea Islands women has been part of the Polynesian mystique since the voyages of Captain Cook. But Clara Haili captured the hearts of millions portraying a very different type of island wahine -- everybody's kolohe, or rascal auntie, Hilo Hattie.

"Hilo Hattie was a classic comedy hula dancer but where most dancers were doing it to Hawaiian songs and interpreting kaona (hidden meanings), she danced to hapa-haole songs for the mass audience. Her clowning around and dancing were right on the surface," said Harry B. Soria Jr. of the long-running "Territorial Airwaves" radio show.

Haili's career changed forever when she interpreted a hapa-haole song called "When Hilo Hattie Does the Hilo Hop" at the Royal Hawaiian Hotel. Bandleader Harry Owens didn't think the song appropriate for the Royal, but her performance became such a show-stopper that composer Don McDiarmid Sr. wrote more verses for her.

Her outfit -- baggy muumuu, floppy hat, strip of cloth tied around her hips -- became a uniform, and although she did many other numbers, she became so strongly identified with the song that she eventually changed her name to Hilo Hattie.

Soria said she was unique in Hawaiian music: "We didn't have women like that here before. We had quiet dancers, pretty girls, soprano singers and falsetto singers but we didn't have a raucous, bellowing, clowning around, strong personality."

Hilo Hattie toured extensively, appeared in Hollywood movies and made a number of recordings.

She returned here in 1960 to headline the Kaiser Hawaiian Village Tapa Room with Benny Kalama and the Village Serenaders. It was her last big engagement in Waikiki. She died in December 1979.

---

Ellison S. Onizuka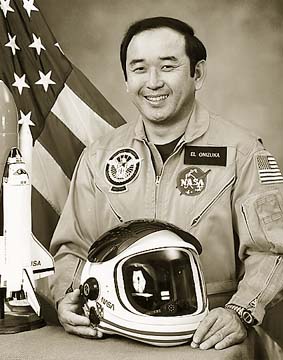 Star-Bulletin file photo
Hawaii astronaut Ellison S. Onizuka died Jan. 28, 1986,
aboard the shuttle Challenger.
---
Space pioneer reached for stars

By Shirley Iida
Star-Bulletin

Astronaut Ellison S. Onizuka will be remembered as one of Hawaii's pioneers.

Onizuka, better known as "El" among family and friends, was a visionary, an educator and a symbol of hope for aspiring astronauts.

Conquering the odds, he became Hawaii's first astronaut and the nation's first Asian American in space.

It's a legacy touched by tragedy. On Jan. 28, 1986, Onizuka and six other astronauts died when the space shuttle Challenger exploded soon after takeoff from Cape Canaveral, Fla.

Still, at age 39, Onizuka had already come to symbolize hope and inspiration. He encouraged everyone, especially children, to dream and keep reaching for the stars.

Born in Kona and a 1964 graduate of Konawaena High School, Onizuka received bachelor's and master of science degrees in aerospace engineering from the University of Colorado.

Onizuka entered active duty with the Air Force in 1970. Later, he participated in flight test programs at McClellan Air Force Base, Calif., and attended test pilot school at Edwards Air Force Base. He was selected as a NASA astronaut in 1978.

Chosen from more than 8,000 candidates, Onizuka became a role model for aspiring astronauts by completing a successful mission aboard the Space Shuttle Discovery in 1985. It was his first shuttle mission to outer space.

Since his death 13 years ago, many buildings have been named after him to advance space technology. They include the Astronaut Ellison S. Onizuka Space Center museum at Keahole Airport, and the Onizuka Center for International Astronomy at Hale Pohaku on Mauna Kea.

Five years after the tragedy, Onizuka's widow, Lorna, was quoted as saying, "I think less and less that his life was in vain."
E-mail to City Desk
---
---
© 1999 Honolulu Star-Bulletin
http://archives.starbulletin.com