---
Tuesday, October 26, 1999
"Fabulous Five"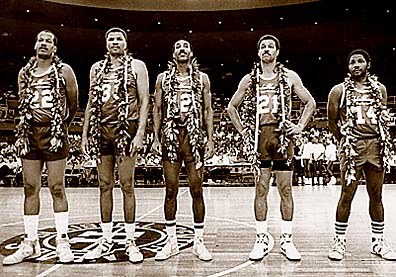 Star-Bulletin file photo
The "Fabulous Five": Al Davis, Bob Nash, Dwight Holiday,
John Penebacker and Jerome Freeman.
---
UH basketball team
dazzled opponents

By Ben Henry
Special to the Star-Bulletin

HAWAII'S "Fabulous Five" of 1970-72 made an impact on Hawaii sports that is still being felt today.

The 1972 University of Hawaii men's basketball team was the first to get an invitation to the NCAA tournament, marking the first time the nation was really forced to pay attention to the state, and raising the expectations of Hawaii fans.

The year before, Hawaii had qualified for its first national postseason tournament, receiving an invitation to the National Invitational Tournament after a 21-4 regular season, only the second winning season in school history at the time.

Although Hawaii lost to St. Bonaventure in the quarterfinals of the tournament, the team set a precedent that, no matter what the odds -- Hawaii was coming off a 6-20 season -- there's always a chance.

"They were the darlings of the state," said Dick Couch, who covered the team for the Star-Bulletin. "They were exciting to watch and charismatic and they made that old HIC (Honolulu International Center, present-day Blaisdell) rock, night in, night out."

In 1972, after a 24-2 regular season, the team of Bob Nash, John Penebacker, Al Davis, Jerome Freeman and Dwight Holiday and coach Red Rocha played in its first NCAA tournament game.

The 1972 team holds numerous UH all-time records that still stand today.

Among them are a 106-49 victory over Redlands in that is the widest margin of victory in school history. Also that year, the team averaged 91.7 points a game, and won by an average of 15.1 points a game.

Nash, current associate head coach for UH, was the first from UH to get drafted by the NBA in the first round, by Detroit.

Holiday also was drafted, in the ninth round by Seattle, and Davis was drafted in the 20th round in the NBA and in the second round of the ABA.

The Rainbows lost their first NCAA Tournament game to Weber State, 91-64, but their journey there made an impression on Hawaii.

The state House passed a resolution following the loss, lauding the team for their "charisma ... unprecedented 24 victories and two losses ... The thrilling and exciting play of the 'Fabulous Five' ... will never be forgotten by the Hawaii sports fans."

---

Cecil "Cec" Heftel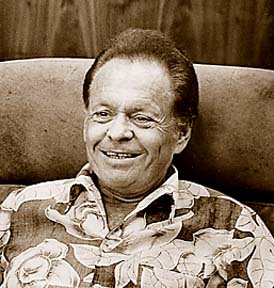 Star-Bulletin file photo
Cecil Heftel purchased Hawaii's KGMB and
KPUA radio and TV stations in 1965.
---
Station manager
aired local issues

By Burl Burlingame
Star-Bulletin

FOR a fellow who didn't move to Hawaii until his 40s, Cecil "Cec" Heftel made his mark quickly and in the process, changed the way the islands reported on themselves.

An Illinois-born Army Air Forces veteran who attended law school on the GI Bill, Heftel was taken with broadcasting and managed stations in Idaho, Utah, Colorado and Arizona before buying Hawaii's KGMB and KPUA radio and TV stations in 1965. He quickly showed a genius for combining promotion, "local" sensitivity and news-business savvy, creating shows such as "Checkers and Pogo" and the first A-Team of TV news experts in Hawaii.

KGMB's TV news, centered around anchor Bob Sevey, was virtually untouchable as long as Heftel managed the station. "Cec knew from the beginning that television needed to not only be as professional as possible, it had to be as local as possible and serve the community," recalled Sevey, now retired.

"From the beginning, he was very hands-on in the areas that interested him, and that was community affairs. He gave editorials on the air on public issues, and how many station owners care enough to do that anymore? But he left us alone in the news department. He asked only that we create the best TV-news department in Hawaii, and gave us the resources to do so."

Heftel ran for office, losing at first to Hiram Fong, but later becoming a congressman for a decade. In the mid-'80s, though, running for governor, Heftel was slandered in a whisper-innuendo campaign so vicious that all later gossip campaigns became known as "Heftel-type smears."

Discouraged, Heftel moved to Las Vegas to run another station. But this summer he sold his interest and returned here, and already has become an astute commentator on issues via letters-to-the-editor.
E-mail to City Desk
---
---
© 1999 Honolulu Star-Bulletin
http://archives.starbulletin.com