---
Wednesday, October 20, 1999
David K. Trask Jr.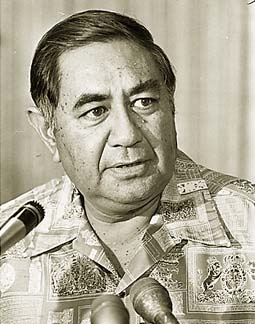 Star-Bulletin file photo
David K. Trask Jr. led the Hawaii Government Employees Association.
---
Union causes his
labor of love

By Harold Morse
Star-Bulletin

DAVID K. Trask Jr., 77, born in Honolulu the sixth of nine children, believes in hard work: He was a key part of labor organizing and collective bargaining for higher wages, better working conditions and more benefits.

"I believe in labor unions," he said.

After representing Maui for 11 years in the Hawaii Legislature -- six in the House, five in the Senate -- he was executive director of the Hawaii Government Employees Association from 1969 to 1981.

He praises working people everywhere and sees unions as instruments of social progress.

Trask said that it was only when plantation workers unionized did they finally achieve respect and dignity for their work. State and county employees had to wait until 1970 when the collective-bargaining law was passed to enjoy the same rights and benefits, he said.

Long, overdue change came about only when organized labor flexed its collective strength in politics, Trask said.

The 1954 elections changed the political and economic face of Hawaii, as the newly elected Democratic majority in the Legislature got there mainly through efforts of organized labor. Union votes helped him win legislative elections, Trask said.

The labor movement in Hawaii reached its peak in the early 1970s, with achievement of equal opportunity, economic growth and social mobility, Trask said.

Trask sees one critical lesson to learn from labor history -- that positive social change happens only through labor organizing, uniting and speaking with a strong voice.

The late Tommy Trask, who died in 1998 and was head of the ILWU until 1994, was a first cousin of David Trask. They were contemporaries of the first United Public Workers director, Henry Epstein, who died in 1995.

---

Allan and Marion Saunders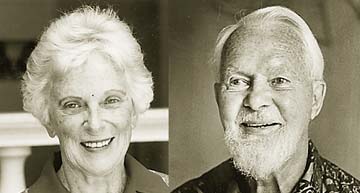 Star-Bulletin file photos
Marion and Allan Saunders were advocates for
civil liberties and academic freedom.
---
Couple dedicated lives
to academia

By Lori Tighe
Star-Bulletin

"UNLESS people in a community are willing to defend the civil liberties of others," said Allan Saunders, "they will be lost to everyone eventually."

Allan and Marion Saunders were more than willing.

They spent their life defending academic freedom: he, through teaching at the University of Hawaii; she, through improving public education for the state.

Allan Saunders was a legendary professor and a dean at UH.

He helped form the Hawaii chapter of the American Civil Liberties Union in 1965 and the League of Women Voters in 1948.

Marion Saunders joined in her husband's activities and left an even longer legacy of involvement in the state's public education system.

They married in 1946, after meeting during World War II. Through their lives, he supported her achievements, and she his.

Aside from the many serious political and ethical organizations he formed or was involved with, Allan Saunders also began the FWASTO, Faculty Wearers of Aloha Shirts, Tails Out, which many in Hawaii can appreciate with a chuckle today.

Marion Saunders had a bottomless pit of energy, enthusiasm and conviction, which she directed toward education.

She served as principal of the territory's first adult continuing education school. She was in charge of helping Micronesian students at the East-West Center.

And she began a continuing education program for women at UH, the root of today's women's studies program.

During her last two years of life, she helped found UH's Academy of Lifelong Learning. Until the day she died in 1998, Marion Saunders helped schools, teachers and parents in the same way she and her late husband had done all their lives.

---

A. Grove Day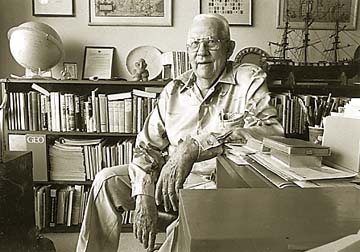 Star-Bulletin file photo
A. Grove Day rubbed elbows with John Steinbeck
and James Michener.
---
Author called a 'nesomaniac'

By Susan Kreifels
Star-Bulletin

HE was friends with the best writers: John Steinbeck and James Michener.

In fact, he was the typical example of what Michener coined a "nesomaniac" -- a person mad about islands.

A. Grove Day, an educator, prolific author and Hawaii historian, wrote or edited more than 50 books. "Mad About Islands: Of a Vanished Pacific," is a collection of biographical essays on Herman Melville, Robert Louis Stevenson, Jack London and other famous writers who spent time in the islands.

His best known, "Rascals in Paradise," was a series of true stories on rogues in the Pacific that was co-written with Michener.

Day died just shy of 90 when he fell off his lanai five years ago.

"He was my trusted friend for many years and my collaborator in a book we wrote on the islands that we both knew so well and loved so much," Michener said after Day's death.

Day's books are still local best sellers: "Mark Twain's Letters from Hawaii" and "Best South Seas Stories."

He retired from the University of Hawaii-Manoa as senior professor emeritus of English.

Born in Philadelphia, he earned his bachelor's and graduate degrees from Stanford University, where he was friends with Steinbeck.

In his later years, Day had been criticized for paying too much attention to the classic Western writers in Hawaii, but he loved all literature and helped support local literary journals with anonymous donations.

A disciplined writer, Day pounded at his typewriter every morning. In 1979, he won the Hawaii Award for Literature.

"I can't remember when I didn't love the islands or want to come to Hawaii," Day said in 1987.
E-mail to City Desk
---
---
© 1999 Honolulu Star-Bulletin
http://archives.starbulletin.com