---
Monday, October 18, 1999



S A I L I N G
---
Big spenders
off to good start
in Cup quest


The America's Cup
elimination series starts with the
favorites faring well

By Rohan Sullivan
Associated Press

AUCKLAND, New Zealand -- Prada lost a man overboard and veteran Dennis Conner got a scare from a first-time team when the long contest for the America's Cup got under way yesterday.

The first races of the elimination series to decide who will take on the defending home team for yachting's most prized trophy in February 2000 started with good weather conditions.

But by afternoon, the Pacific island nation's notoriously fickle weather turned, with the wind regularly shifting in direction from 6 to 12 knots. Yachstmen found themselves navigating through rain squalls and choppy waters on the two challenger courses in the Hauraki Gulf.

The big-spending favorites fared well, with the New York Yacht Club's Young America, skippered by Ed Baird, and the St. Francis Yacht Club's AmericaOne with Paul Cayard at the helm securing two wins.

Abracadabra wins one, loses one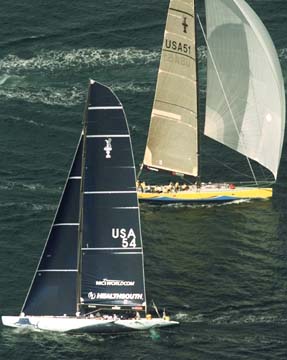 Associated Press
Hawaii's Abracadabra, foreground, lost its match to The Nippon
Challenge of Japan yesterday by 38 seconds, then beat
Switzerland's FAST 200 by 10:17. The yacht
America True is also shown.
---
The day's most exciting moment came when Prada's Simone de Mari lost his balance and plunged into the gulf's icy waters as he tried to secure a gennaker as the Italian team rounded the leeward mark of its 2nd race. After slowing down to fish him back on board, Prada recovered quickly to defeat Japan's Nippon Challenge and join the leaders with two points.

"We didn't have one of our best roundings," Prada's skipper Francesco de Angelis said. "We didn't plan that maneuver well and it was a big mess."

Other teams said the weather conditions, combined with crews' performances under the pressure of race conditions for the first time, made their races difficult.

"Conditions were very shifty and today was a tricky day," AmericaOne tactician John Kostecki said. "It wasn't a real straightforward day."

In his only race today, Conner, sailing in his eighth America's Cup competition, had a clear lead of 1 minute, 17 seconds over the French team at the second windward mark when his boat, Stars and Stripes, lost its spinnaker halyard.

Le Defi Francais was able to get back more than 1 minute on the last leg and took Conner down to the wire. In the end, the Americans scraped over the line to win by 9 seconds and secure one point.

The French team had a convincing win over Young Australia in its afternoon race to finish the day with one point. Hawaii's Abracadabra 2000 and Nippon also finished with one point. Teams which failed to score were the San Francisco Yacht Club's America True, Switzerland's Fast 2000, the Spanish challenge and Young Australia. The Australians and Stars and Stripes had byes and raced only once each today.

In more than 700 races that will decide the America's Cup challenger, the 11 teams competing get one point for each win in the first of three round-robins, four points in the second, nine in the third.

A finals series will decide the winner, which will meet the Team New Zealand in a best-of-regatta for the America's Cup.

The New Zealanders practiced yesterday day on their two new yachts on a separate course.
E-mail to Sports Editor
---
---
© 1999 Honolulu Star-Bulletin
http://archives.starbulletin.com