---
Monday, Oct. 18, 1999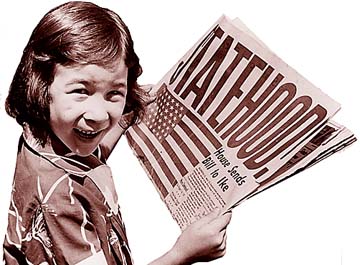 Hawaii for the ages

Wave of Americanism
culminates in statehood

Dec. 22, 1945: U.S. Secretary of Interior Harold Ickes officially recommends statehood for Hawaii, based on its outstanding WWII record. Earlier, the Democratic National Convention had endorsed statehood.

---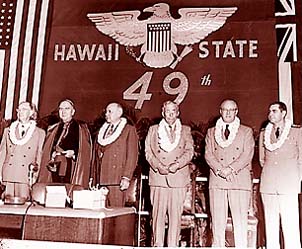 With a banner conveying hopes for statehood,
Constitutional Convention is held in April 1950.
---
Jan. 7, 1946: House of Representatives Territorial Committee opens first statehood hearings. Over next 10 years, statehood gains favor in the House, but opposition in Senate.

1948: President Harry S Truman endorses Hawaii statehood bill in February report to Congress. ALSO: Tripler Army Hospital opens. ALSO: Korean War begins.

---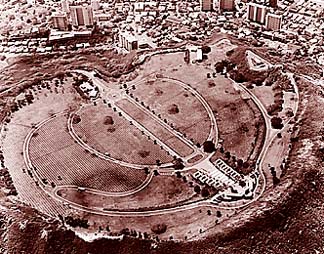 Aerial view of the Punchbowl cemetery.
---
1949: National Memorial Cemetery at Punchbowl opens. ALSO: Six-month dock strike, led by Jack Hall and ILWU, paralyzes community.

1951: Oren E. Long is 10th territorial governor. ALSO: Temple Emmanuel is built. ALSO: The Oahu Federation of Teachers organizes.

---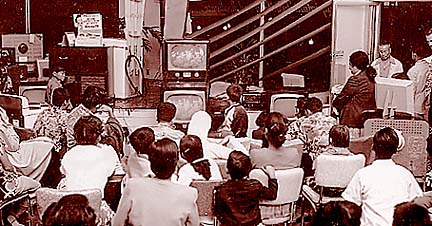 First broadcast in '52 by KGMB-TV draws crowds to a Kaimuki store.
---
1952: First scheduled TV broadcast here, by KGMB. ALSO: Tsunami from earthquake off Kamchatka causes damage here.

---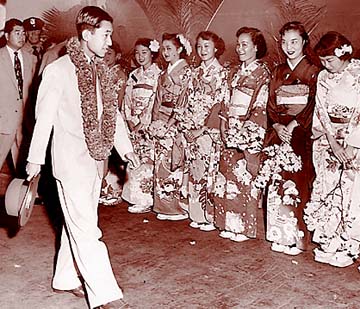 Akihito gets an ethnic isle greeting.
---
1953: ILWU's Jack Hall and six others convicted June 16 under anti-Communist Smith Act; convictions later overturned by federal appeals court. ALSO: Japan's Crown Prince Akihito visits Hawaii. ALSO: 11th Territorial Gov. Samuel Wilder King.

1954: U.S. Senate committee approves statehood bill for Hawaii despite former Gov. Ingram Stainback's testimony that labor unions here are infiltrated by Communists.

1955: Brigham Young University-Hawaii founded, as is Chaminade University. ALSO: Powerful AFL and CIO merge into one massive labor union.

---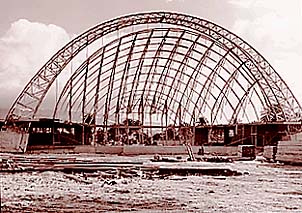 Waikiki Shell being built in 1954.
---
1956: John Burns is delegate to Congress. ALSO: Waikiki Shell opens.

ALSO: Hydrogen bomb tested at Bikini Atoll. ALSO: Sputnik I launched by Soviets on Oct. 4, world's first manmade Earth satellite; in November, Sputnik II launched with live dog aboard.

---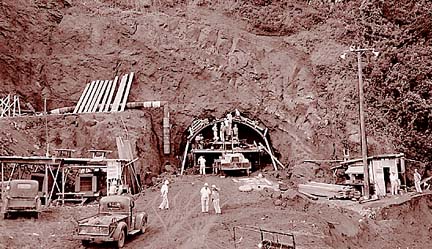 Pali Tunnel takes shape in 1956 for '57 opening.
---
1957: 12th Territorial Gov. William F. Quinn appointed. ALSO: Pali Highway's first two tunnels open to traffic. ALSO: Tsunami from Aleutian Islands earthquake causes $5 million in damage here. ALSO: CINCPAC on Oahu becomes command central for U.S. Pacific armed forces, the world's largest single unified military command.

ALSO: Alaska gains Congress' approval for statehood; it's officially proclaimed 49th state in January 1959.

1958: Containerized cargo shipments begin on Matson freighters. ALSO: Trans Pacific Airlines becomes Aloha Airlines.

---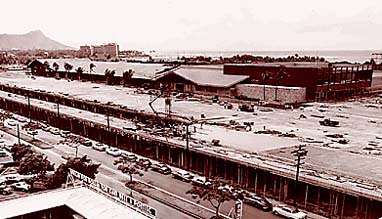 Ala Moana Center, its Sears-Longs Drug corner
shown here, under construction in April 1959.
---
1959: Hawaii officially becomes 50th U.S. state on Aug. 21: U.S. Senate approval occurs March 11, then the House on March 12, then signing of the law by President Dwight D. Eisenhower on March 18; a plebiscite of residents approve it in June. In Hawaii's first general election on July 28, Republican William F. Quinn is elected governor; Oren Long and Hiram L. Fong, U.S. senators; and Daniel K. Inouye, U.S. representative. As pact of statehood, U.S. transfers former Hawaiian Government and Crown lands to the state of Hawaii, and puts the land in a public trust, to be used only for native Hawaiians and specific public purposes. ALSO: Ala Moana Shopping Center opens. ALSO: First Hawaii-mainland jet service. ALSO: Dr. Martin Luther King Jr. speaks at Punahou School.








About this Series

The Honolulu Star-Bulletin is counting down to year 2000 with this special series. Each installment will chronicle important eras in Hawaii's history, featuring a timeline of that particular period. Next installment: October 25.


Project Editor: Lucy Young-Oda
Chief Photographer:Dean Sensui



E-mail to City Desk
---
---
© 1999 Honolulu Star-Bulletin
http://archives.starbulletin.com