---



Newswatch
By Star-Bulletin Staff
Saturday, October 16, 1999

Attorneys may apply for federal judgeship

Applications are being accepted to fill a federal judgeship vacancy in Hawaii created by U.S. District Judge Alan Kay's transfer to senior status at the end of the year.

Attorneys interested in applying for the vacancy must submit a completed application by Nov. 12, U.S. Sens. Daniel Inouye and Daniel Akaka said in a joint letter to the Hawaii State Bar Association.

Applicants must be U.S. citizens, accredited law school graduates, in good standing in the Hawaii State Bar Association and have practiced law for at least 10 years.

All applications should include a resume, three letters of recommendation and a letter that explains why the applicant wishes to serve as a federal judge here. The letter also should detail the applicant's litigation experience.

Applicants should be available for interviews in Hawaii Dec. 6-10.

Applications may be submitted to Sen. Daniel Inouye, 722 Hart Senate Office Building, Washington, DC 20510, ATTN: Chrstn Alston Eads; or Sen. Daniel Akaka, 720 Hart Senate Office Building, Washington, DC 20510, ATTN: Noe Kalipi.

Hawaii parks bill passes Senate

HILO -- A bill authorizing expansion of Hawaii Volcanoes National Park and correcting Hawaii park names has passed the Senate, U.S. Sen. Daniel Akaka announced.

One provision would give the Volcanoes park general authorization to buy land. The park can currently acquire land only by donation or exchange.

Akaka last year succeeded in passing specific legislation to acquire 1,951 acres along the "Great Crack" at the southwest end of the park.

The other provision would correct spellings of Hawaiian words to include marks for glottal stops and long vowels. For example, Hawaii would become Hawai'i in the Volcanoes park name.

The bill with the two provisions now goes to the House of Representatives.

Group to represent isles at senior games

Sixty seniors who qualified through the Hawaii Senior Olympics last November will compete in the National Senior Olympics that starts Tuesday in Orlando, Fla.

The delegation includes 48 people from Hawaii and a dozen from the mainland and Canada.

Hawaii's contingent will join more than 12,000 seniors from around the United States and two dozen foreign countries.

"This is the first time Hawaii will be represented by its own delegation," said Mark Zeug, president of the Hawaii Senior Games Association.

Several Hawaii residents have participated in previous national senior games but were required to qualify through state competitions on the mainland, Zeug said.

The games will be in the Disney Sports Center outside Orlando.




Corrections

Joseph Ballard Atherton married into the family of Amos Starr and Juliette Montague Cooke. A "100 Who Made a Difference" profile on Wednesday incorrectly stated Atherton married into the Samuel Northrup Castle family.

Zurcaled De La Cruz, charged with sexually abusing a 4-year-old girl, is the husband of a Navy sailor. He is not in the Navy as reported in yesterday's Star-Bulletin.








---




Police, Fire, Courts



By Star-Bulletin staff



Pacific Heights fire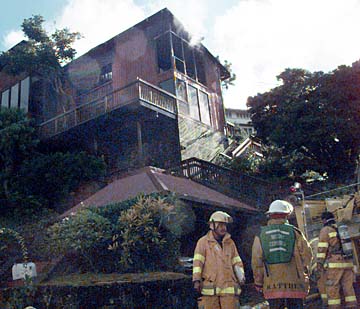 By Ken Sakamoto, Star-Bulletin
A smoke detector may have saved the lives of two men whose
Pacific Heights home was damaged by fire this morning, said
Battalion Chief Craig Matthew. The fire at 2546 Pacific
Heights Road broke out at 8 a.m., but the men were
alerted by a smoke detector. Fire companies had the
blaze under control in 14 minutes. Damage was
estimated at $75,000. Investigators trying to
determine a cause said the fire began in a bedroom.
Groundskeeper's death suspicious, police say

Police are investigating after a man's body was found floating in waters off Ala Moana Beach Park yesterday.

The 38-year-old man was a city groundskeeper at the park, police said. He was last seen at the park at about 2:30 p.m. Wednesday

His body was found floating about 100 yards off Magic Island at 8 a.m.

Police say the death is suspicious, but did not classify the death as a homicide pending autopsy results.

Waianae woman hurt critically in van crash

A 41-year-old Waianae woman was critically injured yesterday when she crashed her van in Nanakuli.

The woman was town-bound on Farrington Highway when she lost control of her 1987 Ford Aerostar van at 10:12 a.m. and flipped into a dirt embankment near Pohakunui Avenue.

She was airlifted to Queen's Hospital where she remained in critical condition today.

It is unknown if speed or alcohol use were factors, traffic investigators said.

High-speed chase yields 2.6 pounds of cocaine

HILO -- Police said they seized 2.6 pounds of cocaine and more than $80,000 in cash following a high-speed chase in Panaewa Farmlots south of Hilo yesterday.

A 40-year-old Las Vegas man was arrested and is being held pending a federal investigation, they said.

The incident began when an apparent drug transaction was seen at 2:10 p.m. The suspect fled in a Jeep Wrangler, eventually abandoned it and was captured when he tried to flee on foot.

Vice squad Lt. Henry Tavares put the street value of the cocaine at $65,000.

Tavares said increasing amounts of hard drugs are entering the Big Island, mainly from Mexico.

Police on Kona side seek three suspects

KAILUA-KONA -- Police are asking for the public's help in finding three people wanted for unrelated offenses.

John Enoka Sauer, 29, is wanted for drug violations and contempt of court. He is described as 5 feet 10 inches tall, 220 pounds, with a band of tattoos on both arms and tattoos saying "Ikaika Warrior" and "Bulldog."

John Keoni Krems, 37, is wanted for contempt of court and probation revocation. He is described as 5 feet 7 inches tall, 135 pounds, with a mole on his right cheek and a 6-inch scar on his abdomen.

Annette Davis, 26, is wanted for drug violations. She is 5 feet 7 inches tall and weighs 115 pounds, with blond hair and blue eyes.

Anyone with information on these people is asked to call CrimeStoppers at 329-8181.







E-mail to City Desk
---
---
© 1999 Honolulu Star-Bulletin
http://archives.starbulletin.com