---
Friday, October 15, 1999
Repainting
of Star-Bulletin
street racks halted


The work is stopped,
apparently in response to a
federal court order

By Gregg K. Kakesako
Star-Bulletin

In apparent response to a federal court order, the Honolulu Newspaper Agency has stopped converting the Honolulu Star-Bulletin sidewalk vending machines removed from Oahu streets earlier this month.

Nam Kung, manager of Sun Auto and Body in Mapunapuna, said he was told by an HNA representative not to continue repainting the blue street vending racks to turn them into Honolulu Advertiser boxes.




Judge refuses to
lift injunction

By Rick Daysog
Star-Bulletin

U.S. District Judge Alan Kay today denied a motion by attorneys for Gannett Pacific Corp. to lift an injunction that halts the Oct. 30 closure of the Honolulu Star-Bulletin.

Gannett and Liberty Newspapers, owner of the Star-Bulletin, asked Kay to suspend his Wednesday decision stopping the Star-Bulletin's closure pending its appeal to the 9th U.S. Circuit Court of Appeals.

Kay dismissed the motion without a hearing.

Also today, Gannett filed notice in Honolulu Federal Court that it will appeal Wednesday's decision.

Attorneys for Gannett could not be reached for immediate comment.




In arguing against the closure of the 117-year-old afternoon paper earlier this week, Deputy Attorney General Rodney Kimura said that at least 150 street vending machines, which normally sell the Star-Bulletin, had been removed from Oahu streets in anticipation of the October closure.

But in issuing an order halting the planned shutdown, federal Judge Alan Kay ordered the Honolulu Advertiser and its owner Gannett Pacific Corp., and Liberty Newspapers Limited Partnership, which operates the Star-Bulletin, to preserve the status quo until a trial is held hearing the state's objections.

Waving to save the Bulletin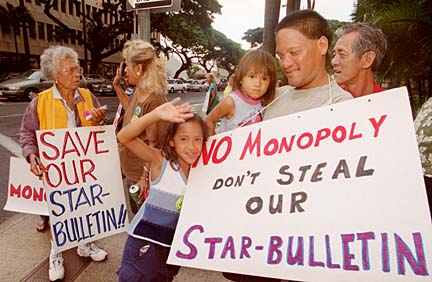 By Dennis Oda, Star-Bulletin
Peter Cablay, who works in the mailroom at the Hawaii Newspaper
Agency, brought his four children yesterday to help him protest the
planned closing of the Star-Bulletin. He is holding 3-year-old
Precious while 8-year-old Patrianna is on his right. They joined
the other demonstrators at the corner of South Street and
Kapiolani Boulevard.
---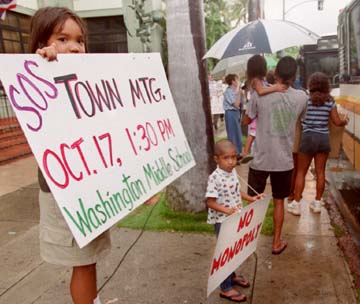 By Dennis Oda, Star-Bulletin
Primose Cablay, 7, and her brother, Peter Cablay Jr., hold signs
of support for their father in front of the building that houses the
Honolulu Star-Bulletin and the Honolulu Advertiser. Their father
works in the mailroom, where nine full-time workers will be laid
off if or when the Star-Bulletin is shut down. Primose's sign
advertises a public meeting to be held by the citizens group
Save Our Star-Bulletin. The meeting will be at 1:30 p.m.
Sunday in the Washington Middle School
cafetorium, 1633 S. King St.
---
The state maintains that the termination agreement between Liberty and Gannett violates antitrust laws and amounts to a conspiracy to monopolize Oahu's daily newspaper market.

Kung said he had about 40 news boxes in his shop.

Neither a spokesman for Gannett nor the HNA, which handles the business operations of the two newspapers under a federal joint operating agreement, was available for comment.

In the past Dennis Francis, HNA general manager, said the racks were taken off the street because of declining sales.

---




Star-Bulletin closing Oct. 30, 1999
Kay issues preliminary injunction
E-mail to City Desk
---
---
© 1999 Honolulu Star-Bulletin
http://archives.starbulletin.com