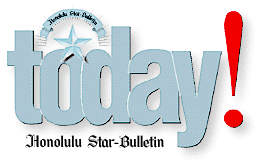 ---
Friday, October 15, 1999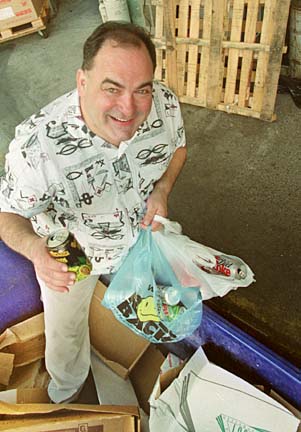 By Dennis Oda, Star-Bulletin
Isle comedian Frank De Lima, good sport that he is, climbs
into the dumpster at The News Building for this photo
shoot, searching for recyclable cans to turn in for cash.
---
Frank De Lima's in a bit of a
dilemma and is launching his
'Portagee fund-raiser' project
to help pay for his
next record

By John Berger
Special to the Star-Bulletin

THE TITLE OF FRANK DE LIMA's "Please Buy This Album" in 1982 was comic in intention. Seventeen years later, the sentiment behind the title is no laughing matter.

DeLima has donated countless hours over the years to charity work and the in-school programs of the Frank DeLima Student Enrichment Program. His next album is a fund-raising project a little closer to home.

"This is a 'Frank DeLima Fund-raiser for Himself Album,' just to survive in the state of Hawaii. It's for real this time," the comedian confessed while signing autographs after the recording session at his current venue, the Captain's Table Lounge in the Hawaiian Waikiki Beach Hotel.

DeLima and his long-time sidemen, David Kauahikaua and Robert "Bobby" Nishida, had tape running throughout the show on Oct. 2 for a live recording. All going well, the album will be out by the first week in November.

"The last one didn't do as well as we hoped so we're hoping this one will make enough money so that we can do the next one in a studio."

DeLima already has a "Portagee fund-raiser" project going. The showroom audience can buy his last album, "Ethnicology 101," on CD and cassette -- one copy in each medium -- at $10 per set. No limit.

"Yeah, it's Portagee -- two for less than the price of one," says DeLima, who sees no contradiction in being proud of his Portuguese heritage and enjoying jokes about the supposed foibles of "Portagees."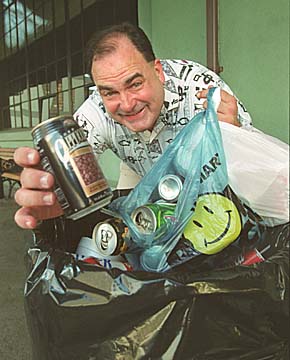 By Dennis Oda, Star-Bulletin
Frank De Lima shows off his aluminum cans to turn
in for cash. De Lima is trying to raise money in order to
produce a studio album of his comedy...
hopefully not by collecting cans.
---
He has learned over the years that some ethnic groups are more thin-skinned than others. Most of his material celebrates the differences of the primary groups that comprise Hawaii's population.

DeLima opened his show with a semi-serious monologue on the evolution of ethnic humor in Hawaii, and how the ability to enjoy and respect cultural differences helps reduce conflicts here. And, although the "live" format was mandated by his budget, DeLima has always been at his best when he has an audience to work with. That night was no exception.

"There's something about doing a live album that makes it more fun to do, the interaction with the audience, the laughter of the audience. Recording live is a one-shot deal. You better be on it. I think tonight was a keeper."

Among the "keepers" is a new version of his popular parody of "Lucille." DeLima and his writing partner, Patrick Downes, have reworked it as a requiem for the Honolulu Star-Bulletin: "Wat, Star-Bulletin, you goin' leave us now?"

The new album will also contain Mary Tunta's answer to Ricky Martin, "Smashing the Cockaroacha," and "Eat Rice," the DeLima/Downes graduation speech inspired by Baz Luhrmann's "Use Sunscreen" (DeLima recorded a studio version of "Eat Rice" for local radio stations but didn't release it as a single).

Other segments include the wisdom of Kahuna #9, an explanation of the differences between Japanese and Okinawans, the return of Ben Cayetano, and DeLima's unrehearsed repartee with real-life Captain's Table waiter Mr. Ing.

DeLima and his Pocholinga Productions record label plan to make the new album available as a fund-raiser product for schools and other groups as an alternative to the familiar $5 candy bars and the like. In the meantime he's previewing the material each weekend at the Captain's Table.

"My dream is to have my own place, 'Frank's Place,' but the Captain's Table is wonderful. The bar noise can be distracting -- just like the old days at the Noodle Shop -- but other than that I'm so happy that I got a place to work. Now would you like to buy an album?"






Click for online
calendars and events.
E-mail to Features Editor
---
---
© 1999 Honolulu Star-Bulletin
http://archives.starbulletin.com