---
Thursday, October 14, 1999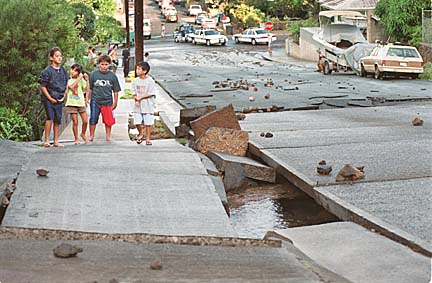 By Ken Ige, Star-Bulletin
Lindsey Wong, 8; Melissa Miranda, 7; Joseph Ting, 10; and
Brandon Kushima, 8, inspect the damage to their neighborhood
after a 16-inch water main burst on Pakui Street in Palolo Valley.
The water from the main damaged at least a dozen homes
and created large cracks in the street.
---
Burst water main causes
Palolo 'flash flood'

By Jaymes K. Song
Star-Bulletin

A Palolo street turned into a raging river this morning as a break in a 16-inch water main ripped open a road and flooded homes.

"It was terrible," said 77-year-old Keala Niderost, a resident of Pakui Street where the break occurred.

Resident Todd Saperstein said the water was "thundering down the street like a flash flood."

At least a dozen homes reported damage because of the 6:30 a.m. break. It created a fountain of water, mud and debris that gushed 10 to 15 feet in the air. The water cascaded down Pakui Street, which is on a hill, for several hours after the break.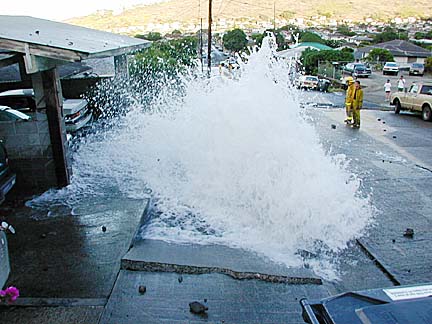 By Ken Ige, Star-Bulletin
Todd Saperstein, right, tries unsuccessfully to divert the water
from his house after a 16-inch main broke on Pakui Street in Palolo
Valley. The water ripped up the street and damaged
a dozen homes this morning.
---
The damage fronting Renny Nitta's home at 3529 Pakui St. was the worst on the block. The sidewalk and street in front of his house was marked by crevasses the size of a refrigerator, and water flooded his driveway, lawn and home. The rushing water also moved the concrete wall of his carport about 6 inches.

Nitta and several other neighbors called their employers and told them they would not be in for work today.

Police closed off streets because rocks, some the size of watermelons, blocked the roadway. Police would not allow travel on Pakui Street between 10th Avenue and Mokuna Place because the street was too unstable.

The Board of Water Supply was still trying to determine the cause of the break this morning. The break cut off water to the homes on Pakui Street, and a spokeswoman said repairs were expected to take all day.

Firefighters assisted residents by scooping up water by the bucketful from basements.

Residents spent the morning cleaning cars and lawns.

This was apparently not the first break in the neighborhood. Residents said that last year there were three in the immediate area.

"It's been a problem in the past. I don't know why," said police Sgt. Mark Mikami.
E-mail to City Desk
---
---
© 1999 Honolulu Star-Bulletin
http://archives.starbulletin.com