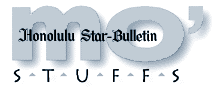 ---
Wednesday, October 13, 1999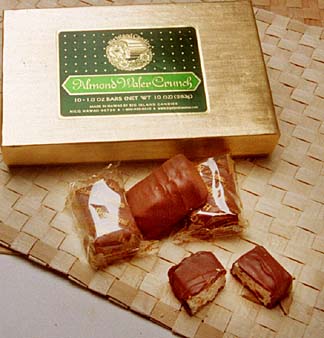 By Dennis Oda, Star-Bulletin
The latest offering is Almond Wafer Crunch, almonds,
wafer bits and cream dipped in chocolate.
---
One more
sinful delight from
Big Island Candies
Those evil people at Big Island Candies, not satisfied with sabotaging everyone's diet plan with chocolate-dipped shortbread cookies, chocolate-covered brownies and 40-some other sinful treats, have come out with something new.

The Almond Wafer Crunch is a chocolate-dipped rectangle of creamy filling, stuffed with roasted almonds and wafer bits. "Each bite ... evokes a symphony of flavor and texture, orchestrated to please the most discriminating palate," the company says in its subjective news release.

Yes, well, it's yummy, we'll say in our objective news item.

The crunches sell for $8.75 for a box of 10. If you live in Hilo or are on your way there, Big Island Candies' retail outlet is at 585 Hinano St., open 8:30 a.m. to 5 p.m. daily. The entire product line is also for sale on the Internet, at http://www.bigislandcandies.com. Or order by phone, (800) 935-5510.

Team Aloha hosts fair
Kapiolani Community College will be the site of a Wellness Fair 11 a.m. to 3 p.m. Saturday.

The fair will feature free health screenings, cooking and fitness demonstrations, a farmer's market, food booths and other health-related information and services. Presentations will be given on the Hawaii Diet by Dr. Terry Shintani and chef Kelvin Ro of the Culinary Institute of the Pacific.

There will also be games for children, free prize drawings and entertainment, including a performance by Frank DeLima.

Events will take place in the Ohi'a Building and courtyard and is being sponsored by Team Aloha Inc., a private, nonprofit organization dedicated to promoting the well-being of people in Hawaii.

Call 533-2411 for more information.

Join bone marrow registry Saturday
A bone-marrow recruitment drive will take place at Pearlridge Center Uptown during a Family Health Fair 10 a.m. to 5 p.m. Saturday.

Donors must be between 18 and 60 years old and in general good health. A small sample of blood will be collected from potential donors for tissue typing before placement on the Hawaii and national donor registries.

The Hawaii Bone Marrow Donor Registry matches marrow donors with Hawaii residents who need bone-marrow transplants due to terminal blood diseases such as leukemia.

In Hawaii, there is a particular need for donors of Asian and Pacific Islander ancestry.

For more information, call the registry at 547-6154.

Morsels

Nutrition classes offered at Castle Medical Center: Castle Medical Center offers classes to help with weight control, disease management and prevention, and general nutritional health.

"Nutrition, Diabetes and Weight Control Seminar" today at 6:30 p.m. will provide other nutrition information for diabetes and weight control. Admission is free.

A "Veggie Life" vegetarian cooking class will be conducted 7-8:30 p.m. tomorrow. Kathleen Kawahara will present recipes from Castle's award-winning Pali Gardens restaurant. The cost is $10.

A free "Healing Foods Forum" will discuss "Diet for a New America -- Your Health, Your Planet" at 7 p.m. Oct. 21. A one-hour documentary film will demonstrate how food choices can affect health and future life on Earth.

Call 263-5400 to register.

Pastry class at David Paul's: Chef Nicci Trip will teach a hands-on pastry class for beginners 11:30 a.m.-3 p.m. Friday at David Paul's Diamond Head Grill. Techniques for pies, tarts, basic candies, sauces and garnishes will be introduced. The cost is $50 plus tax and gratuity. Call 922-3734 for reservations.

"Dream Kitchen" recipe contest: C&H Sugar invites baking enthusiasts to submit recipes in three categories: cookies, cakes and dessert pies, in its "Dream Kitchen" recipe contest. The grand prize winner will receive a kitchen makeover valued at $40,000; first place winners receive their choice of baking appliances up to $1000; second place winners get a Kitchen Aid Professional K50 Pro Mixer; and third place winners receive an "Ultimate Bakers' Essentials Basket."
Deadline for entry is Jan. 31, 2000. An official entry form or handwritten card, the recipe and proof of C&H purchase should be mailed to: C&H Baking Contest, P.O. Box 1199, Maple Plain, Minn. 55593-1199. Rules and entry forms are available on C&H packages.


Click for online
calendars and events.
---
Send WatDat? questions, stories
or any other story ideas or comments to:
Features, Honolulu Star-Bulletin, P.O. Box 3080,
Honolulu, HI 96802 or send a fax to 523-8509
or E-mail to features@starbulletin.com.
Please include your phone number.
E-mail to Features Editor
---
---
© 1999 Honolulu Star-Bulletin
http://archives.starbulletin.com