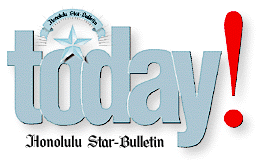 ---
Wednesday, October 13, 1999



Kapalua specialities
to try at home

Recipes prepared by Chef Craig Connole of Ritz Carlton Kapalua on "Hawaii's Kitchen" this week. The show aired at 5:30 p.m. Sunday and will be rebroadcast at the same time Saturday on KHON Fox 2.

ORANGE SHOYU CARAMELIZED SALMON

2 6-ounce salmon filets
Salt and pepper to taste
1/4 cup sugar
1 tablespoon oil
2 tablespoons shoyu
2 tablespoons Grand Marnier

Salt and pepper salmon. Press flesh into sugar for three seconds .

Heat a sauté pan to medium high, add oil and place salmon in pan, sugar side down. Cook until sugar turns a dark caramel color. Deglaze pan with shoyu and Grand Marnier. Turn salmon and remove from pan.

Place salmon, sugar side up, on a cookie sheet and bake at 350 degrees for 4-6 minutes. Serves 2.

MAUI ONION, TOMATO AND
AVOCADO SALAD WITH HAWAIIAN
CHILI WATER DRESSING

3/4 cup diced Maui onion
3/4 cup diced tomato
3/4 cup diced avocado
1 tablespoon sliced fresh basil
1 teaspoon balsamic vinegar
1 tablespoon olive oil
Mixed greens
Hawaiian Chili Water Dressing (recipe follows)

Combine all ingredients except mixed greens. Place a handful on a serving of mixed greens. Cover bottom of plate with dressing. Serves 4 to 6.

HAWAIIAN CHILI WATER DRESSING

1/2 cup chili pepper water
1/2 cup diced tomato
1 teaspoon rice vinegar
1/4 cup olive oil

In a blender, combine chili water, tomato and vinegar-blend until smooth. Slowly incorporate oil.

Note: To make chili pepper water, blend a quart of boiled and cooled water, 2 teaspoons Hawaiian salt and 1/4 cup of stemmed Hawaiian chiles in a blender. 3 cloves of garlic and/or 1 teaspoon of vinegar may be added. Store in refrigerator.

SPICY GARLIC AND
HERBED SHRIMP WITH
FRESH PAPAYA

1/2 pound shrimp (peeled and cleaned)
1/4 cup shrimp marinade (recipe follows)
1-1/2 cup diced fresh papaya
1/4 cup finely diced Maui onion
1 tablespoon chili pepper water
Mixed Greens

Soak shrimp in marinade at least 2 hours, then grill or broil.

In a blender, combine one-half cup of the papaya and the chili water; blend until smooth.

Toss remaining papaya and Maui onion together and place on a bed of greens. Drizzle chili water mixture over greens and on plate. Arrange shrimp on top. Serves 2.

SHRIMP MARINADE

1/2 cup basil
1/2 cup cilantro
6 garlic cloves
1 tablespoon sambal (Indonesian chile paste)
2 tablespoons honey
1 tablespoon chopped unsalted macadamia nuts,
1 teaspoon salt
2 tablespoons water

Combine all ingredients in a blender until smooth.

Nutritional information unavailable.






Click for online
calendars and events.
E-mail to Features Editor
---
---
© 1999 Honolulu Star-Bulletin
http://archives.starbulletin.com