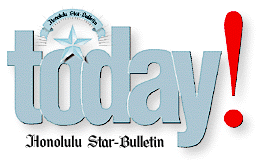 ---
Wednesday, October 13, 1999
Garlic puts zing in the daily meal

By Betty Shimabukuro
Star-Bulletin

Garlic ice cream, just think about it.

Cool and pungent, slip-sliding around your tastebuds and down your throat, which then says, "what the heck was that?"

The audacity of it all.

Garlic is like that. Audacious, sometimes obnoxious, always in your face. If it were a child, it would be the one with the loud voice who never naps, impossible to ignore, but with an artistic streak that portends a creative future.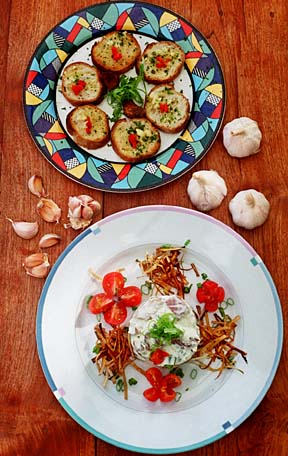 By Dennis Oda, Star-Bulletin
Endo's Ahi Mascarpone will be served on garlic toast
at the Garlic Festival. For the recipe see below.
---
As a food, it's the stuff festivals are made of. And so there will be one, Saturday, for the benefit of the Great Aloha Run, which is itself a benefit for the Carole Kai Charities.

To mark the occasion, Dave Leong of Dave's Ice Cream has created a garlic ice cream, which required a week's worth of trial and error. "It stumped our office terribly," Leong said.

And secondarily: "It stunk the living daylights out of this place."

The first attempts were too powerful, he said. The final solution proved to be slightly cooking the garlic and adding a pinch of salt to cut the bite and bring out the flavor.

"It's not overpowering, but you put in your mouth and you'll taste it. It doesn't have a bite to it -- but you're going to need some mints after. So I'm also going to be giving out mints."

It's for the truly crazed garlic lover, of which there are many in Hawaii, apparently.

Measuring total garlic consumption is a dicey prospect, but by one telling measure, we do love our cloves. Costco stores in Hawaii sell nearly twice as much garlic as Costcos anywhere else.

This is according to Christopher Ranch, which produces 60 million pounds of fresh garlic annually out of Gilroy, Calif., the supposed garlic capital of the world.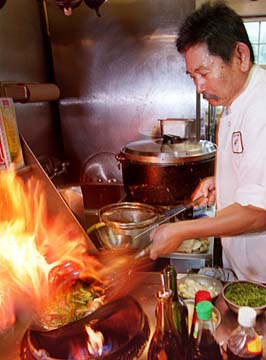 By Dennis Oda, Star-Bulletin
Eiyuki Endo, chef and owner of Ninniku-ya, the
Garlic Restaurant, flames up a dish of tiger shrimp.
---
Costco is the farm's biggest account, said Patsy Ross, vice president of marketing, and so sales to the warehouse giant are carefully tracked.

Every week, the Hawaii stores take 5,000 pounds -- a combination of fresh garlic in 3-pound bags and peeled garlic in 3-pound jars, Ross said. The national average is half that.

"I think all the ethnic diversity in the islands has a lot to do with it," she said. Garlic is big in Asian cooking, as it is in Mediterranean cuisines, so areas where these styles are prominent consume more than the 3-pound-per-year average of Mainstream America.

Garlic consumption is lowest in the Midwest, Ross said, and highest in populous areas with greater ethnic diversity. New Orleans takes "an incredible amount," and sales are high along the Eastern seaboard, in Chicago, Florida, Los Angeles and the Bay area. Even compared to those places, though, Hawaii's average is high, she said.

That's a positive indicator for the dozen restaurants that will be serving up specialties at the festival. The place is going to reek. In a good way, of course.

Count among the participating restaurants Mariposa, Chai's Island Bistro, 3660 on the Rise, Brew Moon and Sansei Seafood Restaurant and Sushi Bar. The purist of the bunch, though, is Ninniku-ya, also know as the Garlic Restaurant, in Kaimuki.

In this small space on Waialae Avenue, Eiyuki Endo indulges a love of garlic unusual for someone from Japan. The only traditional Japanese dish that uses garlic, Endo said, is katsuo no tataki, grilled rare aku layered with sliced garlic and green onions and served with ponzu.

Otherwise, garlic is too powerful a flavoring for a cuisine that values fresh, simple flavors over the robust.

Endo still managed to develop an attraction to garlic as a child, and this grew during a visit to Italy, where he discovered that the flavors he was enjoying so much had their roots in garlic.

His first Ninniku-ya (the name means "garlic") opened in 1983 in Tokyo, a 15-seat restaurant serving Chinese and Thai dishes.

"At that time, garlic wasn't popular in Japan," Endo said through interpreter Jan Masuda.

He learned to cook with it through the chefs he hired, chefs experienced in Chinese, Spanish and Italian cuisines. And Japanese diners responded.

The restaurant was so successful it spawned Endo's three-story second restaurant and a number of unauthorized copy-cats throughout the country.

Hawaii's Ninniku-ya opened two years ago with a menu heavy on pastas and "hot-stone" steaks -- these are filets cooked and served on slabs of marble; lamb and ahi are also prepared this way.

A specialty is Fresh Ahi and Avocado -- fish layered over an avocado-king crab-garlic-wasabi mixture. Endo also serves ice cream with a carmelized garlic clove.

Every day the restaurant goes through 25 pounds of "regular American garlic, from Gilroy," Endo said.

He believes in garlic because of its ability to so thoroughly affect the taste of a dish. A little bit on a steak will change its flavor, he said. "Even in a soup broth it will just turn the taste totally."




GARLIC FESTIVAL

Featuring: Food booths and wine gallery; garden, garment and craft sales; kids games, costume contest.
When: 10 a.m.-9 p.m. Saturday
Place: Victoria Ward Ltd., half-block Diamond Head of Ward Centre
Admission: $2
Call: 528-7388




---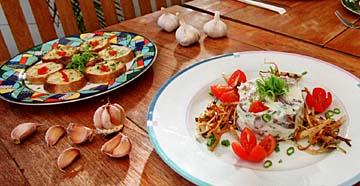 By Dennis Oda, Star-Bulletin
Plates of Ahi Mascarpone and garlic toast are served
on the outdoor tables at Ninniku-ya, the Garlic
Restaurant in Kaimuki..
---
Garlic puts zing
in the daily meal

Star-Bulletin staff

Eiyuki Endo of Ninniku-ya will serve his Ahi Mascarpone at the Garlic Festival Saturday.

The dish is a blend of cheese and cream, mixed with ahi and blended, of course, with garlic.

For those who'd like to experiment further, also included here are recipes from "The Great Garlic Book," by Chester Aaron (Ten Speed Press, 1997).

AHI MASCARPONE

1/2 pound ahi, in 1/2-inch-square dice
2 teaspoons olive oil
1 clove garlic, minced
(PI) Cheese mixture
3 tablespoons mascarpone cheese
2 tablespoons whipping cream
1 tablespoon chopped green onion
1/2 teaspoon wasabi paste
1 clove garlic, minced

Combine ahi with olive oil and garlic. Set aside.

Combine cheese mixture ingredients. Whip together and fold in ahi.

Serve on garlic toast. Serves 4 as an appetizer.

Approximate nutritional information, per serving (not including garlic toast): 170 calories, 11 g total fat, 6 g saturated fat, 55 mg cholesterol, 90 mg sodium.*

CARMELIZED GARLIC
VEGETABLE LASAGNE

1 cup olive oil
1-3 heads garlic, peeled
1 teaspoon granulated sugar
2 quarts tomato sauce
2 pounds ricotta cheese
1-1/2 pounds mozzarella cheese, grated
1 cup freshly grated Parmesan cheese
1 pound seasonal vegetables, thinly sliced and blanched
2 pounds lasagna noodles, cooked al dente

Simmer oil, garlic and sugar over medium heat until garlic softens and caramelizes. Remove and mix with tomato sauce, setting aside 12 cloves.

Mix the cheeses together, reserving 1/2 pound of the mozarella.

Begin layering in a lasagne pan: Sauce to coat the bottom, 1/2 the pasta, 1/2 the cheese mixture, vegetables. Follow with remaining pasta, sauce, reserved mozzarella and garlic.

Bake, covered, 30 to 45 minutes at 350 degrees. Bake, uncovered, an additional 10 minutes until cheese browns. Cool 10 minutes before serving. Garnish with remaining cloves. Serves 12.

Approximate nutritional information, per serving: 700 calories, 28 g total fat, 15 g saturated fat, 75 mg cholesterol, greater than 1,400 mg sodium.*

40-CLOVE GARLIC CHICKEN

1 frying chicken, 4-5 pounds, in pieces
1/3 cup olive oil
Coarse salt and freshly ground pepper to taste
40 cloves peeled garlic
1 sprig rosemary, finely chopped

Toss chicken pieces in oil and remaining ingredients. Cover and refrigerate 1-2 hours.

Place chicken and garlic in a covered dish and bake at 400 degrees for 30 minutes. Uncover and bake another 10 minutes. Serves 4.

Approximate nutritional information, per serving (not including salt to taste): 725 calories, 48 g total fat, 11 g saturated fat, 240 mg cholesterol, 180 mg sodium.*






Click for online
calendars and events.
E-mail to Features Editor
---
---
© 1999 Honolulu Star-Bulletin
http://archives.starbulletin.com