---
Monday, October 11, 1999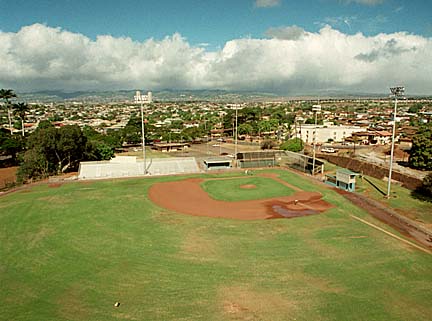 Star-Bulletin file photo
Waipahu will celebrate 75 years of baseball at Hans L'Orange
Park on Saturday. The park was refurbished for Hawaii
Winter Baseball in 1995.
---
Waipahu's
field of dreams
marks 75 years


Hans L'Orange Baseball Park
began as a gravel lot with its
own special rules

By Rod Ohira
Star-Bulletin

Joe Hamada, Francis Oniate, Robin Arisga, Kenneth Okazaki and other young boys from Waipahu's nishi, or west, camp would meet in the early '50s to play baseball at a site they called "Sand Piles."

Their field was a gravel lot, cut in half by Oahu Railway & Land tracks.

Trains would stop at the mill to pick up sugar and drop off sand for flume construction, which was stacked in small piles in the middle of what the boys considered their infield.

There were special rules for baseball at Sand Piles.

'Only the good guys
played at L'Orange. The younger,
junker kids played
on the roads.'

Joe Hamada
CITY INSPECTOR WHO GREW UP
IN WAIPAHU'S SUGAR CAMPS

"If you pulled the ball to left field and hit the Yoshida house, it was an automatic out, and you had to get the ball," Hamada recalled. "Center field was far, and the tracks were in right field.

"You were out and had to chase the ball if you hit it too far."

Like other young boys growing up in Waipahu's sugar camps and honing their baseball skills playing on roads and gravel lots, Hamada and his friends dreamed of playing someday at Hans L'Orange Park.

"Only the good guys played at L'Orange. The younger, junker kids played on the roads," Hamada said.

Hamada was in the seventh or eighth grade when he played his first game at Hans L'Orange. Since then the 61-year-old city inspector has been involved in baseball at Waipahu's favorite park through five decades.

He'll be among those attending the park's 75th-anniversary celebration Oct. 16 from 10 a.m. to 6 p.m.

Judy Kappenberg of the Hans L'Orange Baseball Park Council says Alexander & Baldwin Inc., which recently purchased seven acres of land around the county-owned baseball field from Amfac, will formally donate a newly landscaped passive park beyond the left-field fence to the city on Oct. 16.

Part of the passive park will be used to push the left-field fence back from 278 feet down the line to a more respectable 325 feet, completing the renovation project started five years ago by the Hawaii Winter Baseball League.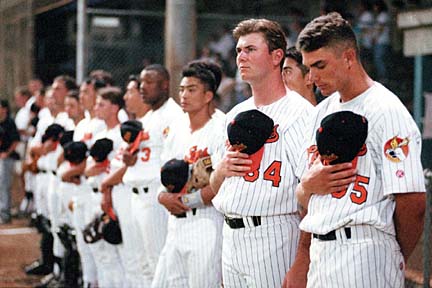 Star-Bulletin file photo
The West Oahu Cane Fires take off their caps for the playing
of the national anthem on opening day at the park in 1996.
---
Also that day, the park council will unveil a commemorative monument saluting 19 Waipahu sports legends.

The legends selected are Hans L'Orange; brothers Fred, Johnny, Eddie and Chester Yasui; Andy Ganigan; Al Silva; Henry "Prince" Oana; Kenneth Kimura; Richard Oamilda; Chrispin Mancao; Katsuji Kojima; Brown Watabu; Walter Gouveia Sr.; Masa Yonamine; James Moniz; Takemi Arakawa; Dr. Richard Noda and Mac Flores.

The park is revered as much for the memories created there as the man it is named after.

Hans L'Orange was the Oahu Sugar Co. manager who persuaded his bosses in 1924 to give up several acres of low-yielding sugar cane land to build a recreation area for workers.

It was L'Orange's belief that to be happy and healthy, plantation workers needed wholesome recreational and social activities.

"As a union representative, I used to buck heads with him all the time," said 74-year-old Zen Abe, the field's longtime volunteer caretaker. "He was a practical guy, to the point of being almost naive.

"Because he loved the people, I felt I owed it to him to take care of the field. When I attended his funeral (in 1984), a former military guy spoke and said how Mr. L'Orange told them after the Dec. 7 attack that "you don't have to worry about the people of Hawaii; they're all loyal.' That cemented my love for him."

For players like Greg Oniate, Francis' son, L'Orange will always be a special place to play ball. "As a kid I watched good players like Wade Mauricio, Curt Watanabe and Steve Hirano play there, and I got a chance to play there, too," Oniate said. "There's so much tradition. It's the best hitter's park."
E-mail to City Desk
---
---
© 1999 Honolulu Star-Bulletin
http://archives.starbulletin.com