---




Newswatch

By Star-Bulletin Staff
Thursday, October 7, 1999
---
Millennium Moments

Home of the Buffanblu

ALMOST 160 years ago, Punahou School was established by missionary pioneer Hiram Bingham for Hawaiian chiefs' children and missionary offspring, on land given at the request of Kaahumanu, King Kamehameha's favorite wife.

The first class had only 34 children; today, Punahou School educates some 3,700 students from kindergarten through 12th grade.

The site originally was called "Kapunahou," meaning "new spring," says "Place Names of Hawaii." One legend says the god Kane thrust his staff here to get water; another tells of an old couple living by a pandanus tree, each dreaming of a spring, and when the man offered fish and uprooted the tree, water oozed out. At any rate, Punahou School's seal is of a pandanus tree, pool and taro leaves.

Kauai council approves zone change for hotel

LIHUE -- As expected, the Kauai County Council yesterday approved by a vote of 6-1 zoning for Alexander & Baldwin's $125 million, 700-room Kukuiula Resort.

Construction is expected to begin within five years.

The Council added much stiffer requirements for road construction by A&B. Council Chairman Ron Kouchi said he could not vote to approve the version recommended by the Planning Commission with only minimal road-building requirements.

Opposition centered on fears of increased traffic in Koloa and Poipu.

For a time, the resort became a typical developer-vs.-environmentalist fray with no-growth advocates arguing the island already has 4,920 resort units for which zoning has been granted without any rooms being built.

Ten years ago, the county gave A&B permits to build homes on the property with construction of a resort to come in a future phase. The homes never have been built.

A&B argued the market has changed and, while there is no demand for houses, there is a demand for hotel rooms and timeshares.

Foodland stores raise $1.04 million for charity

Foodland Super Market raised more than $1 million for the community through its "Give Aloha" program.

More than 850 Hawaii nonprofits statewide will receive donations from the fund.

Customers donated a total of $842,225.97 to their favorite Hawaii nonprofit organization at Foodland and Sack N Save checkouts in the Sept. 8-30 "Give Aloha," Foodland's annual community matching gifts program.

"We are extremely pleased that "Give Aloha" could serve as a stimulus for widespread community support and philanthropy," said Jenai S. Wall, president and chief executive officer, Foodland Super Market. "We know that Hawaii's people have generous hearts and want to give."

"Give Aloha" was created in honor of the late Maurice J. "Sully" Sullivan, founder of Foodland Super Market.

Foodland contributed $100,000 to match the gifts, and the Sullivan family and friends contributed another $100,000 to double the matching gift for a total of $1,042,225.97 for participating nonprofits.

Bank foundation gives $10,000 to help Taiwan

A $10,000 contribution from First Hawaiian Foundation will support Red Cross relief efforts in Taiwan following the recent earthquake there.

The Sept. 21 quake that measured 7.6 on the Richter scale left nearly 2,300 people dead and 8,700 injured, and damaged or destroyed about 13,000 buildings.

The First Hawaiian gift is the largest in Hawaii so far to the American Red Cross for Taiwan disaster relief.

"Many of our customers in Hawaii and Guam have close family and business ties to Taiwan. This gift is our message of aloha during this challenging phase of recovery in Taiwan," said Walter Dods Jr., First Hawaiian chairman and chief executive officer

First Hawaiian Foundation is the charitable arm of First Hawaiian Bank.

To help victims of the Taiwan disaster, contributions may be made to: American Red Cross, International Response Fund, 4155 Diamond Head Road, Honolulu 96816. For more details, telephone 739-8109.

Work on overpass sign will close two H-1 lanes

Night-time H-1 lane closures take place Oct. 13.

Two Ewa-bound left lanes at Ward Avenue Overpass will close from midnight to 4 a.m.

Crews will do maintenance work on the electronic message signs at that overpass. Motorists are advised to use caution.

Fen-phen settlement: $3.75 billion

The settlement includes payment to thousands of patients who said the popular diet drug had caused health problems

The toll-free telephone number for details on the settlement is 1-800-386-2070.





---




Police, Fire, Courts



By Star-Bulletin staff



Kahaluu fire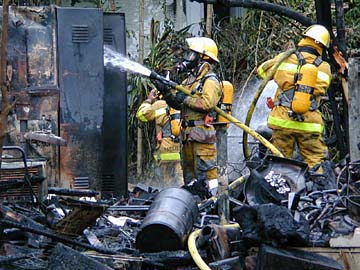 By Ken Ige, Star-Bulletin
Firefighters today hose down a shed that caught fire on
Kamehameha Highway near Wailehua Road in Kahaluu. A
firefighter said they caught the blaze just in time,
before it spread to a nearby house.
---
Honolulu man accused of defrauding foreigner

FBI agents yesterday arrested a Honolulu man indicted on federal charges related to a immigration visa scheme through which he allegedly defrauded a foreign national of more than $100,000.

Takashi Endo, 60, was arrested at his residence for wire fraud.

According to a Sept. 29 indictment unsealed yesterday, Endo falsely represented himself to Kazumi Asada, a Japanese citizen interested in obtaining a U.S. visa, as a Washington, D.C., lobbyist who could obtain a visa for her in three months.

Endo falsely told Asada he was working with high-level Immigration & Naturalization Service officials and the chief U.S. immigration judge, the indictment says.

He allegedly advised her to wire 15 million yen, or about $144,000, to his account in Washington from December 1994 through May 1995 to obtain a visa.

Police hunting two teens who escaped detention

Police are searching for two 16-year-old boys who escaped from the Hawaii Youth Correctional Facility last night.

The teenagers were last seen at 7:35 p.m., police said. Police believe the two boys escaped by using a food cart to climb over a 30-foot wall.

One is described as 5 feet 5 inches tall and 130 pounds. The other is 5 feet 10 inches tall and 140 pounds. They both were wearing blue overalls and have brown hair and eyes.

Police said the boys, who frequent Waimanalo and Kaneohe, should be considered dangerous.

Man allegedly stabs drinking partner in face

Police arrested a 67-year-old man for second-degree assault yesterday after he allegedly stabbed a man in the face.

Both men were drinking together at Kalihi Valley home when they started arguing about money at 7:15 p.m., police said. Police said the suspect walked away after the stabbing, but later returned to find the victim smashing the suspect's car with a stick.

Police drawing shows what robber looked like

Police have released a composite sketch of a suspect who robbed the main branch of Bank of Hawaii at 111 King Street last month.

The man is described as in his 20s, about 5 feet 9 inches tall and 150 pounds. He was wearing a long black wig and red lipstick when he robbed the bank on Sept. 30.

He was also wearing a plaid short-sleeve shirt and blue jeans. Witnesses described the man as very soft spoken.

After robbing the King Street branch, he discarded his wig, pants and shirt in the restroom of the Pioneer Plaza building.

Anyone with any information about the suspect can call CrimeStoppers at 955-8300.

In other news ...

A 12-year-old girl was arrested yesterday for allegedly threatening a girl, 9, with a knife at a Whitmore Village foster home.

---

The Courts

Hanalei tour boat owners sue state

LIHUE -- Two of the three remaining Na Pali Coast tour boat owners operating out of Hanalei have sued the state Department of Land and Natural Resources for refusing to grant them new permits.

The lawsuit asks the court to order the state to issue permits to the two companies.

Hanalei Sport Fishing & Tours and Na Pali Catamarans operate powerboats. The state, which has limited future commercial tours from Hanalei to sailboats, refused to grant them new permits after their old licenses expired last month.

The third operator, Captain Sundown, which operates a sailboat, received a new permit.

The three were the only tour boat companies to hold county permits and were allowed to remain in business when all the unpermitted boats were thrown out of Hanalei by Gov. Ben Cayetano in August 1998 ending a 20-year battle over boating on Kauai's North Shore.

The lawsuit contends the state's decision to ban sailboats from Hanalei Bay is a "rule" under state law and the ban did not go through the required rule-making process.

Officials at the Department of Land and Natural Resources could not be reached for comment.

An identical lawsuit was rejected in U.S. District Court last week in a ruling that held the case belongs in state court.

'AIDS phobia' lawsuit advances

The Hawaii Supreme Court has cleared the way for an "AIDS phobia" lawsuit to proceed in federal court.

The suit, filed in behalf of baggage handlers employed by Signature Support Flight Service in May 1996, alleges that through negligence, they were exposed to HIV-positive blood being transported from Guam for lab testing in Honolulu.

In response to issues raised by federal court in February 1998, the state Supreme Court ruled that:

"Hawaii law recognizes a cause of action for negligent infliction of emotional distress arising out of a fear of developing AIDS following actual exposure to HIV-positive blood and resulting in actual physical peril to the claimant" and also "damages may be based solely upon serious emotional distress, even absent proof of a predicate physical injury."

On May 21, 1996, plaintiffs unloading baggage from Continental Flight C0906 from Guam removed a bag containing HIV-positive blood.

The blood allegedly was placed in a glass vial that had been inserted into a plastic bag and then packaged in a polyethylene courier satchel.

A worker noticed blood on his hands after moving the bag containing the blood specimen. Two co-workers who cleaned up the specimen also came in contact with the blood. In their lawsuit, the plaintiffs say they all had open wounds on their hands at the time of the incident. All have tested negative for HIV.

Group fighting Kauai power plant

LIHUE -- A group calling itself Citizens for Clean Air filed a lawsuit yesterday aimed at blocking Kauai Electric's plans to build a new power plant outside Hanamaulu.

If the group wins, the court decision could invalidate countless zoning permits issued by Kauai County over the past two decades.

The lawsuit, filed in Kauai Circuit Court, accuses the county Planning Department of violating the county's comprehensive zoning ordinance in processing Kauai Electric's request for a zoning permit.







E-mail to City Desk
---
---
© 1999 Honolulu Star-Bulletin
http://archives.starbulletin.com