---
Tuesday, October 5, 1999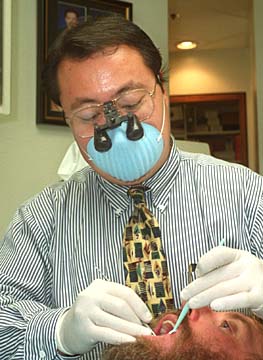 By Dennis Oda, Star-Bulletin
'After I fix their smiles, they
have no words. They just stare
in the mirror and can't believe
the transformation.'

Dr. Wynn Okuda
PROVIDES FREE DENTAL CARE FOR
VICTIMS OF DOMESTIC ABUSE
---
Dentist gives abuse
victims something
to smile about


His program offers free
cosmetic work to victims
of domestic violence

By Lori Tighe
Star-Bulletin

When it happened, she couldn't stop screaming.

Her husband punched her in the face and knocked two front teeth out.

"It was like a horror movie. I couldn't believe it," said a 37-year-old mother of three kids, called "Bella" by her family. "I was in shock. It was devastating."

But Bella now wears a new smile reconstructed for free by Dr. Wynn Okuda, famous for fixing Miss Universe Brook Lee's grin.

Okuda, a Honolulu cosmetic dentist, created the "Give Back a Smile" program to provide cosmetic dental work to survivors of domestic abuse.

"Their smile has to do with their esteem and confidence. When they come in to my office, they are below ground zero," said Okuda, 36.

"After I fix their smiles, they have no words. They just stare in the mirror and can't believe the transformation."

When a friend told him about a victim with shattered teeth, Okuda thought to form the nonprofit organization.

"It's about being there for people who need you," he said.

He used his contacts and kicked off the program in May with 670 dentists nationwide. They volunteer their services to victims who can't afford it. The dental work can cost as high as $60,000.

Okuda heard about Bella's case when he sat next to her aunt on a plane returning to Honolulu.

Bella, who had worked as a counselor at a domestic violence shelter, said she suffered increasing verbal and emotional abuse from her alcoholic husband. During one argument, she tried to call 911 when he came up behind her and slugged her face.

"I heard a cracking noise," she said. "I covered my mouth, ran to the bathroom and saw my front tooth hanging." A second front tooth, cracked at the base, later was removed in the emergency room.

She took her three kids and left for two days. She returned when her husband vowed to enter counseling.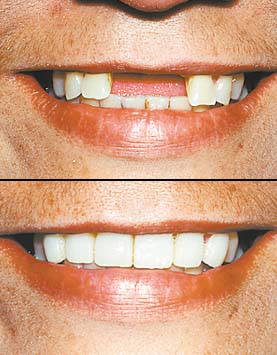 Courtesy of Dr. Wynn Okuda
These are photos of Bella's smile before and after dental work.
---
They've been in counseling for a year, she said, and he hasn't raised a hand to her since.

"He's learned to be accountable for his actions. He has to relearn it, but it's working," Bella said.

But Bella still lived with the embarrassment of missing her two front teeth and began to hide from the world.

The aunt told her to call Okuda, but Bella didn't believe it until she heard about Give Back a Smile.

When she met with Okuda, he agreed to build a permanent bridge replacing her missing teeth.

She came in on a Saturday a few months ago and Okuda worked on her mouth for five hours. Bella returned for four more follow-up visits. The dentist declined to tell her how much the reconstruction cost, but she assumes it is in the thousands of dollars.

"When I looked in the mirror, I was speechless. I looked like me, instead of the woman with the big gap in her teeth," Bella said.

Currently 1,200 women around the country have applied for dental work, according to Carolyn Sapp, Miss Hawaii and Miss America 1992. Sapp, a program spokeswoman, also was a victim of domestic abuse.

Victims must show they are safe from further abuse, and they can't afford the dental work, Sapp said.

"I applaud these dentists. It's pretty amazing," said Sapp, in town to talk about the Give Back a Smile program at this week's American Dental Association convention here.

"When these women try to start their life over," she said, "it helps them re-enter society."

Five million women in the nation are domestic violence victims annually, and one million sustain medical and dental injuries, Okuda said.

Bella said she didn't know how to thank Okuda. Every time she tries to choose fitting words, she just cries. "I wouldn't be where I am right now without Dr. Okuda."

So she brought him a chocolate macadamia nut pie.

"He said, 'That's enough. Just for you to be happy makes me happy.' "

---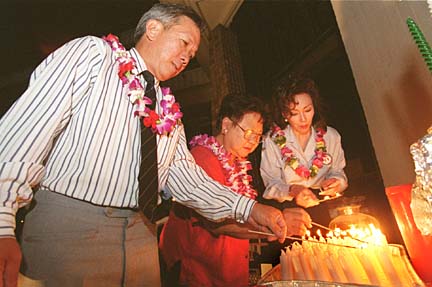 By George F. Lee, Star-Bulletin
House Speaker Calvin Say, left, lights a candle with Rep.
Bertha Leong and Rep. Lei Ahu Isa during a vigil for the
enforcement of child support laws last
night at the state Capitol.
---
Group advocates child support

About 50 people rally at the Capitol
to draw attention to children
who live in poverty

By Lori Tighe
Star-Bulletin

The wind blew out the candles so the speakers had to light a candle one by one. But in the end, they accomplished their mission.

About 50 people from parents to legislators gathered last night in the state Capitol's courtyard to draw public attention to thousands of children in poverty because of child support problems.

"What I hope was accomplished was a sense of community. We gathered with very different agendas and one goal: to improve the child-support enforcement system," said Connie Brinton, coordinator for the Oahu chapter of ACES -- the Association for Children for Enforcement of Support Inc.

About 60 percent of all children growing up in single parent households who are owed support live in poverty, according to ACES. Nationally 30 million children are owed $41 billion in unpaid child support.

"With welfare reform, child support will become even more critical for children," said Rep. David Stegmaier (D, Kalama Valley, Hawaii Kai).

"We need to do everything in our power from very strong measures taken by courts to more frequently working with and encouraging non-custodial natural parents to take more of a role in their children's support."

ACES, which celebrated its 15th anniversary last night, is the largest nonprofit child-support advocacy organization in the country.

The local chapter has started and stopped a few times in the past, but has recently resumed its activity, Brinton said. The group tries to educate single parents about their legal rights, new federal child support laws, and how to organize effective community groups.

"We want to change laws and close loopholes," Brinton said. "The Child Support Enforcement Agency can't advocate in the Legislature, but we can. So we can team up." One of the things ACES wants to change is the law on deadbeat parents, she said.

"They can be cited with failure to pay, but rarely for contempt. We want alternative jail sentences."

Although the state said it has improved collection by 11 percent since it went online with a new computer system last year, many parents still complain of late payments.

Many fathers also can't provide much child support because of low-income jobs, Stegmaier said.
E-mail to City Desk
---
---
© 1999 Honolulu Star-Bulletin
http://archives.starbulletin.com