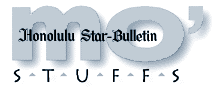 ---
Tuesday, October 5, 1999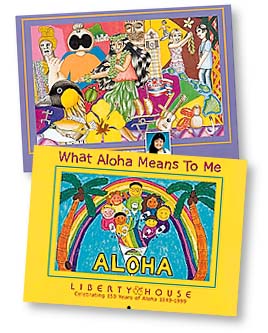 Liberty House
Cover art, above, by Kurt Cefra, Grade 7, Kawananakoa
Middle School; illustration for September 2000, top, by
Cherry Ulep, Grade 8, Kalakaua Middle School.
---
Calendar showcases
young talent
It's not too early to start making plans for Jan. 1, and Liberty House has unveiled its year 2000 calendar to help those without Palm Pilots keep track of those very important dates.

The calendars feature student art work and writing based on the theme "What Aloha Means to Me." Winning works were selected from 2,000 entries submitted from grades K through 8 statewide.

The calendars cost $2 each. Proceeds will benefit the Hawai'i Children's Discovery Center.

The young artists and writers are:
Aikahi Elementary -- Ana Ching, Grade 3
Dole Middle School -- Lilly Van, Grade 6
Hongwanji Mission School -- Michael Hodson, Grade 4
Ho'okena School, Hawaii -- Brittany Toralba, Grade 4
'Iolani School -- Christine Emi Chan, Grade 4; Shunsuke Aonuma, Grade 5
Kalakaua Middle School -- Cherry Ulep, Grade 8
Kalihi Kai School -- Dean Domingo, Grade 5
Kalihi-Uka Elementary -- Tatiana Brub, Grade 1
Kamehameha Schools -- Anderson Kaiama Gong Dun, Grade 8
Kanoelani Elementary -- Courtney Kandler, Grade 4
Kawananakoa Middle School -- Kurt Cefra, Grade 7
Kualapu'u Elementary, Molokai -- Kalani Crowell, Grade 2
Lihikai Elementary, Maui -- DoAnne Casem, Grade 2
Manoa School -- Jamie Takayesu, Grade K; Ruth Miyamoto, Grade 2
Pahoa Elementary, Hawaii -- Hoku Vierra, Grade 5
Sacred Hearts Academy -- Nadia Lee, Grade 4
Wilcox Elementary, Kauai -- Randee Layosa, Grade 1; Alden Lind, Grade 5; Shantell Sakai, Grade 5
---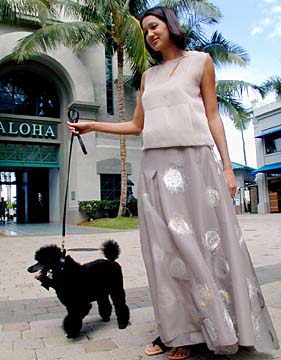 File photo
Both the poodle Rampage and Tina Kasuya
are ready with their finery.
---
Poodle owners invited to
put on a French accent

During Hawaii's annual celebration of all things French, the Royal Hawaiian Shopping Center will be hosting a French Festival Poodle Contest and Parade beginning 6:30 p.m. Oct. 23.

Dress up your pooch and don't forget to get glammed up yourself.

Prizes will be awarded for the best poodle personality, best poodle costume and best owner-poodle look-alikes. Winners will receive $50 RHSC gift certificates, and if you're a good boy or girl, maybe your pooch will share the prize with you.

The event takes place at the Fountain Courtyard Stage. And stick around after the contest, when all poodle contestants go for a walk through the mall during a French Mardi Gras Poodle Parade.

All French poodles are eligible for the contest, which is free to enter. Call 955-0228 to sign up.

---

Preview

Coming to the big screen

RANDOM HEARTS
Rated R
When Sgt. Dutch Van Den Broeck (Harrison Ford), a Washington, D.C. police officer in the division of Internal Affairs, discovers that his wife Peyton (Susanna Thompson) was a passenger on a fatal flight bound for Miami, he realizes that she had been having an affair -- with Cullen Chandler (Peter Coyote), the husband of congresswoman Kay Chandler (Kristin Scott Thomas). But Dutch is unable to convince Kay of the truth until the two follow the lovers' tracks to Miami. Meanwhile, the media has caught wind of the adulterous liaison and that could mean trouble for Kay's re-election campaign. And Dutch finds himself caught up in the antics of cops behaving badly. When Dutch and Kay find themselves drawn to one another, the attraction seems driven as much by desperation as it is by desire.

---


SUPERSTAR
Rated PG-13
When you're a Superstar, the whole world puckers up. Based on Molly Shannon's popular "Saturday Night Live" nerdy Catholic schoolgirl character, "Superstar" follows Mary Katherine Gallagher's quest for a kiss as perfect as the ones she's seen in the movies. Handsome Sky Corrigan (Will Ferrell) won't pay lip service to her dreams. But when Catholic Teen Magazine sponsors a dance contest at Mary Katherine's school (Grand Prize: an all-expenses paid trip to Hollywood plus movie a walk-on!), Mary Katherine sees a way to make her fantasies come true.

---

Scoops

Scholarships and more

Are You Looking to Make A Career Shift?: The University of Hawaii at Manoa will conduct a workshop covering a variety of graduate and professional degree programs at 10 a.m.-2 p.m. Oct. 13 in Hawaii Hall on campus. Faculty members, graduate admissions, financial aid and student services personnel will be available to answer questions about applying to graduate school.

Try out for Teen Board: Models Inc. is holding auditions for a teen board that will represent the agency. Candidates needn't have modeling experience, but must project a positive, confident attitude. Auditions will be held 6-9 p.m. Oct. 14 at Models Inc., 98-025 Hekaha St., Suite 223A in Aiea. Call Marcel Mapuhi at 484-1257 for more information.






Click for online
calendars and events.





---





Send WatDat? questions, stories
or any other story ideas or comments to:
Features, Honolulu Star-Bulletin, P.O. Box 3080,
Honolulu, HI 96802 or send a fax to 523-8509
or E-mail to features@starbulletin.com.
Please include your phone number.
E-mail to Features Editor
---
---
© 1999 Honolulu Star-Bulletin
http://archives.starbulletin.com