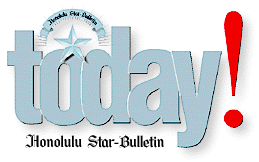 ---
Friday, October 1, 1999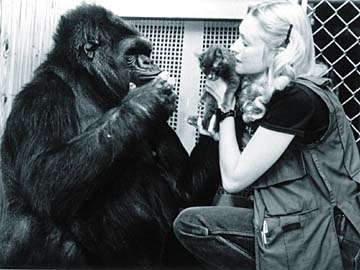 Hawaii Public Television
Koko the gorilla "talks" with Dr. Francine Patterson.
---
Pledge time at KHET

Star-Bulletin

Hawaii Public Television enters its annual October Live Pledge period today. The two-weekend fund-raising event showcases some of the station's finest programs, and also points out to viewers the importance of public support via donations made to the station.

"The funds raised through Live Pledge help secure the future of Hawaii Public Television," HPTV executive director Don Robbs said in a release. "As the station depends less on government funding, we need to depend more on the private sector so we can continue our popular PBS fare such as 'Antiques Roadshow,' 'Nature,' 'Newshour,' 'Masterpiece Theatre' and 'Mystery!' " Programming highlights on KHET/PBS during the Pledge include:

"The Three Tenors in Paris," 8:45 p.m. today. Jose Carreras, Placido Domingo and Luciano Pavarotti, in concert from the Eiffel Tower.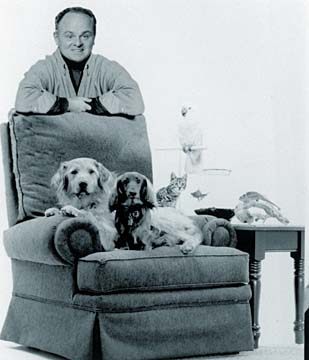 Hawaii Public Television
Gary Burghoff hosts a look at the importance of pets.
---
"John Denver: Let This Be a Voice," 6 p.m. tomorrow. Filmed just before Denver's death in a plane crash in 1997, this special follows the singer/composer through the wilderness that shaped his life and music.

"The Best of Na Mele," 7:15 p.m. tomorrow. Selections from the first season of "Na Mele: Traditions in Hawaiian Song," including performances by Martin Pahinui, George Kuo, Dennis Kamakahi, Jerry Santos, Bob Brozman, Led Kaapana, Cyril Pahinui, Na Pali, Manuakepa and Keola Beamer.

"Charlotte Church: Voice of an Angel," 6 p.m. Sunday. The 13-year-old Welsh soprano's debut album has gone double platinum. She performs with the London Symphony Orchestra and Chorus in this concert.

"Nature: A Conversation with Koko," 7 p.m Sunday. The program visits the Gorilla Foundation's "Project Koko," which demonstrates that gorillas can learn and use sign language to express complex feelings and thoughts.

"Pets: Part of the Family," 8:30 p.m. Sunday. Gary Burghoff hosts a special that demonstrates the importance of pets to our lives.

"Feet of Flames," 7:15 p.m. Oct. 8. Michael Flatley's final performance of "Lord of the Dance."

"The Rolling Stones Bridges to Babylon," 8:30 p.m. Oct. 9. Taped during the St. Louis leg of the Stones tour.

" SPECTRUM HAWAII: Honolulu Stadium: Where Hawaii Played," 9:30 p.m. Oct. 10. A nostalgic look at the old "termite palace."






Click for online
calendars and events.
E-mail to Features Editor
---
---
© 1999 Honolulu Star-Bulletin
http://archives.starbulletin.com