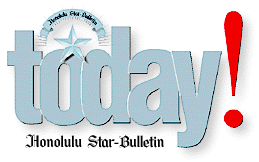 ---
Friday, October 1, 1999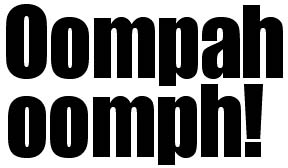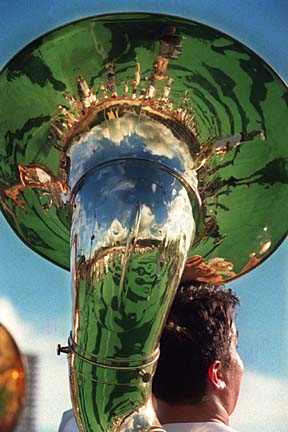 By Dennis Oda, Star-Bulletin
Lee Ikeda's tuba reflects a 360-degree
view of Cooke Field.
---
Make way for the tubas,
bellowing beasts of the
University of Hawaii's
homecoming show

By Betty Shimabukuro
Star-Bulletin

A tuba is 35 pounds of coiled brass. A beast with a shiny complexion and a voice that makes the ground shake.

It's the foundation of the band, the deep core of the orchestra, the oompah in the beer-hall quartet. You could make music without it, but it would be music without muscle.

To be a tubist is to be one of a rare breed -- because, well, it's just not a very popular instrument. Band directors often must resort to bribery or coercion to fill their tuba rosters.

"I got extra credit in elementary school band to switch from percussion to tuba," says David Saltzman, sole tuba player for the Honolulu Symphony.

Fifteen years later, he's made a career of it. No regrets.




SEE THE TUBAS

Halftime show: At the UH homecoming game
Kickoff: 6:05 p.m. tomorrow
Place: Aloha Stadium
Cost: $15-$17
Call: 484-1122

RUN WITH THE TUBAS

OctubaFest: OPUS 19 Fun Run features a gathering of tubas to serenade participants
When: 7:30 a.m. Oct. 10
Start/finish: Fort Ruger Park
Cost: Entry donation of $25 benefits Honolulu Symphony
Call: 540-0786 to run or walk; 521-8070 to join the tuba ensemble

HEAR A TUBA

CLICK HERE! to hear a recording of Honolulu Symphony tuba player David Saltzman and some serious tuba music.

AND MORE

In concert: Saltzman performs with the Honolulu Brass Quintet
When: 7:30 p.m. Nov. 1
Place: Lutheran Church of Honolulu
Cost: $15
Call: 543-0935




"It was kinda cool to play the loudest instrument," he recalls. "I always had a dream of playing something loud and annoying my parents."

Tom Bingham, director of the University of Hawaii at Manoa marching band and a clarinetist by trade, was drafted into tuba servitude in high school in Menlo Park, Calif. "In two weeks I had to learn enough music so the band could march at an Oakland Raiders game."

Later, as a high-school band director, he'd often convert surplus flutists into tuba players. "They actually did OK."

To a kid, a tuba doesn't promise glory, like a trumpet, or coolness, like a saxophone. And it's not easy to carry, like a flute.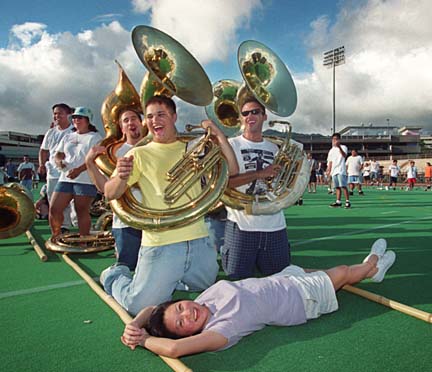 By Dennis Oda, Star-Bulletin
Alison Izawa is the damsel in distress as those "big, bad"
tubas approach her in locomotive fashion during a dry run
of a skit planned for the homecoming show. In the front
are Michael Silva (left) and Fernando Pacheco.
---
"Mostly they get nervous about playing such a large beast," Bingham says. "That's a lot of weight to hang on a 13- or 14-year-old kid. ... And parents don't like to keep one at home -- you almost have to build a special room --and the bus drivers in my district wouldn't let them on the school bus."

Despite the obstacles, Bingham has 14 tubas in this year's 250-piece marching band, the most in years. It's enough to put on a tuba skit at tomorrow night's UH homecoming game. Come halftime, the tubas will be the villains stalking the innocent Nell to strains of the Darth Vader theme song. They will form a locomotive to run her down and they will do the tinikling -- the Filipino stick dance. How this fits together is not quite clear. It's tuba logic.

Bingham often uses his tubas for comic relief, making them twirl batons, limbo and worse. "They know if they come here and play tuba they'll wear tutus and do ballet."

October is actually a big month for tubas. Saltzman is helping organize the Symphony Guild's OctubaFest, in which a host of tubas will serenade participants in the OPUS 19 Fun Run Oct. 10.

He's hoping to assemble as many as 20 tuba players from the university and high schools, plus his own music students. They'll play polkas, "Mexican hat-dance stuff" and German drinking songs ("In heaven there is no beer, that's why we drink it here," for example).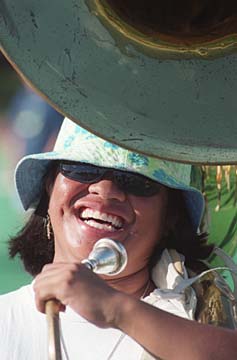 By Dennis Oda, Star-Bulletin
One of two female tuba players on the UH
marching band is Shireen Garcia.
---
The word tuba originally described a straight Roman trumpet; the bass tuba was patented in 1835 by two men from Berlin. Tubas now come in several varieties, the most recognizable being the brass sousaphone -- the type that wraps around the body with the big bell over the head. Those also come in white fiberglass and silver plate. A more compact tuba is carried over the shoulder in many high school bands and another version held in the lap is preferred for sit-down concert bands and orchestras.

At entry level, the tuba doesn't have a lot of notes, which is why a flute or clarinet player can be drafted to play one. But it is a difficult instrument to master and there is serious musicianship involved -- not just oompahs and dancing in tutus.

Saltzman won a 1996 concerto competition in New York performing a John Williams tuba concerto.

"I love the sound of it," he says. "I really love the low vibrations. I love the mellow tone and being the lowest note in every chord. Everything fills from the bottom and you get to be the foundation that everyone else gets to lie on."

Bingham's 14 tubas are overseen by section leader Fernando Pacheco, a senior who switched from clarinet at Pearl City High School because, "I wanted to contribute more to the band."

Sophomore Mike Silva chose the tuba from the start. "Everybody wanted trumpet and flute and percussion. I decided to be different."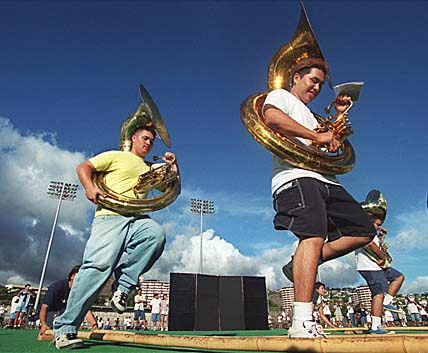 By Dennis Oda, Star-Bulletin
Chae Bae (front) and Michael Silva do the
Filipino stick dance, "tinikling."
---
So did Shireen Garcia, a freshman, who switched from flute just this summer, and therefore went from marching with the smallest instrument to the largest. "There's always a lot of flute players and I wanted a change."

They say it is the most powerful instrument in the band, the most gutsy.

But ask them about the physical challenge and they all start rubbing their left shoulders, where the big instrument rests.

"At the beginning of every season there's a little lump there," Pacheco says. They all nod.

"When I started, I had to wear Satohap pads all the time," Silva grimaces. "But after awhile it becomes your stronger side."

Adds Pacheco, "You become like Igor."






Click for online
calendars and events.
E-mail to Features Editor
---
---
© 1999 Honolulu Star-Bulletin
http://archives.starbulletin.com